We like to think of trading as a zero-sum game -- the money you lose is money someone else has made. But that is not always the case. Sometimes the money you lose simply goes away to "money heaven." Never has that concept been truer than when looking at the levered ultra-short ETFs. Periodically, I check in on these to see how they are "performing." Typically, what I will do is take the vanilla ETF on an index and compare it with the 2x short sided ETF on the same index and figure out how much the levered short ETF has outperformed or underperformed. I started this exercise back in November, when I first noticed the tremendous volatility of these levered funds. I keep a spreadsheet, use the adjusted prices to account for dividends and compare the actual performance with the implied performance over various periods of time. Take a look at the data for the U.S. Financial Sector ETFs, the unlevered
iShares Dow Jones Financial Sector
and the 2x short
UltraShort Financials ProShares
:
 

From 11/20

IYF

36

5.0%

50.8%

30.2%

-19.7%
8.0%
 
36.12nav
 
 
 
 
 
 
SKF
80.95
-13.1%
-67.6%
-59.9%
-21.4%
-69.2%
 
80.38nav
 
 
 
 
 
 
implied
-10.0%
-101.6%
-60.4%
39.4%
-16.1%
 
over/(under)
-3.1%
34.0%
0.5%
-60.8%
-53.1%
 The table reflects Friday's close and then looks at return from various dates. Of those dates, we have the autumn closing low for financials on Nov. 20, and we also have this spring closing low on March 6. We also have year-end, which is close to the high for the IYF over the time period (the actual high was Dec. 8). So since the autumn low close on Nov. 20, the IYF is up 8.0% through Friday night. This implies a 2x short return of -16.1%. Yet the SKF is down 69.2% over that period, reflecting an underperformance of 53.1% vs. if one had simply shorted the IYF with two times leverage. Given that the IYF closed below its NAV and the SKF closed above its NAV, this return discrepancy is not caused by NAV differentials (and for what it is worth, on Nov. 20 the SKF closed about 6 points below NAV). So where did the money go? The answer is in the title of this article. Full Story:
http://finance.yahoo.com/news/UltraShort-ETF-Losses-Go-to-tsmf-14891308.html
Whenever the stock
market takes a turn for the worse, it reignites an age-old debate in the
mutual
 fund
 world
: Which strategy works better, active or passive management? Fans of active management argue that it's well worth it to pay for the privilege of having a
good
 manager
that uses analysis to pick winning investments. However, passive investors reason the overwhelming majority of those managers inevitably underperform a
given
 index
over time. These investors simply put their cash in a low-cost index fund that tracks the returns of a benchmark like the S&P 500. The downturn just exacerbates this debate: The average S&P 500
index
 fund
is down 4.4% in 2009, according to Lipper. Almost 40% of the large-cap funds and share classes in our database failed to beat that return. The average large-cap fund also trailed the S&P 500 in 2008. That means
index
 funds
seem to have the upper hand — at least for now. With that in mind, we decided to focus this week's screen on index offerings. This is a much more elaborate undertaking than it appears. We don't simply look at S&P 500 funds since the only thing differentiating them would be the fees that eat into their performance. So instead of weeding out funds based on our regular set of criteria, this week we list a range of index funds and their performance numbers. The surprising revelation: Index funds with exposure to tech and small caps are beating their actively-managed competitors — and the S&P 500, too. See the table below for our eight picks. There are a few reasons we resort to compiling the screen this way. Over the last few years the exchange-traded fund industry has pushed the boundaries of what constitutes an index fund. The gold standard used to be the S&P 500, but now investors can find funds based on indexes from Russell, Morningstar and Dow Jones and others that track the Nasdaq or use a new-fangled "fundamental" indexing strategy that focuses on book value and sales, among other things. There are even offerings that equal weight the S&P and concentrate on dividends. While there may not be a huge difference between these funds' performances, even the slightest edge can add up since index investors usually hold their funds for decades. Just 1% more a year can mean tens of thousands of dollars over the life of a retirement account. There are certain trends worth picking up on in the index world that professional money managers and individual investors alike can follow. Technology stocks, for example, typically perform well coming out of downturns because investors rush to the few shares still experiencing growth. That theme is playing out now. The tech-heavy
PowerShares QQQ
(QQQQ
:
32.94,
+0.99, +3.09%
), or Cubes, which tracks the 100 largest non-financial stocks on the Nasdaq, is up 10.9% this year thanks, in part, to merger and acquisitions and some decent earnings. Full Story: 
http://www.smartmoney.com/Investing/Mutual-Funds/8-Index-Funds-With-a-Leading-Edge/?afl=yahoo
Financials led the markets higher on the final trading day of the week. Also gaining in advance of the Good Friday holiday were industrial and consumer discretionary ETFs. Here are 7 ETFs You Need To Know For Monday Bank of America (NYSE:BAC - News) and Wells Fargo (NYSE:WFC - News) were the brightest stars in a luminous financial sector on Thursday, with shares of both gaining more than 30% and 20% respectively intraday. The rally in banks helped boost financial ETFs like iShares Dow Jones U.S. Financial Sector Index ETF (NYSE:IYF - News), which was up more than 10% late in trading on Thursday. Even more impressive was the soaring Direxion Financial Bull 3x Shares ETF (NYSE:FAS - News), which was up more than 30% late on Thursday. The FAS provides three times the daily return of the Russell 1000 Financial Services Index. Among emerging markets ETFs, the race to the 200-day moving average may be nowhere more apparent than in shares of the iShares FTSE/Xinhua China 25 Index ETF, FXI which were up more than 4% late on Thursday. Reflecting renewed strength in industrial stocks, the ProShares Ultra Industrials ETF (NYSE:UXI - News) rallied by more than 10% in trading on Thursday. UXI, a 2-to-1 leveraged ETF, closed at its highest levels since early February. The ETF is increasingly overbought below the 200-day moving average. Full Story: 
http://finance.yahoo.com/news/TradingMarkets-7-ETFs-You-tm-14895643.html
Van Eck Securities plans to list on the New York Stock Exchange an exchanged-traded fund tracking the China A-Share market, from which foreign investors are usually barred unless they received a Qualified Foreign Institutional Investor license from the China Securities Regulatory Commission. The Van Eck ETF will be a passive fund and focus on the yuan-denominated Shanghai and Shenzhen stock exchanges.
ChinaStakes.com
(08 Apr.)
Not surprisingly, financial-focused ETFs have proven to be among the best performing ETFs over the past 4 weeks. Here is a look into one of these financial ETFs as well as 3 other ETFs that are on fire right now. The stunning announcement Thursday by Wells Fargo (NYSE: WFC) that the San Francisco-based bank is expecting record first-quarter net income instantly added additional fuel to the broader banking rally as Wells Fargo shares soared 31.7% on the day. The company is one of the largest holdings of the Ultra Financials ProShares Fund (NYSE: UYG) which has been one of the best performing ETFs over the course of the past 4 weeks. This leveraged ETF has risen an eye-popping 88.8% during this time period. Investors of this fund should keep an eye out for when Goldman Sachs (NYSE: GS) reports its first-quarter earnings on Tuesday. The Wall Street Journal has reported that the company is considering an equity offering so that it can benefit from the recovery of its stock price and repay its TARP loan. Another leveraged ETF that has been heating up in recent weeks has been the Ultra Basic Materials ProShares Fund (NYSE: UYM). The fund which was scraping the bottom of the barrel in 2008 with a -83.7% return has begun to gain traction. UYM has rallied 59.4% over the past four weeks but still has a lot of ground left to make up. Basic material prices remain well off of their highs from last summer and Alcoa (NYSE: AA) did not do much to instill confidence in this space when the aluminum producer reported its first-quarter earnings on Tuesday. Full story:
http://www.stocktradersdaily.com/News%20Release/News_release_TA_000020009000410fishetf.htm
There were two big pieces of news this week contributing to the run in the financials. First was the Tuesday-night leak that the Treasury would expand the TARP to cover the insurers. Shares of companies like Hartford (HIG) and Lincoln National (LNC) soared over 20% the next day.   Then this morning, Wells Fargo (WFC) came out with its positive pre-announcement and the banks are rallying hard on the news. So were traders tipped on the news? Maybe. There was nothing particularly unusual yesterday, but Tuesday there was some very aggressive buying in the XLF (the financial ETF) right at the close. On Tuesday night, the OptionMonster blog cited "staggering" volume in the ETF -- a massive bet right at the close, just hours before the TARP insurance news was set to break. Bear in mind that the XLF includes both banks and insurers. OptionMonster's Jon Najarian concludes that both the news and the Wells Fargo news may have been leaked based on this activity. By: Joe Weisenthal Source:
www.buisnessinsider.com
CNBC reporter and Trader Talk blogger Bob Pisani says Morningstar predicts that exchange-traded funds (ETFs) may soon see a rich inflow of investor money.
In his regular CNBC 101 investor segment, Pisani explained why.
 "I've championed ETFs," he said, as a low-cost way to play the market, with "lots of diversification and lots of products to choose." But there's been a problem keeping the funds from reaching their full potential: they cannot penetrate 401(k)s, thanks to brokerage fees, which obstruct cost-dollar averaging.
He notes that that 401(k)s currently hold some $2.5 trillion; there is only $541 million in ETFs. (yes, that's trillions vs millions.)
But Pisani reports that Morningstar has projected that 10 percent of 401(k)s could be rolled over through the next several years, bring a torrent of cash to largely unexploited ETFs — potentially boosting ETFs by nearly 25 percent.
Source: www.cnbc.com
Is inflation in the US a good thing or a bad thing for individual investors? The answer is that it depends. Inflation can eat away at your purchasing power and your stock returns, or it can become an investment opportunity. This article will introduce you to an interesting exchange traded fund (ETF) that can help you increase your protection against the problems of rising inflation while leveraging the opportunity to profit. The US Treasury sells notes of different yields, maturities and terms. One type of those notes available for purchase by retail and corporate investors are known as TIPS or Treasury Inflation Protection Securities. A TIPS note yield is increased or decreased based on changes in the level of CPI or consumer price inflation. If CPI or inflation is rising, the face value of a TIPS note increases and similarly the face value may fall if CPI falls. This means that TIPS are a hedge against inflation. As prices rise, the value of a TIPS note increases offsetting some of those losses due to inflation. The interest paid on the bond also increases as it is paid on the new increased value. You can buy TIPS from the Treasury through Treasury Direct or from your broker, which is a fine alternative but there is a way to do this through the stock market as well through a TIPS ETF (TIP). You can see this ETF compared to the S&P 500 in the chart below. As you can see, TIP has outperformed the stock market during the last 12 months, which is not surprising considering the recessionary environment in the US. From a fundamental and technical perspective it seems that one of the few things we can count on in this environment is higher levels of inflation in the long term. That may make the TIP ETF an attractive mid-term value play after the correction of the past few months. From a portfolio management perspective this is a good way to add protection against inflation and to insert an element of fixed income to your diversification strategy. Bottom line: Higher rates of inflation are either a problem or an opportunity. Which it really turns out to be is up to you as the investor. Source:
www.learningmarkets.com
You may wonder why there are very few, if any, ETFs to choose from in corporate-sponsored 401(k) plans. It's a simple answer: Just like when you buy a stock, every time you buy shares of an ETF, you pay a transaction fee. With open-end mutual funds in 401(k) plans, the contributing employee pays no transaction fee. Even an $8 fee would be a material performance drag against an investor that is contributing a few hundred dollars every other week. ETF providers would love to break down this barrier given that the majority of the $2.5 trillion parked in 401(k) plans is invested in open-end mutual funds. We don't see an easy solution to this issue, but it may be irrelevant. We predict that over the next few months, 401(k) money will be rushing to ETFs--but in the form of newly converted IRAs. Widespread adoption of ETFs is expected to continue as some of the 78 million baby boomers retire and look to roll over their 401(k) accounts. We also see some silver lining (at least for financial advisors) stemming from the currently difficult economic backdrop. With the massive number of layoffs announced by companies left and right, we think as much as 10% of the 401(k) market could "hit the street," so to speak. As of 2008 year-end, there was about $2.5 trillion in 401(k) plans, according to estimates from the Employee Benefit Research Institute. In our scenario, this would represent $250 billion in assets poised to leave the umbrella of corporate retirement plans. Then, let's assume that only half of this money coming from retirement accounts goes into ETFs. Such a case would result in about $125 billion flowing into the ETF industry. Excluding the market's impact, this alone would represent 23% growth in assets under management; the ETF industry closed out 2008 with approximately $541 billion in assets. Add to that the fund flows from retiring baby boomers, and we can forecast at least another $75 billion flowing into ETFs. We understand some may be critical of this very rough estimate, so let's look at the numbers in a different way. Another way to gauge the potential market opportunity would be to do a simple calculation based on the number of jobs recently lost. According to the Bureau of Labor Statistics, total nonfarm payrolls have fallen by an astounding 3.7 million over the past six months. For our back of the envelope calculation, let's assume that the average account balance is $75,000. Given that many of the layoffs were in the high-paying financial sector as well as the fact that many of these individuals were long-tenured employees, we think our assumption could prove conservative. In any case, if we take the total amount of jobs lost and multiply that by $75,000, the amount of assets poised to "hit the street" is $278 billion. Again, assuming half of that money makes its way to the ETF industry, we're looking at about $139 billion flowing into ETFs. Note that this crude estimate of industry growth--26% year over year--is based solely on recent job losses. In our view, any way you slice it, there is a substantial amount of assets poised to move from 401(k) plans into other self-managed account structures, and savvy financial advisors can capitalize on this by educating these folks about the numerous advantages of using ETFs. If recent fund flow activity is any indication, many investors will be looking to roll over their money and park it in low-cost, transparent, and liquid securities--and ETFs fit the bill. An argument against ETFs versus mutual funds is that transaction costs with ETFs could drag down returns, thereby negating any benefit from their lower expense ratios. This is a valid argument when frequent and small purchases are made, much like in 401(k) plans. However, because we are looking at large one-time rollovers, we think it would make sense for many of these investors to go the ETF route. Also, with income grinding to a halt (job cuts) or declining significantly (retirees), we doubt that unemployed or retired folks looking to roll over their accounts will be interested (or have the means) to consistently "drip" money into their accounts each month. So who stands to benefit from this shift? The financial advisors at wirehouse firms such as  Morgan Stanley (MS) and Bank of America's (BAC) Merrill Lynch and even do-it-yourself brokerages such as Charles Schwab (SCHW) and  TD Ameritrade (AMTD) are probably licking their chops. Financial advisors have been migrating more and more toward using asset-allocation models, and ETFs allow them to execute these strategies at a low cost. Advisors would also earn a small take on transaction costs because ETFs trade on an exchange just like stocks. Of course, we would caution investors against patronizing any financial advisor who trades excessively in order to generate fee income. By: John Gabriel Source:
www.morningstar.com
NEW YORK (Reuters) - Wells Fargo & Co on Thursday reported preliminary first quarter earnings of $3 billion, or about 55 cents per common share after preferred dividends, a stronger-than-expected result that sent the bank's shares up 28 percent in premarket electronic trading.  The results also bolstered the overall sector, sending the Select Sector SPDR Financial ETF 7.4 percent higher in premarket trading.  The following is reaction from industry analysts and investors:  WILLIAM SMITH, PRESIDENT OF SMITH ASSET MANAGEMENT INC, IN NEW YORK:  "There are good guys and bad guys, and we're not talking about the bad players here. Not all banks are good, and this is going to start separating the good actors from the bad actors."  "Still it's positive and it should be good for the entire sector. The tide lifts all ships."  CLEVELAND RUECKERT, MARKET ANALYST, BIRINYI ASSOCIATES INC. STAMFORD.  "It's definitely been taken well by the market - it's a very positive number. I'm not sure what the details are going to be but I suspect a lot of the stronger-than-expected earnings has to do with change in the accounting rules that were passed recently.  "Wells Fargo serves as good catalyst to get things going and hopefully we can have a fairly positive day."  "I think so (this is mainly down to changes in mark-to-market rule). The market reacted very strongly to number that came across. I'm sure that number will be scrutinized through out the day to really figure out what's going on there, because we've seen pretty significant discrepancies for actual earnings versus analysts estimates throughout this whole credit crisis so there's obviously stuff going on there that the bank analysts weren't aware of. We'll have to see what the details are but on the surface it's very positive."  MICHAEL FARR, PRESIDENT, FARR, MILLER & WASHINGTON, IN WASHINGTON  "They have been growing and expanding share. And that's what we had been saying that Wells Fargo would do and some of the stronger banks would do. They are probably one of the best positioned to expand and benefit from the particularly low mortgage rate environment. It's a huge portion of their business. So they are seeing some gains.  "I don't think that this is an all-clear for Wells Fargo because they have a considerable portfolio of loans on their books that are somewhat concerning. They have got a huge portfolio of home equity loans.  "The loans on the books are not getting the attention they deserve. It's true for most of the financials right now.  "It's a very solid operator. But with that huge portfolio of home equity loans and still a lot of mortgage loans on the books and some subprime -- we still got housing prices that are declining in this country, and that makes all of those loans problematic.  "Any respite from the torture chamber is worth hearty celebration. That our time in the chamber is done remains unclear."  MATT MCCORMICK, PORTFOLIO MANAGER AND BANKING ANALYST ATBAHL & GAYNOR INVESTMENT COUNCEL, INC:  "The table is set to exceed on the upside for a lot of these guys considering expectations are so low, and certainly Wells Fargo blew the cover off the ball.  "In this terrible environment, to exceed on the upside is going to raise the bar pretty high. Wells Fargo is clearly a dominant bank, one of the best operators out there, you're going to really see the cream rise to the top."  "Instead of this stress test the government is doing, you're going to see a real stress test come out now. This is the real stress test -- how people handled this environment, which was the worst in modern market history for them."  "The government is not going to be the type of business partner you want going forward. If these guys now have the ability to exceed on the upside and get out of the TARP restrictions, stand on their own two feet, wasn't that the goal in the first place?"  NICK KALIVAS, EQUITY MARKET ANALYST, MF GLOBAL RESEARCH, CHICAGO  "It is a surprise. It confirms some expectations that the banks were doing better with their charge-offs. Some lower-rated assets are rallying and the relaxing of the mark-to-market rule is also helping. This public-private plan is helping with the marking up of assets. No one expects them to be this good. It's possibly a good indicator for the market."  (Reporting by Richard Leong, Ed Krudy, Paritosh Bansal and Jonathan Spicer) Source: reuters
Jocelynn Drake from schaffersresearch.com posted a very easy to read explanation of Ratio Backspreads. This option strategy is used with stocks and ETF's when investors are pretty certain the market will move in a particular direction, but want to limit their risk. We found this to be a very easy read and well worth sharing.  Please see the teaser below, followed by a link to the entire story:
---
Welcome back to another in a series of articles that examines the thought process behind a variety of option strategies using stock and/or exchange-traded fund (ETF) options. This column will examine a potential ratio backspread, the pros and cons of putting on a ratio backspread, and the profit and loss potential of this position. So, let's jump into this interesting strategy. Ratio backspreads are relatively complex strategies employed by investors who expect a big move from the stock, are relatively sure of the direction, but still want to limit their risk. The strategy is structured to allow for sizeable profits if the investor's projections on timing and direction are correct. In fact, the trader could potentially book a small profit, if the directional prediction is incorrect, The call ratio backspread, executed if a trader is bullish on the underlying stock, index, or ETF, involves selling a number of calls at one strike and buying more calls at a higher strike price. Typically, a 1:2 or 2:3 ratio is employed, but the ratio is always 2:3 or less. The position entered is bullishly aligned because more higher-strike (out-of-the-money) calls are purchased than lower-strike (generally in-the-money) calls are sold. The cost of the long calls is modestly offset by the sold call, which helps alleviate the cost burden and helps compensate for the impact of time decay. Meanwhile, a put ratio backspread is the exact inverse. In this bearish strategy, the options trader would buy a number of puts at one strike (usually in the money) and then sell a smaller number of puts at a lower, out-of-the-money strike. In both call and put backspread situations, all of the options involved should have the same expiration date. If a ratio backspread is structured properly, proceeds from the options sold will match or exceed the price of the purchased options and create a hedge. This hedge allows a trader to book a small profit or break even if the trade moves against him. The trade-off is that the upside breakeven point is higher compared to the outright purchase of a call that is naked. Full Story: 
http://www.schaeffersresearch.com/commentary/content/ratio+backspread/observations.aspx?click=home&ID=92307
CHICAGO, April 7 (Reuters) - The Financial Select Sector SPDR exchange-traded fund XLF.P appears to have attracted a huge bullish stock and option combination trade during the last few minutes of Tuesday's session, according to one trader.  The trade involved the purchase of 100,000 May $8 XLF puts and the purchase of XLF stock at almost the same time, in what professional traders call a synthetic call option, said Jon Najarian, a founder of Web information site optionMonster.com.  In the last few minutes of trade, two huge blocks of May $8 XLF put options of 50,000 contracts were each bought for a premium of 43 cents a contract on the Chicago Board Options Exchange as the ETF shares fell, he said.  The XLF dropped 3.18 percent to $9.13. The put trade represented 10 million shares of stock. The exact number of shares bought in the ETF was not available. The fund's shares would have to rise to $9.58 by May expiration in order to break even on the trade. The strategy enables the investor to take a substantial bullish position in the XLF and could be same as buying a May $8 XLF call option, which gives the right to buy the fund's shares at $8 apiece. "This trader is expecting a resumption of the recent rally in the financial sector," Najarian said. An equity call option conveys the right to buy the company's shares at a fixed price within a specified time period while a put option gives the right to sell the security's shares at a given price and time. (Reporting by Doris Frankel; Editing by Diane Craft) Source: reuters.com
Much has been written about the math behind leveraged ETFs and mutual funds, yet most investors fail to realize the true impact. As a result, many of these products have been ridiculed for failing to meet user expectations. Contrary to popular belief, leveraged and inverse products that reset their exposure level every day are not new. Rydex introduced the concept with the launch of
Rydex Nova
(RYNVX) in 1993 and Rydex Ursa (RYURX) in 1994 (note: Ursa has since been renamed Rydex Inverse S&P 500 Strategy). However, as more and more leverage is applied in these products, the adverse impacts appear to grow exponentially. Direxion introduced 3x ETFs in late 2008, and now we have five months of data to look at. For this example, I have chosen two inversely related leveraged funds:
Direxion Financial Bull 3x Shares (

FAS

)
and
Direxion Financial Bear 3x Shares (

FAZ

).
The chart below illustrates the returns for the five-month period from 11/6/2008 through 4/6/2009 for the following four scenarios:
Green Line: Buy and hold FAS = -86.3%
Red Line: Buy and hold FAZ = -76.9%
Yellow Line: Buy and hold equal amounts of FAS and FAZ with no rebalancing (what some might consider a perfect hedge) = -81.6%
Cyan Line: Buy equal amounts of FAS and FAZ and rebalance every day (a lot of work) = -25.0% (not counting transaction fees and slippage)
click to enlarge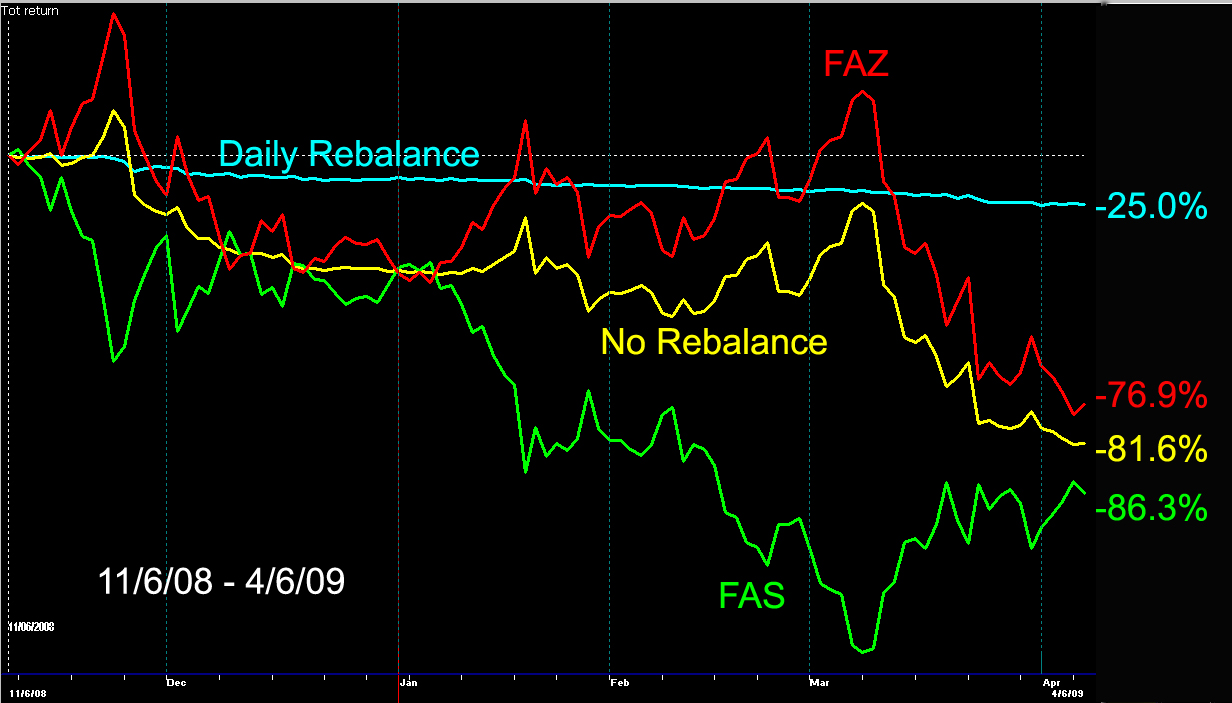 Chart and data by www.FastTrack.net
Even if you go to the trouble of rebalancing every single day the market is open, you are still fighting a headwind of 25% for a five-month period. Most people would consider that impossible to overcome on any kind of continuing basis. I've said it before and I'll say it again: Leveraged ETFs can be great short-term trading instruments, but make sure you understand the longer-term impact before holding any of them for more than a few days. All the ETF sponsors of leveraged and inverse products provide warnings and educational material. Here are links to such information for
DirexionShares
,
ProShares
, and
RydexShares
. Source:  Ron Rowland
www.seekingalpha.com