Gold retail demand seems to be 
faltering in Hong Kong
, where gold recently hit a 6-year high. Gold gift sales are down 4.4% year-to-date and look stagnant in the current month. Shoppers seem concerned by three factors right now. First, those prices are very high; that seems obvious enough.  Second, that the Year of the Pig is viewed as a less-great year to get married in.  And 3rd, that
US-China trade war uncertainties
 meant future economic conditions are less favorable than before. The result is that retail gold demand in Hong Kong has fallen back to primarily investment purchases.  Typically gold investors form a steady floor for Hong Kong demand, and jewelry sales are the variable above that. The year is just passing through the summer wedding season, so we are keeping an eye on sales for the next few months. Some 
trade outlets are whispering
 that people are trading in gold bars bought before. This would mean either that people are strapped for cash, or they expect lower gold prices in the near future. It could be that Chinese people are concerned about 
weak current data
 from their economy and are simply hoarding cash. Gold prices are expected to rise as several countries (including the US) weaken their currencies by lowering interest rates.
Technical chart readers
 tell us we are at a critical inflection point for gold.  As old-time traders used to say, "it'll either go up or down from here".  So we face the same old two questions traders have had to answer forever: Which way, and When?  Your friendly Gold Enthusiast 
took a crack at the When question
 last week. Which direction - in the US at least - depends most on what the Fed does next.  If they lower interest rates, gold will head up in US Dollar terms.  If they decide to leave rates alone we may well see a drop in gold prices, again in US Dollars. At this point we pause and think wistfully back to when the market wasn't so driven by the US Federal Reserve... Signed,
The Gold Enthusiast
DISCLAIMER: The author is long the gold sector via small positions in NUGT, JNUG, a few junior miners, and covered calls on part of the NUGT position. He has no plans to trade the shares in the next 24 hours but is watching option prices for another possible covered call trade.
Every summer gold traders tremble in fear of "the summer doldrums."Newcomers to the gold scene might be asking whether the summer doldrums are a real thing?  While old-timers might ask: "Does it look like we'll get those this year?" Here's a 1-year chart of GLD - guess for yourself on each question, then your friendly Gold Enthusiast will weigh in.
As you can see the recent gold rally is no joke.  It almost looks more like a Bitcoin rally in miniature -- haha. (Longtime readers will know The Gold Enthusiast is not a true Bitcoin fan.) But first let's examine this whole mythological summer doldrums idea.  The summer doldrums are called that because all the big retail news about gold happens in other times of the year.  In the Fall it's India buying gold preparing for marriage season.  In the Winter and Spring it's marriage season itself, along with Christmas and New Year holidays in the West.  Then in Spring there's gold gifting season in India and parts of the Middle East. And for some reason Russia always seems to be buying gold for their central bank reserves in December.  Then in January there's a burst of New Year optimism, with manufacturers projecting their gold use for the year. But in summer there's - just not much.  Not much news, other than July earnings season in US markets, which is a snore-fest by US earnings season standards. That's where the idea of summer doldrums comes from.  It is a thing - it's when the gold market kinda goes news-cold.  Not that nothing's going on, just that relatively there's not much to put gold on the front page.  On a known, repeating basis. Which brings us to this year.  This year we have some geopolitics!  And as we all know, geopolitical uncertainty is a big driver of gold prices.  The 1-year chart of gold above shows a dip from July through August, then a slow gradual sideways move until December.  That was owning to a lack of good news from the retail markets as well as a lack of uncertainty in geopolitical terms. Then came December when the picture for gold brighted up. A lot. Now as we head into this summer we have quite a bit of uncertainty.  Yes, it looks like we have a truce in the US-China trade war.  But in the meantime, Iran rattled a few modern sabers, with some actual missile firing and ship-attacking.  And the US responding more with words and economics than with shooting.  So while this-all gets sorted out we have - geopolitical instability. And we're into summer this year from a much higher price level.  Which either adds to the upside potential, or to the size of the downside slump, depending on which way you want to call it from here. So the answers to our original questions were Yes and No.  Yes, the summer doldrums in gold are a real thing.  And No, it doesn't look like we'll have those this year. Signed,
The Gold Enthusiast
DISCLAIMER: The author is long the gold sector via small positions in NUGT, JNUG, a few junior miners, and covered calls on part of the NUGT position. He has no plans to trade these in the next 24 hours.
A nine-month extension to production cuts
Russia's profile rises
Output policy now depends on a triad of the leading producers
The international oil cartel met on July 1 and 2 at its biannual meeting in Vienna, Austria. Before the meeting, the oil minister from the most influential member of OPEC, Saudi Arabia, said that his country would like to see Brent crude oil in a range from $60 to $70 per barrel. 
Trades issues that threaten the global economy and the rising tensions in the Middle East are pulling the price of the energy commodity in opposite directions. 
OPEC is not the influential body that determines the international price of crude oil anymore. The United States now produces over 12 million barrels per day, and Russia is one of the three leading producers. Two of the three world leaders are not members of the cartel, making it a toothless tiger. Meanwhile, OPEC attempted to shift the power balance back in its favor at the most recent meeting. 
A nine-month extension to production cuts
The price of crude oil went into and came out of the meeting within the price range that is the sweet spot for the Saudis. 
Source: Barchart
The chart illustrates that last week, the active month September Brent crude oil futures contract that trades in the Intercontinental Exchange traded in a range from $62.07 to $66.74 per barrel and closed last Friday at just over the $64 level. Brent is the benchmark pricing mechanism for most OPEC members and two-thirds of the world's petroleum. 
Since the price of Brent futures slipped from a high at $75.59 per barrel in April, it was no surprise that the members of the cartel agreed to extend the 1.2 million barrels per day production cut at their meeting. The only surprise was that the members decided to formalize its relationship with Russia with a partnership charter. 
The Russians have been involved in OPEC production policy since early 2016 when the price of petroleum slipped below the $30 per barrel level. Russia bridged the divide between the Saudis and Iranian who have been arch-enemies in the region for years, to engineer a production cut that lifted the price of oil from the lows. 
The news of the extension for the next nine months came as no surprise as Vladimir Putin and Saudi Crown Prince Mohammed bin Salman leaked the information at the G20 meeting the weekend before OPEC ministers gathered in Vienna. 
Russia's profile rises
Russia's involvement in OPEC production has been growing over the past three years. At the late 2018 meeting, the oil ministers could not agree on a final level for an output but until Russian oil minister Alexander Novak and President Putin mediated to come up with a 1.2 million barrels per day cut to the previous production quota when the price of oil was on its way to the lows late last year. Russia agreed to participate in the cut and over the years has bought lots of goodwill with the other members of the cartel. 
Without Russia, OPEC would have absolutely no power these days since the US is now the world's leading oil-producing country. The partnership agreement with the Russians serves to preserve at least some of the cartel's influence when it comes to the path of the price of the energy commodity. 
Output policy now depends on a triad of the leading producers
In reality, OPEC is a relic of the past. The price of oil is now under the control of the three leading producers. Oil is one of the most political commodities in the world as more than half the reserves are in the Middle East. The US sanctions on Iran and recent retaliation when it comes to attacks on tankers, missiles flying from Yemen into Saudi sovereign territory, and an attack on a US drone near the Strait of Hormuz have increased supply risks for crude oil exports from the region. 
Oil is a market with lots of vested political interest. The US administration has not been shy about its desire for more output from the Saudis and allies in the Middle East to keep the price of oil under control. The situation with Iran has only increased US pressure to increase production. Russia and the Saudis would prefer a higher price but realize that would only encourage even more oil to flow from the US. The political nature of the commodity means that there are likely lots of behind the scene influence peddling between Washington, Moscow, and Riyadh these days. 
President Putin and the Crown Prince of Saudi Arabia already knew the verdict of the OPEC meeting before the ministers sat down at the table on July 1, and it is likely that President Trump also was aware of the outcome of the meeting before it occurred. 
OPEC is now nothing more than a trade organization with Russia pulling the strings, and the US exerting influence through its relationship with Saudi Arabia. 
_____________________________________________________________________________________
About the Author 
Andy Hecht is a sought-after commodity and futures trader, an options expert and analyst. He is a top ranked author on
Seeking Alpha
in various categories.  Andy spent nearly 35 years on Wall Street, including two decades on the trading desk of Phillip Brothers, which became Salomon Brothers and ultimately part of Citigroup.  Over the past decades, he has researched, structured and executed some of the largest trades ever made, involving massive quantities of precious metals and bulk commodities. Aside from contributing to a variety of sites, Andy is the Editor-in-Chief at
Option Hotline
.
Silver prices dropped hard Friday as investors went back to equities. While the stock market closed down from the pre-holiday high, it was still a
 fairly strong showing for stocks
compared to other investment groups.  Precious metals and other safe-haven trades took it on the chin Friday, with SLV down on a big-volume day.  That's not usually a good sign for bulls short-term.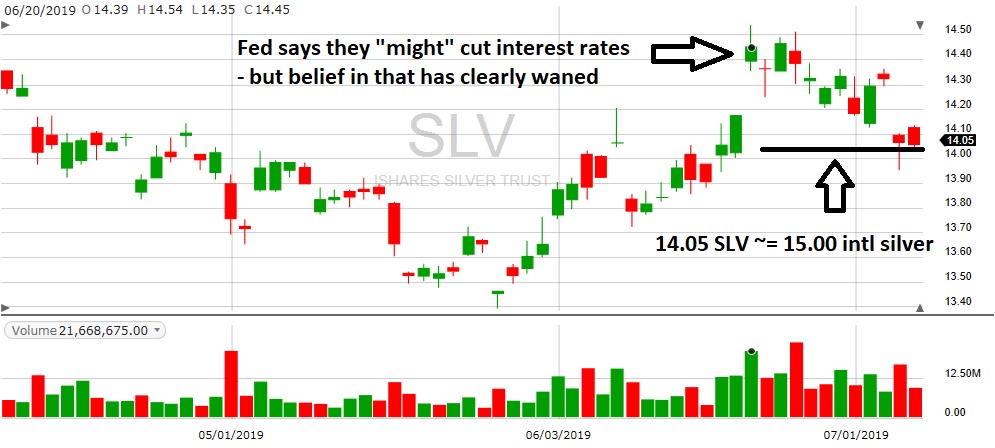 (credit Fidelity.com) So we're back to looking at the chart to see how bad it is, and where our trading decision points are. Your friendly Gold Enthusiast would argue that for silver, we're sitting on it right now.  International silver is at 15.04 in pre-market New York trading, having gained enough cents to climb back above 15.00. There is a case to be made on the overnight 5-minute chart that 14.85 might be a more precise support level than 15, but as we're not looking to go short quite yet we'll just keep that knowledge in our back pocket for now. For most regular investors, SLV is the easiest way to trade silver in the US markets.  The current equivalent to 15.00 international silver in SLV is 14.05, so we'll be keeping an eye on that in the coming days. The other thing the SLV chart shows oh-so-clearly is how investors have adopted a real "safe-haven" view of silver.  Silver popped on June 20 when the Fed indicated
 they saw warning signs
 in the economy and might cut rates.  Normally falling interest rates are bad for precious metal prices, but the fear of recession triggered a relative stampede into silver.  News then about the gold-to-silver ratio hitting a fresh all-time high probably helped direct some traffic to silver that might have gone to gold. But as the chart shows, interest in silver waned almost immediately, with the metal not going any higher than it did that day. In fact, it's been the opposite - silver has lost ground on more days than it's made ground. Now that we're back down on support we'll have to see whether there is enough interest to keep silver in the current trading range, or if it's back to the basement... Signed,
The Gold Enthusiast
DISCLAIMER: The author is long the silver sector via small positions in PAAS, SVBL, and AGQ. He may sell the AGQ position if SLV closes below 14.05 for reasons discussed in this article, but has no intentions of trading the other positions in the next 72 hours.
With gold hitting a 5-year high, it's time for me rethink the yellow and the role it plays it both the broad investment landscape and possibly my own portfolio. 
I've been a longtime skeptic of gold and remain stubbornly bearish regarding its long-term outlook.  To my mind, the oft-cited purposes that give it value are either diminishing or gone — using an alternate currency is quickly replacing bitcoin, which itself has seen a resurgence. The ability to hedge against inflation has been spurious, and using it as a store of wealth or a sage asset — in case of thermonuclear war — seems silly. If my fear is the end of the world, I'd rather own farmland with some cows. 
But thanks to recent macro and political events have seen sovereign and individuals accumulating into the shiny stuff in recent months.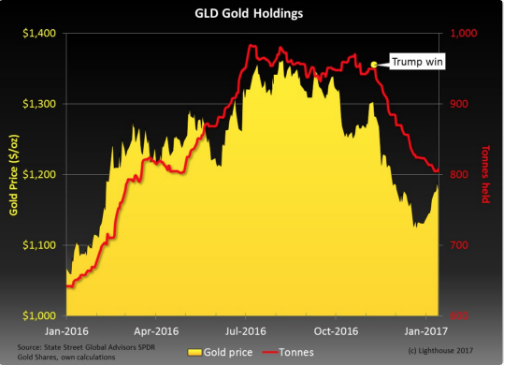 And if we are to believe that the recent bullish boasts and bets made by some of the highest-profile money managers such as Stanley Druckenmiller, George Soros, Jeffery Gundlach and Bill Gross, it should be going ever higher in the months to come. 
The basis for the bull calls varies a bit. But, they all underpinned that as Druckenmiller stated at Sohn conference last May, "gold has traded for 5000 years and for the first time has a positive carry in many parts of the globe as bankers are now experimenting with the absurd notion of negative interest rates."   
Bottom line, one of the great knocks against gold was its inert nature and the cost to hold or store it in some fashion. Now with zero to negative rates on bonds, which can at best, return your original capital, gold with its theoretically unlimited upside looks increasingly attractive. 
As you can see gold recently broke out of a near 4-year doldrum and appears poised for a what could be a multi-year bull move higher.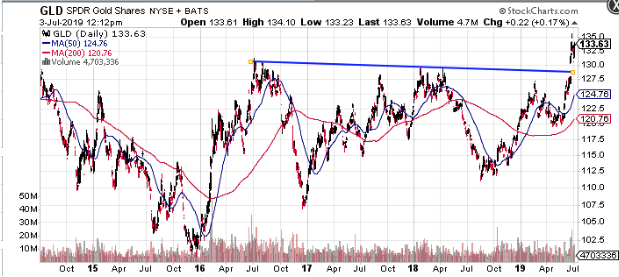 But, what bucket does gold as an "asset" actually fall into and what role can it play in your portfolio? Some of the key determinants were based on how you view gold, to begin with; is it a currency, an inflation hedge, a safe haven, a commodity or some combination of all?  A recent article from
Pension Partners
provided a good overview for each of these labels. 
Gold as a Currency
Since the end of the Gold standard in 1972, we see an overall correlation of -0.37 between Gold and the Dollar Index, meaning that on average Gold and the Dollar move in opposite directions.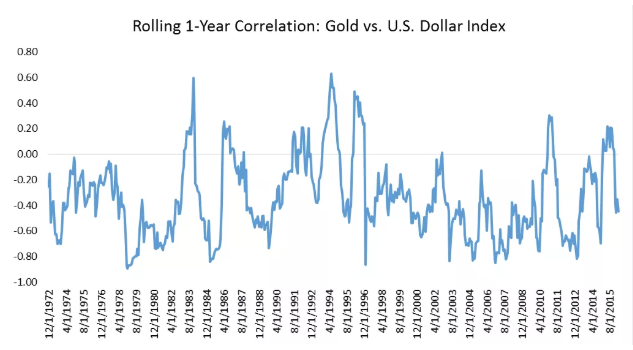 But on average, it doesn't mean always. In looking at the calendar year returns, Gold and the Dollar have moved in opposite directions 75% of the time. That means in 1 out of every 4 years they are actually moving either up and down together.
And while Gold and the U.S. Dollar tend to move in opposite directions, the moves are not anything close to proportional. Since 1972, the Dollar Index has fallen 16% (-0.4% annualized) while Gold has risen 2875% (8% annualized). There is clearly more to Gold than just a falling Dollar.
Gold as a Commodity
Is Gold more of a Commodity? Let's take a look.
Since 1972, the monthly correlation between Gold and the Thomson Reuters Equal Weight Commodity Index (CCI Index) is .39.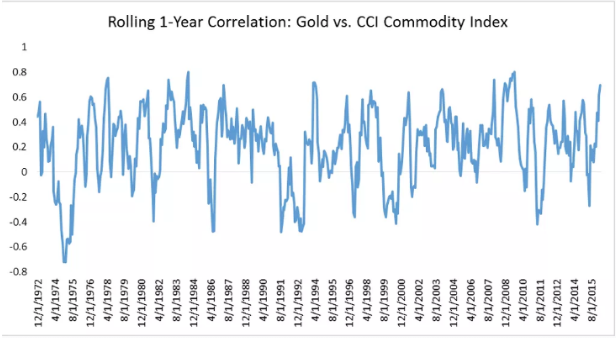 While Gold and Commodities tend to move together, that isn't the cade and the cumulative appreciation since 1972 has not been close to proportionate. In 31% of years, Gold has moved in the opposite direction to the equal weight commodity index, with an annualized return of 8.0% for Gold versus 3.1% for the CCI Index.
Gold as an Inflation Hedge
Since 1972, Gold's 2,875% advance has far surpassed the cumulative rate of inflation in the US of 480% for the overall CPI and 473% for Core CPI.
Digging in a little deeper, reveals that Gold is anything but a constant or proportionate inflation hedge. From 1972 through 1980, Gold surged 1256% versus a 110% increase in the CPI. During the next 20 years (from 1981 through 2000), the CPI rose 101% while Gold fell 54%.
Gold as a Safe Haven
We know that Gold is uncorrelated to the U.S. stock market, with a monthly correlation of 0.00 since 1972. 
Meaning, it does provide a nice diversification from stocks but whether it's any safer is up to debate.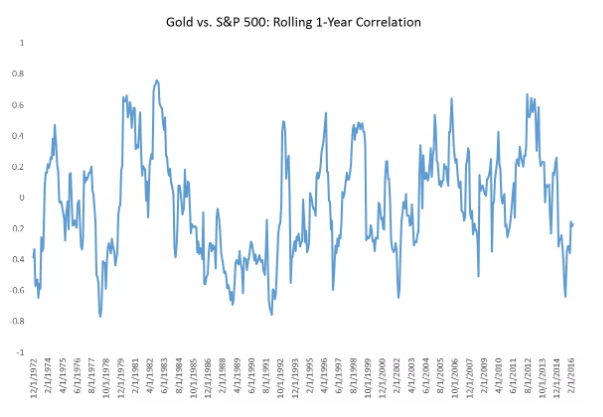 The Enigma that is Gold
The truth is that Gold cannot be simply defined as a currency, commodity, inflation hedge or safe haven. At various times it has been some/all of these things and at other times none of these things.
Gold is not a pure play on any one factor but the sum product of multiple factors. If you believe the U.S. Dollar is going lower, short the U.S. dollar. Gold will likely rise but the inverse
Dollar ETF (UDN)
is certain to rise. If you believe commodities are going higher, go long a basket of commodities. Gold will likely rise with them but a broad-based commodity exposure (DBC) will have better odds. If you are concerned about inflation, Gold may end up protecting you in the long run. But, as we have seen, Gold can be a terrible inflation hedge in the shorter run (see 1981-2000). 
Long-term bonds and stocks have been a much more consistent hedge against inflation than Gold over the past 40+ years. Finally, if you are seeking a safe haven – Gold may provide such exposure at times. But, the odds of that are not nearly as high as the consistency of treasury bills/bonds.
Perhaps, the most important thing we can say about Gold is that it is truly an enigma. Its behavior is unique in terms of its lack of sensitivity to economic activity and non-correlation to stocks and bonds. That uniqueness, while frustrating to those who need to explain its every move, is what makes it an interesting component in a diversified portfolio.  It also makes Gold an effective baseline to which you can compare more economically sensitive commodities such as Lumber. 
To extract long-term value from Gold, embrace the enigma. Leave the storytelling to those whose job it is to come up with a reason for its every move.
With July 4
th
upon us, and the potentially world-changing events being negotiated as the U.S's President Trump and China's Xi pore though texts — both ancient and modern looking for the upper hand — now's a good time for us mere plebes to catch up on our own reading. 
Here's a list, of some old and new books that can help in trading and in life in general. 
While I wouldn't chop off an arm reaching for the latest Jack Reacher novel, or deny the deal-making put forth by Trump as someone who writes about and actively trades options, I belong to the camp believing that your time could be better spent learning how options, when properly utilized, can both boost returns and reduce risk.
Instead, impress your neighbors, annoy your family and study yourself into a well-deserved siesta with some of the best books and resources on options. It may lack the drama of reading about Greece and central banks interventionist policies, but I promise the long-term benefit is better.  
I'll tee up a few topics and offer some reading suggestions for those that want to delve deeper and don't mind being spotted on the beach thumbing or swiping through an options book or tablet.
Operation Manual
As with any tool, before using options, make sure you are familiar with the basic rules and guidelines that govern their behavior. 
For starters, make sure you know the contract specifications of the product you are trading. Items such as margin requirements (pay special attention to leverage), the exercise and settlement procedures, and what strikes and expirations are currently listed for trading are important to know.
For example, you should be aware that index options, such as for those on the S&P 500 or SPX, can only be exercised on expiration day and are cash settled; also note that SPX options actually cease trading on the third Thursday of the month, a day earlier than equity options, though they officially expire on the third Saturday. 
By contrast, equity options, including those on the 
Spyder Trust
 (SPY), can be exercised at any time during the life of the contract. This is especially important when trading options on stocks that pay dividends. 
This information and more can easily be found at exchange websites such as
Chicage Board of Options Exchange
  (CBOE)
page   Another great source of education is
the Options Industry Council
A terrific book that covers all the basic concepts and strategies is
Options as a Strategic Investment by
 Lawrence McMillan.  
The next level is
Option Volatility and Pricing: Advanced Trading Strategies and Techniques
by Shelton Natenberg. 
Dealing in Dividends
If you own in-the-money calls on 
Exxon
 (XOM) make sure you know when the ex-dividend date occurs -- you will need to exercise your calls if you want to qualify for the payment. Likewise, if you are short an in-the-money call on a dividend-paying stock, be prepared for assignment and being short the actual shares the day before it goes ex-dividend. 
Most ETFs pay dividends. Some, like the Spyders pay out on a quarterly basis — and for some reason — the ex-dividend date often falls on the Thursday prior to a quarterly expiration.   Meaning, many people have failed to exercise an ITM call and lose out on the dividend, while others or are unwittingly assigned puts and forced to pay. 
Others, like the 
Dow Jones Diamonds
 (DIA) make monthly distributions. The point is, knowing the basic rules by which the various vehicles operate will help you avoid surprises such as an early assignment on an in-the-money call. 
Jargon Slashing
Option traders, like other professionals, love to use industry jargon. Talking the lingo serves several purposes: It connotes a high level of knowledge and expertise in one's specific field, it accurately conveys complex concepts in a concise manner, and it just sounds so cool to say things like, "I'm long vol up the ying-yang and bleeding theta," which basically means one owns options that are suffering from time decay. 
The downside of lingo is that sometimes it's used to purposely conceal the true level of understanding, or is simply a means for the speaker to bolster his self-esteem and get the upper hand in a conversation or negotiation. 
This can be very off-putting to the layperson put in the position of deferring to the expert because he is reluctant to ask a "stupid question."   So, with that in mind, while it's not important to know all the jargon it is imperative to understand the concepts so as not to make a needless costly error.  
Or that scalping gamma is a fancy way of saying, "I'm trying to buy low volatility and sell higher volatility as the price of the underlying stock moves back and forth within a trading range." 
Some basic concepts of option pricing models such as
Black-Scholes
and what the "
the greeks",
especially, delta and theta, mean how they measure options' value. 
For deeper dives into it, there are plenty of good books out there.  One of my favorites on harnessing Vega and Gamma is
Options Volatility Trading: Strategies for Profiting from Market Swings
by Adam Warner.  
A great site for finding and analyzing current and historical volatility, along with an amazing amount of free tools, is
iVolatlity.com
One of the best option books I've ever read is by Charles Cottle — whom I've had the pleasure of sharing a panel with on several occasions — called
Options Trading: The Hidden Reality.
It blew my mind so much so on the first read that I had to go back and read it again. And I still only understand only half of what he was saying. 
That one will both enlighten and put you to sleep. 
Enjoy the weekend 
This is one of those days where you feel like you know what is going to happen, and you wish your article submission deadline was 2 hours later.  In premarket today, gold has dropped below 1400 USD/oz on the tails of news of an
apparent truce in the US-China trade war
. Here's the 5-day chart of GLD including pre-market and after-market New York hours; it isn't hard to see the drop away from the peak.
(credit Fidelity.com) Since gold is now below 1400, we have to consider 1400 as significant resistance overhead.  Yes, there are the optimists (read: perpetually gold-bullish) who will see this as a buying opportunity.  The trading reality, however, usually plays out that the first step down in a big market optimism change is just that - the first step.  Which is usually followed by second — and even third steps — down. Last week our trading advisory put a stop under our naked NUGT position.  We're going to leave that on, and it looks like we'll step out with a very healthy profit this morning at the open. If we're wrong and the gold sector recovers we can always buy back in once we see 1400 become support again, or when gold breaks its recent high. We might miss a little gain, but we might also miss a big loss. You might remember a month (and two, and three) ago when we were 
bemoaning the lack of action
in the gold sector.  Well, that just turned out to be the setup for a nice blip up.  We bought a little during a low which will pay off nicely today.  Maybe we didn't buy enough to buy that nice new yacht, but we were at least in the game and will walk away with a very successful month. One thing is always certain when trading gold: There's either something happening or something set up to happen.  Stay tuned for whatever happens next! Signed,
The Gold Enthusiast
DISCLAIMER: The author is long the gold sector via small positions in NUGT, JNUG, a few junior miners, and a covered call on part of the NUGT position. He will likely get stopped out of some of the NUGT shares by the time you read this, as indicated in the article, but will have some shares left not under the covered call.
From
Scott McGovern
:
Some of the biggest companies in the world are poised to profit from legalization. Meet the biggest non-weed companies investing in cannabis.