The Federal Reserve will release another announcement today or set of notes, depending on how you want to look at it. Either way, it will probably be a critical day for gold.  First, let's see where we are.
Gold retail demand seems to be 
faltering in Hong Kong
, where gold recently hit a 6-year high. Gold gift sales are down 4.4% year-to-date and look stagnant in the current month. Shoppers seem concerned by three factors right now. First, those prices are very high; that seems obvious enough.  Second, that the Year of the Pig is viewed as a less-great year to get married in.  And 3rd, that
US-China trade war uncertainties
 meant future economic conditions are less favorable than before. The result is that retail gold demand in Hong Kong has fallen back to primarily investment purchases.  Typically gold investors form a steady floor for Hong Kong demand, and jewelry sales are the variable above that. The year is just passing through the summer wedding season, so we are keeping an eye on sales for the next few months. Some 
trade outlets are whispering
 that people are trading in gold bars bought before. This would mean either that people are strapped for cash, or they expect lower gold prices in the near future. It could be that Chinese people are concerned about 
weak current data
 from their economy and are simply hoarding cash. Gold prices are expected to rise as several countries (including the US) weaken their currencies by lowering interest rates.
Technical chart readers
 tell us we are at a critical inflection point for gold.  As old-time traders used to say, "it'll either go up or down from here".  So we face the same old two questions traders have had to answer forever: Which way, and When?  Your friendly Gold Enthusiast 
took a crack at the When question
 last week. Which direction - in the US at least - depends most on what the Fed does next.  If they lower interest rates, gold will head up in US Dollar terms.  If they decide to leave rates alone we may well see a drop in gold prices, again in US Dollars. At this point we pause and think wistfully back to when the market wasn't so driven by the US Federal Reserve... Signed,
The Gold Enthusiast
DISCLAIMER: The author is long the gold sector via small positions in NUGT, JNUG, a few junior miners, and covered calls on part of the NUGT position. He has no plans to trade the shares in the next 24 hours but is watching option prices for another possible covered call trade.
Every summer gold traders tremble in fear of "the summer doldrums."Newcomers to the gold scene might be asking whether the summer doldrums are a real thing?  While old-timers might ask: "Does it look like we'll get those this year?" Here's a 1-year chart of GLD - guess for yourself on each question, then your friendly Gold Enthusiast will weigh in.
As you can see the recent gold rally is no joke.  It almost looks more like a Bitcoin rally in miniature -- haha. (Longtime readers will know The Gold Enthusiast is not a true Bitcoin fan.) But first let's examine this whole mythological summer doldrums idea.  The summer doldrums are called that because all the big retail news about gold happens in other times of the year.  In the Fall it's India buying gold preparing for marriage season.  In the Winter and Spring it's marriage season itself, along with Christmas and New Year holidays in the West.  Then in Spring there's gold gifting season in India and parts of the Middle East. And for some reason Russia always seems to be buying gold for their central bank reserves in December.  Then in January there's a burst of New Year optimism, with manufacturers projecting their gold use for the year. But in summer there's - just not much.  Not much news, other than July earnings season in US markets, which is a snore-fest by US earnings season standards. That's where the idea of summer doldrums comes from.  It is a thing - it's when the gold market kinda goes news-cold.  Not that nothing's going on, just that relatively there's not much to put gold on the front page.  On a known, repeating basis. Which brings us to this year.  This year we have some geopolitics!  And as we all know, geopolitical uncertainty is a big driver of gold prices.  The 1-year chart of gold above shows a dip from July through August, then a slow gradual sideways move until December.  That was owning to a lack of good news from the retail markets as well as a lack of uncertainty in geopolitical terms. Then came December when the picture for gold brighted up. A lot. Now as we head into this summer we have quite a bit of uncertainty.  Yes, it looks like we have a truce in the US-China trade war.  But in the meantime, Iran rattled a few modern sabers, with some actual missile firing and ship-attacking.  And the US responding more with words and economics than with shooting.  So while this-all gets sorted out we have - geopolitical instability. And we're into summer this year from a much higher price level.  Which either adds to the upside potential, or to the size of the downside slump, depending on which way you want to call it from here. So the answers to our original questions were Yes and No.  Yes, the summer doldrums in gold are a real thing.  And No, it doesn't look like we'll have those this year. Signed,
The Gold Enthusiast
DISCLAIMER: The author is long the gold sector via small positions in NUGT, JNUG, a few junior miners, and covered calls on part of the NUGT position. He has no plans to trade these in the next 24 hours.
Silver prices dropped hard Friday as investors went back to equities. While the stock market closed down from the pre-holiday high, it was still a
 fairly strong showing for stocks
compared to other investment groups.  Precious metals and other safe-haven trades took it on the chin Friday, with SLV down on a big-volume day.  That's not usually a good sign for bulls short-term.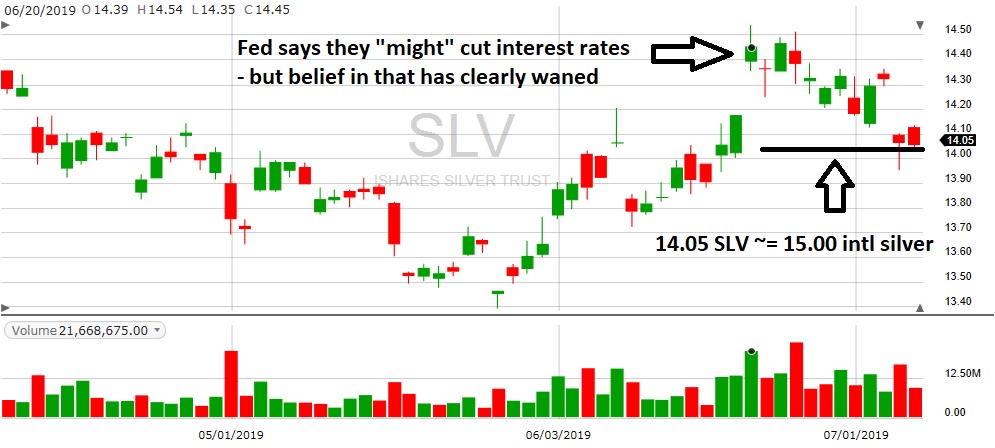 (credit Fidelity.com) So we're back to looking at the chart to see how bad it is, and where our trading decision points are. Your friendly Gold Enthusiast would argue that for silver, we're sitting on it right now.  International silver is at 15.04 in pre-market New York trading, having gained enough cents to climb back above 15.00. There is a case to be made on the overnight 5-minute chart that 14.85 might be a more precise support level than 15, but as we're not looking to go short quite yet we'll just keep that knowledge in our back pocket for now. For most regular investors, SLV is the easiest way to trade silver in the US markets.  The current equivalent to 15.00 international silver in SLV is 14.05, so we'll be keeping an eye on that in the coming days. The other thing the SLV chart shows oh-so-clearly is how investors have adopted a real "safe-haven" view of silver.  Silver popped on June 20 when the Fed indicated
 they saw warning signs
 in the economy and might cut rates.  Normally falling interest rates are bad for precious metal prices, but the fear of recession triggered a relative stampede into silver.  News then about the gold-to-silver ratio hitting a fresh all-time high probably helped direct some traffic to silver that might have gone to gold. But as the chart shows, interest in silver waned almost immediately, with the metal not going any higher than it did that day. In fact, it's been the opposite - silver has lost ground on more days than it's made ground. Now that we're back down on support we'll have to see whether there is enough interest to keep silver in the current trading range, or if it's back to the basement... Signed,
The Gold Enthusiast
DISCLAIMER: The author is long the silver sector via small positions in PAAS, SVBL, and AGQ. He may sell the AGQ position if SLV closes below 14.05 for reasons discussed in this article, but has no intentions of trading the other positions in the next 72 hours.
With gold hitting a 5-year high, it's time for me rethink the yellow and the role it plays it both the broad investment landscape and possibly my own portfolio. 
I've been a longtime skeptic of gold and remain stubbornly bearish regarding its long-term outlook.  To my mind, the oft-cited purposes that give it value are either diminishing or gone — using an alternate currency is quickly replacing bitcoin, which itself has seen a resurgence. The ability to hedge against inflation has been spurious, and using it as a store of wealth or a sage asset — in case of thermonuclear war — seems silly. If my fear is the end of the world, I'd rather own farmland with some cows. 
But thanks to recent macro and political events have seen sovereign and individuals accumulating into the shiny stuff in recent months.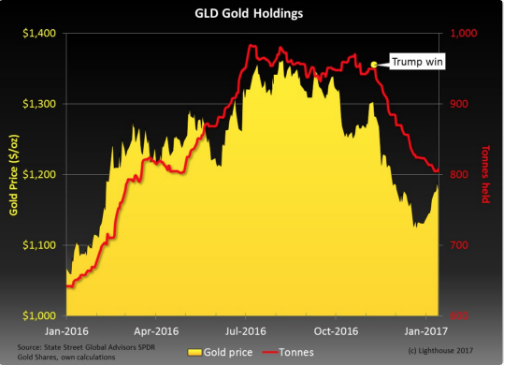 And if we are to believe that the recent bullish boasts and bets made by some of the highest-profile money managers such as Stanley Druckenmiller, George Soros, Jeffery Gundlach and Bill Gross, it should be going ever higher in the months to come. 
The basis for the bull calls varies a bit. But, they all underpinned that as Druckenmiller stated at Sohn conference last May, "gold has traded for 5000 years and for the first time has a positive carry in many parts of the globe as bankers are now experimenting with the absurd notion of negative interest rates."   
Bottom line, one of the great knocks against gold was its inert nature and the cost to hold or store it in some fashion. Now with zero to negative rates on bonds, which can at best, return your original capital, gold with its theoretically unlimited upside looks increasingly attractive. 
As you can see gold recently broke out of a near 4-year doldrum and appears poised for a what could be a multi-year bull move higher.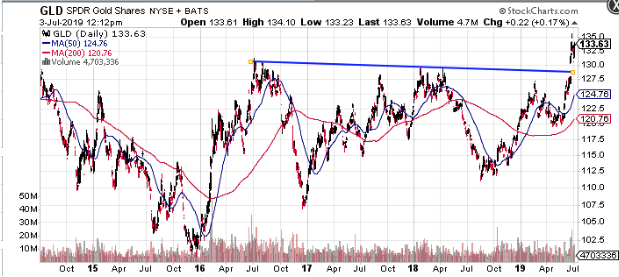 But, what bucket does gold as an "asset" actually fall into and what role can it play in your portfolio? Some of the key determinants were based on how you view gold, to begin with; is it a currency, an inflation hedge, a safe haven, a commodity or some combination of all?  A recent article from
Pension Partners
provided a good overview for each of these labels. 
Gold as a Currency
Since the end of the Gold standard in 1972, we see an overall correlation of -0.37 between Gold and the Dollar Index, meaning that on average Gold and the Dollar move in opposite directions.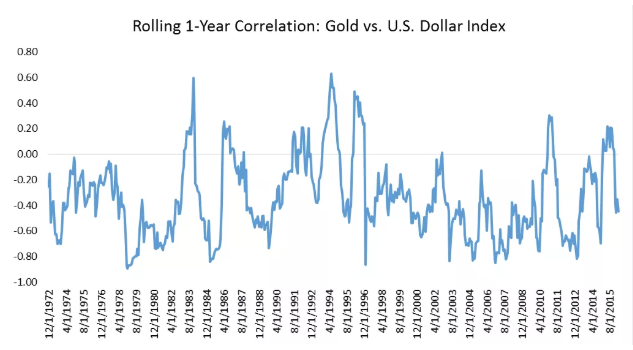 But on average, it doesn't mean always. In looking at the calendar year returns, Gold and the Dollar have moved in opposite directions 75% of the time. That means in 1 out of every 4 years they are actually moving either up and down together.
And while Gold and the U.S. Dollar tend to move in opposite directions, the moves are not anything close to proportional. Since 1972, the Dollar Index has fallen 16% (-0.4% annualized) while Gold has risen 2875% (8% annualized). There is clearly more to Gold than just a falling Dollar.
Gold as a Commodity
Is Gold more of a Commodity? Let's take a look.
Since 1972, the monthly correlation between Gold and the Thomson Reuters Equal Weight Commodity Index (CCI Index) is .39.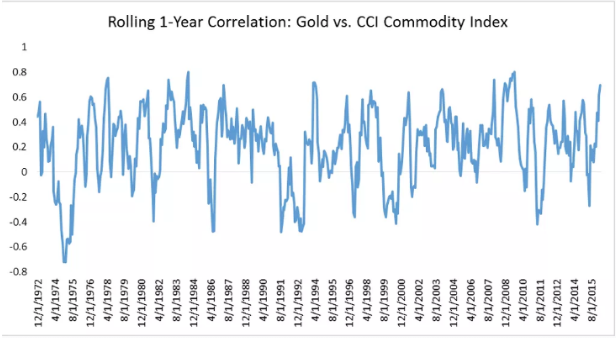 While Gold and Commodities tend to move together, that isn't the cade and the cumulative appreciation since 1972 has not been close to proportionate. In 31% of years, Gold has moved in the opposite direction to the equal weight commodity index, with an annualized return of 8.0% for Gold versus 3.1% for the CCI Index.
Gold as an Inflation Hedge
Since 1972, Gold's 2,875% advance has far surpassed the cumulative rate of inflation in the US of 480% for the overall CPI and 473% for Core CPI.
Digging in a little deeper, reveals that Gold is anything but a constant or proportionate inflation hedge. From 1972 through 1980, Gold surged 1256% versus a 110% increase in the CPI. During the next 20 years (from 1981 through 2000), the CPI rose 101% while Gold fell 54%.
Gold as a Safe Haven
We know that Gold is uncorrelated to the U.S. stock market, with a monthly correlation of 0.00 since 1972. 
Meaning, it does provide a nice diversification from stocks but whether it's any safer is up to debate.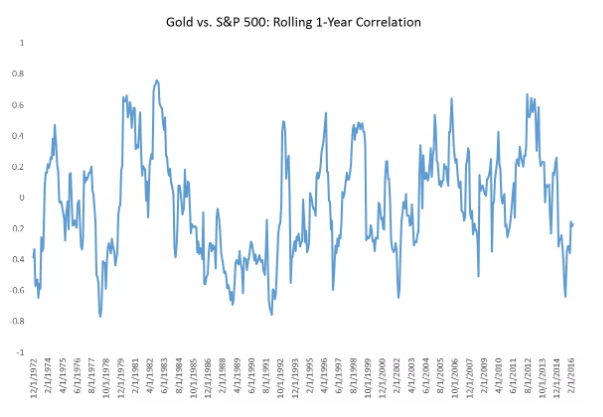 The Enigma that is Gold
The truth is that Gold cannot be simply defined as a currency, commodity, inflation hedge or safe haven. At various times it has been some/all of these things and at other times none of these things.
Gold is not a pure play on any one factor but the sum product of multiple factors. If you believe the U.S. Dollar is going lower, short the U.S. dollar. Gold will likely rise but the inverse
Dollar ETF (UDN)
is certain to rise. If you believe commodities are going higher, go long a basket of commodities. Gold will likely rise with them but a broad-based commodity exposure (DBC) will have better odds. If you are concerned about inflation, Gold may end up protecting you in the long run. But, as we have seen, Gold can be a terrible inflation hedge in the shorter run (see 1981-2000). 
Long-term bonds and stocks have been a much more consistent hedge against inflation than Gold over the past 40+ years. Finally, if you are seeking a safe haven – Gold may provide such exposure at times. But, the odds of that are not nearly as high as the consistency of treasury bills/bonds.
Perhaps, the most important thing we can say about Gold is that it is truly an enigma. Its behavior is unique in terms of its lack of sensitivity to economic activity and non-correlation to stocks and bonds. That uniqueness, while frustrating to those who need to explain its every move, is what makes it an interesting component in a diversified portfolio.  It also makes Gold an effective baseline to which you can compare more economically sensitive commodities such as Lumber. 
To extract long-term value from Gold, embrace the enigma. Leave the storytelling to those whose job it is to come up with a reason for its every move.