Chris Ciovacco: Stock market investors are obsessed with forecasts, but how helpful are they? The concepts of forecasting are basically the same for stocks, bonds, and commodities. The forecaster takes known information from the present day and projects it into the future based on what they believe to be reasonable estimates. Since it can help us illustrate (a) the accuracy of forecasting, and (b) a better method to improve our odds of success, we will look at 2008 forecasts for the S&P 500 and the stock market's subsequent performance.
2008 S&P 500 Predictions – Not Very Helpful
The horizontal lines on the chart below show 2008 forecasts for the S&P 500 that were published in the January 2, 2008 edition of USA Today; the title of the article was "2008 predictions for the S&P 500". The forecasts ranged from 1680 to 1520. With the S&P 500 closing at 903 on December 31, 2008, the best forecast was off target by 41%, and the worst forecast was off by 46%.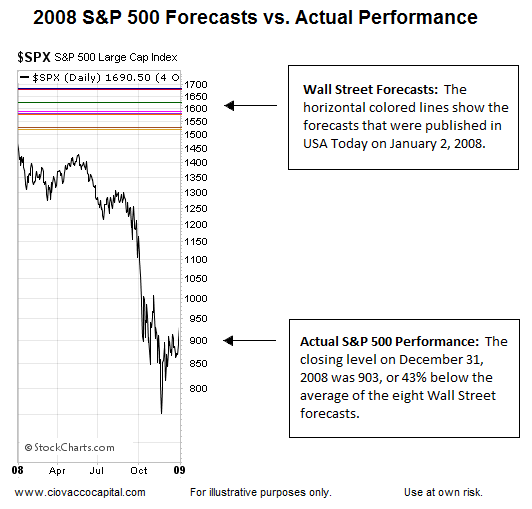 Did Major Firms Help In The Last Bear Market?
The table below shows each firm's 2008 forecast according to USA Today. Forecasting is demanded by the public, which is why firms publish forecasts. Since we respect and understand the difficulty of forecasting, we refer to the firms in generic form in the table below.