Money Morning Staff: Oil Price Forecast 2015: After hovering around $110/barrel for the first eight months of the year, oil prices have tumbled by 45% into the $60 to $65/barrel range.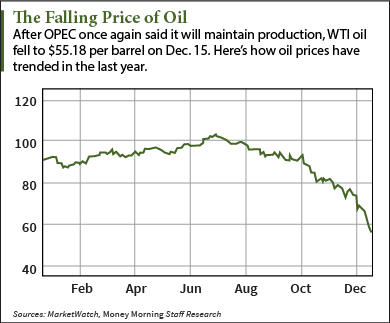 In fact, in mid-December, oil prices dipped as low as $56 a barrel, a level not seen since May 2009 during the worst of the "Great Recession."
But according to the 2015 oil price forecast by Money Morning Global Energy Strategist Dr. Kent Moors, the worst of the price crash is likely over.
"Oil," Dr. Moors says, "is very near a bottom."
"As the most fluid commodity in the world," Moors notes, "crude has the ability to quickly self-correct, which is why long-time oil veterans aren't worried about falling prices.
"In fact, the vast majority of them (including myself) actually expect oil prices to climb next year."
As a result, Moors now believes a modest rebound is now beginning to take shape, followed by a massive wave of mergers and acquisitions worldwide.
For investors, that spells a new wave of profits, even as OPEC threatens to drive prices lower.
Here's why: According to Dr. Moors, OPEC is fighting a battle it just can't win.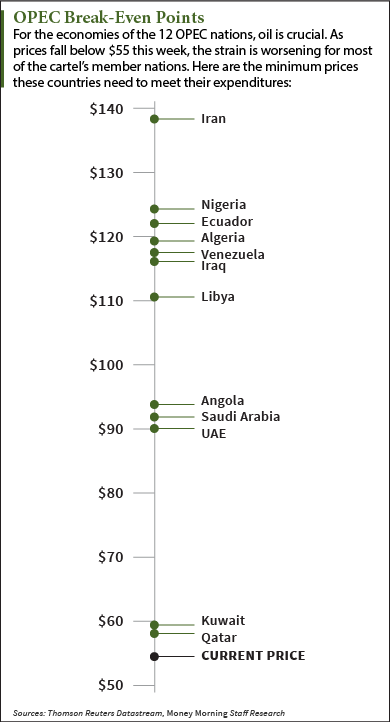 OPEC's War on Oil Prices Is Doomed to Failure
Of course, OPEC's recent decision to maintain current production levels in the face of falling profits has one overriding purpose: It's the opening salvo of a global oil war.
As designed by the Saudis, the battle has three targets.
One is certainly U.S. oil production, which is set to surpass Saudi production shortly. The second is the non-OPEC production from Russia, especially as it relates to competition over the Asian market. The third is simply to keep order in what is already a deepening rift within OPEC itself.