Kyle Anderson: The Marcellus Shale region has been a top U.S. natural gas producer for 10 years, and it's still delivering some of the best options for investing in natural gas stocks.
The Marcellus Shale Formation is the largest producing natural gas basin in the United States, delivering nearly 40% of the country's natural gas production. It spans a large part of the Eastern United States, including New York, Pennsylvania, and West Virginia.
The Marcellus Shale's booming production was a major contributor to the United States becoming the world's largest natural gas producer in 2010, and the world's largest producer of oil and natural gas liquids in June 2014.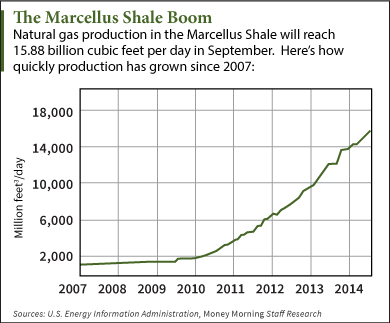 What's truly astounding about the Marcellus Shale is how much its production has grown. In 2010, the Marcellus was producing 2 billion cubic feet per day (bcfd) of natural gas. In August, it produced 15.63 bcfd. In September, production is expected to reach 15.88 bcfd.
That growth is especially impressive considering the number of rigs in the area has remained steady for some time. According to the U.S. Energy Information Administration (EIA), the total number of rigs in the region has hovered near 100 for the past 10 months.
Instead, it's drilling technique improvement that has boosted production.
"We're seeing the results of technical developments that allow much greater efficiency," Money Morning's Global Energy Strategist Dr. Kent Moors, said at the World Affairs Council of Pittsburgh this month.
Moors first alerted readers to the Marcellus' massive potential back in 2009, when production was under 2 billion bcfd. Since then, production from the region has increased nearly eight-fold.
According to Moors, companies have used the experience from drilling in the region over the past 10 years to improve their operations and increase output.