The Saudis refuse to lose market share globally and are willing to let prices fall. While the Saudi economy relies heavily on oil exports, the country is sitting on an enormous cash hoard. Its $750 billion in cash reserves ranks third globally. Therefore, it can weather low oil prices.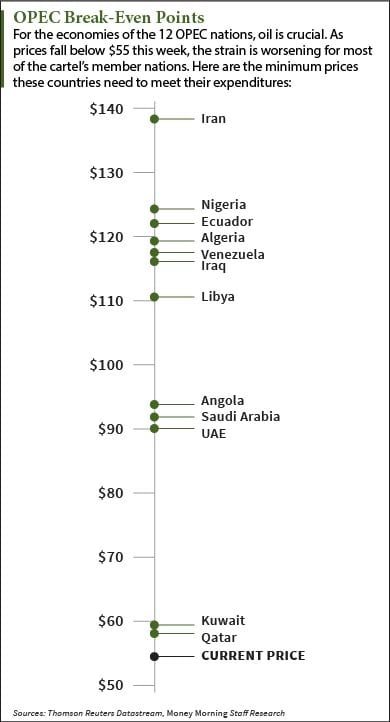 Other OPEC nations are not as lucky. In fact, Venezuela, Nigeria, and Iran have been pushing for production cuts. The governments of these countries need the price of oil over $110 in order to pay expenditures. According to Moors, that has forced these three countries to sell higher levels of oil at lower prices, thus perpetuating the global supply glut.
The second reason for an OPEC collapse deals with the cartel's battle with Russia over Asia.
"Asia is now rapidly becoming the biggest target for oil (and other energy) exports worldwide," Moors said. "That trend will be increasing in an uninterrupted curve through at least 2035. Saudi oil exports have been dominant in the region, with Asia regularly paying a 'premium' above rates for the same Saudi oil delivered elsewhere in the world."
But the Russians have moved in with a new pipeline that moves crude to Asia. While the drop in oil prices is detrimental to Russia as well, the country can withstand low prices for now.
"Russia also has ample reserves, and recently allowed the ruble to float," Moors said. "Yet MinFin (the Russian Ministry of Finance) does acknowledge that the country will fall back into recession as early as the first quarter of next year."