Jay Taylor: Yesterday I wrote about three summer stocks to buy now. These three companies represent stability and growth as well as a great way to profit from seasonal trends associated with all things summer.
On the flip side of the seasonal trends we see this time of year are several companies that investors should avoid. If you happen to own any of these stocks I would strongly suggest revisiting these positions to see if a change should be made.
Summer Stock to Avoid #1: The Walt Disney Company
Don't get me wrong, Disney (NYSE:DIS) is a tremendous company.
With its world-class hospitality and amusement parks, box office genius and media dominance, Disney is a stock market gem.
But that gem is simply too expensive right now.
After riding a wave of momentum generated by its huge box office success with the movie "Frozen," the stock appears to be overheated. Disney stock is up almost 20% since the movie's release in November and 90% in the last two years.
What's troubling is that its price-to-earnings (PE) ratio is also roughly double what it was two years ago. This means that as the stock price rises higher and higher, its valuation appears more and more expensive.
The chart below illustrates my thoughts well.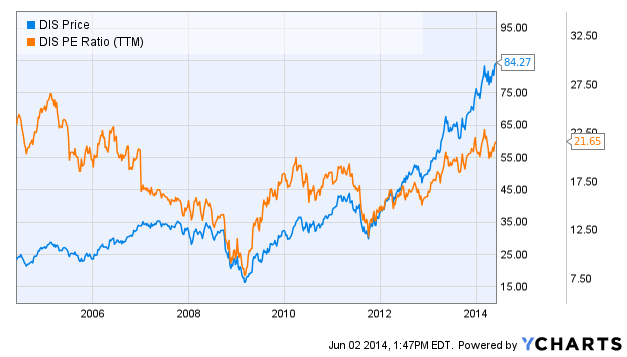 Source: Y Charts
With a PE ratio not seen since before the financial crisis, it is important to wait for a meaningful pullback in shares before picking up shares of this stock market gem.