The Russell Microcap Index is a weighted index of the smallest 1,000 companies in the Russell 2000 (by market capitalization), plus the next smallest 1,000 U.S.-based listed stocks. As market caps change from year to year, companies are added to and deleted from the Russell indexes.
The Russell indexes also weigh sectors by their share of capitalization in the marketplace. Every year in June, Russell Investments rebalances its equity indexes to better represent each sector's influence in the market.
Due to the past year's rally in biotech – the ProShares Ultra Nasdaq Biotechnology ETF (Nasdaq:BIB) is up 108.6% in the past year versus the S&P 500's 22.5% gain – healthcare stocks got 55 more spots on the Russell Microcap Index. Eighty healthcare companies were added to the index, but 25 removed. This compares to sectors like financial services, which added 51 companies but lost 72 for a net loss of 21.
This means these stocks are about to see a huge cash influx…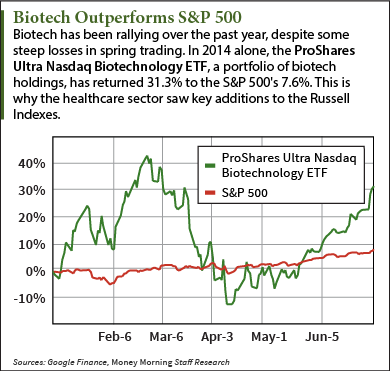 According to Money Morning's Small-Cap Investing Specialist Sid Riggs, many institutional investors are guided by a prospectus that compels them to devote a percentage of their investments into micro-cap markets. They'll be eyeing these healthcare companies for their small-cap portfolios.
"If a company gets reconstituted, then it's going to be on the radar of the mutual funds," Riggs said. "It can add tailwind to a company because they get institutional support."
That's roughly $800 billion of assets under management in funds that track Russell indexes, and another $5.2 trillion in assets that use the indexes as a benchmark, that could find its way into these micro-cap healthcare stocks.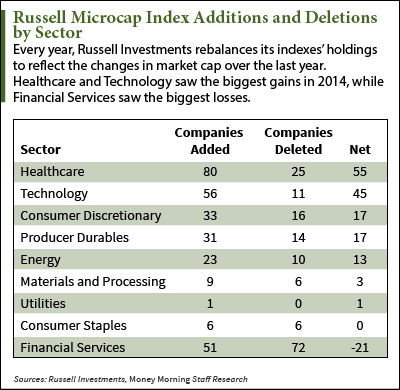 This inclusion in the leading index for micro-cap stocks is yet another catalyst for healthcare stocks, which can provide a great opportunity for massive gains in the short term. Biotech and pharmaceutical companies idle along as they conduct research and attempt to clear the U.S. Food and Drug Administration's regulatory hurdles – but once they reveal a new treatment or progress on clinical trials, the stock takes off.
"That's what they do; they languish in sideways trading while they're in these FDA trials," Riggs said. "Then when there's a big announcement…Boom!"
The Russell Microcap Index has taken note of some big winners, with these five additions seeing the greatest growth since the beginning of the year.
Five Healthcare Micro-Cap Stocks to Watch Now
IsoRay Inc. (NYSE MKT: ISR) has grown an enormous 486% over the last year, and 30.8% over the last month, now trading around $3. It received a big lift in March when it announced that its entire product line was approved for sale in Greece, in the company's push to expand its global market. In the days to follow, ISR saw its shares surge ahead 302.4%, from $0.82 to $3.30. ISR specializes in medical technologies focused on radioactive cancer treatments that use the isotope Cesium-131.
Achillon Pharmaceuticals Inc. (Nasdaq: ACHN), a biopharmaceutical company, has seen its shares increase 131.4% on the year. ACHN hit roadblocks late last year, linked to FDA disputes over development of a hepatitis C treatment, which saw its investigation process delayed by what the FDA calls a clinical hold. On September 30, the weekend after ACHN announced that studies on the drug, sovaprevir, would not have its clinical hold status lifted, shares lost 58.3% and continued to suffer. However, on June 10, when the company announced that it would resume work on its hepatitis C drug, shares rose 83.3%.
IntriCon Corp. (Nasdaq: IIN) saw its biggest boost when it posted its strongest quarter in five years, with sales up 22.5% from the quarter before. This has helped with its 128.1% ascent on the year. The April earnings report shot share prices up 43.2%, from $4.65 to $6.66. It has continued this upward trend, recently hitting intraday highs of $8.90. At the moment, IIN is flirting with its 52-week closing high of $8.80, which it reached last week. IIN designs and sells miniature body-worn devices that monitor health and drug delivery, as well as hearing aids and audio devices.
CEL-SCI Corp.'s (NYSEMKT: CVM) 102.7% advance on the year can be attributed to impressive one-day gains. Shares saw a 25% jump in February on an earnings release that showed CVM increased spending for research and development tied to a phase 3 clinical study for its cancer immunotherapy treatment, Multikine. These clinical trials expanded over the first quarter, and CVM tallied a 27% gain the week it announced it was opening another center to conduct trials.
ANI Pharmaceuticals (Nasdaq: ANIP), up 85.3% on the year, a specialty pharmaceuticals manufacturer and marketer, opened the year up with an impressive fourth-quarter earnings release that showed the company grew revenues by 98% over the same period last year, and yearly revenues by 48%. In the week following the release, ANIP shares traded up 45.4%, riding that momentum to a market close high of $37.60. ANI stock closed last week trading at $37.21.
Written By Jim Bach From Money Morning
We're in the midst of the greatest investing boom in almost 60 years. And rest assured – this boom is not about to end anytime soon. You see, the flattening of the world continues to spawn new markets worth trillions of dollars; new customers that measure in the billions; an insatiable global demand for basic resources that's growing exponentially; and a technological revolution even in the most distant markets on the planet.And Money Morning is here to help investors profit handsomely on this seismic shift in the global economy. In fact, we believe this is where the only real fortunes will be made in the months and years to come.