David Zeiler: As much as the shale oil and gas boom is transforming the U.S. energy industry, production from one play in particular – the Marcellus in the eastern United States – is growing faster than expected.
And for five natural gas stocks that were early to the Marcellus party, that's going to spell bigger-than-expected profits.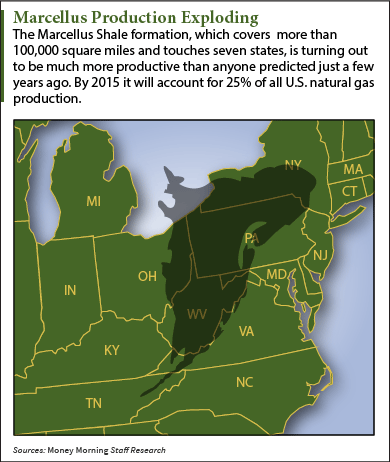 No less than three recent studies – one from the U.S. Energy Information Administration, one from Morningstar, and one from Moody's Investor Service– have concluded that over the next few years, the Marcellus shale gas fields will be the most productive shale gas play in the United States.
"Technological advancements since the early 2000s have allowed U.S. natural gas producers to reshape the industry largely through the development of the Marcellus," wrote Moody's analyst Michael Sabella in a March 3 report. "The Marcellus has emerged as one of the most profitable regions in the U.S. for producing natural gas, so even if prices return to the weak levels of 2012, [natural gas stocks] will be rewarded."
And Morningstar predicted that the Marcellus will account for one-quarter of all U.S. natural gas production by 2015, with production increasing from 14 billion cubic feet per day to 20 billion.
"The growth of the Marcellus over the next several years is likely to be nothing short of astounding," said the Morningstar report, which attributed the rapid growth to efficiency improvements.
According to the EIA report, Marcellus shale gas production even now has grown to the point where if it were its own country, it would rank third behind Russia and the rest of the United States.
And the good news for natural gas stocks in the Marcellus gets even better.
"For a variety of reasons – including the high initial production rates and relatively shallow declines of wells, the ongoing application of new technologies, and a continued focus on more productive areas of the play – we don't believe Marcellus natural gas production will reverse course anytime soon," the Morningstar report says.
With the Marcellus estimated to have between 30 and 75 years' worth of natural gas reserves, companies operating there stand to make decades worth of profits.
The only wild card is natural gas prices, which plunged to near $2 per million British thermal units (BTUs) in 2012, have since more than doubled to well over $4 per million BTUs. But Moody's said that those companies with well-established operations in the Marcellus could operate at a profit even if prices returned to 2012's historic lows.