But the Cupertino, Calif.-based tech giant probably won't mind if the Apple stock split inspires other companies with high stock prices to do their own stock splits.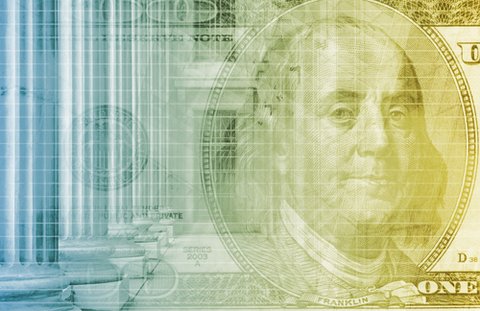 Once common, stock splits have become increasingly rare over the past decade or so, as companies began to view a lofty stock price as a mark of prestige.
But the dramatic 7-for-1 AAPL stock split, which became effective today (Monday), has dropped the price of one of Wall Street's most popular stocks below $100 a share.
The Apple stock split follows two other high-profile stock splits this year.
In January, MasterCard Inc. (NYSE: MA) did a massive 10-for-1 split, chopping its price from $818 a share to $81.85. And Google Inc. (Nasdaq: GOOG, GOOGL) did a 2-for-1 split in April, dropping it from $1,125 per share to about $570.
And while it's true that a stock split delivers no real benefit to the company or to shareholders, the psychological impact on retail investors tends to be positive, as many perceive that a stock that is split is somehow "cheaper."
"People love this idea they're getting more shares of a stock for nothing, even though the stock price is split by the exact same amount, so the value of their holdings is identical," USA Today market reporter Matt Krantz said on Yahoo Finance's "The Daily Ticker." "I can't tell you how many times people ask me 'what's going to be the next stock to split?'"
Why the Apple Stock Split Has All Investors Excited
One the reasons that the AAPL stock split – along with Google's and MasterCard's – has stirred interest beyond the shareholders of those companies is that it suggests a shift in corporate thinking more amenable to stock splits.
The aversion to stock splits is only a recent phenomenon. Back in the 1990s and earlier, stock splits were almost expected when prices got to $100 or more.
The idea historically was to maintain appeal to retail investors. That's the reason Apple Chief Executive Officer Tim Cook cited when he announced the Apple stock split.
Less than 20 years ago, between 1997 and 2000, there were 375 stock splits, an average of about 94 per year.  Even after the markets recovered from the dot-com bust, the average in the mid-2000s was only about 35 per year.
The financial crisis of 2008 knocked that annual average number of stock splits down to the teens – where it has stayed despite a stock market rebound that has pushed the major indexes back to all-time highs.
The hope is that now that such marquee names as Apple, Google, and MasterCard have taken the stock split plunge, more companies will follow.
And there is no shortage of stock split candidates…
Seven Companies Due for a Stock Split
To keep things simple, we ran a screen for the seven stocks with the highest prices that also had an average daily volume of 50,000 shares or more. All of these stock trades over $300 a share.
If the Apple stock split does succeed in putting splits back into vogue, these companies are most in need of one:
Priceline Group Inc. (Nasdaq: PCLN) – Share price: $1,232.43
The online travel company famous for its commercials with William Shatner actually did a 1-for-6 reverse stock split back in 2003 following the dot-com bust. That bad memory has probably been a factor holding PCLN back from doing a stock split. But at this point a 10-to-1 split would make perfect sense.
Chipotle Mexican Grill Inc. (NYSE: CMG) – Share price: $568.09
The Mexican restaurant chain has enjoyed a lot of growth and is a star player in the casual dining sector. It has never had a stock split. Management has frequently scoffed at the idea of a stock split, but that doesn't mean it won't happen. Until about a year ago, Apple said the same thing.
Autozone Inc. (NYSE: AZO) – Share price: $533.84
AutoZone is a retailer and a U.S. distributor of automotive replacement parts and accessories. The company has had two 2-for-1 splits in its history, in 1992 and 1994, so it certainly is due.
Netflix Inc. (Nasdaq: NFLX) – Share price: $421.54
Growing from a by-mail DVD rental and subscription service into a full-blown Internet-based TV network has pushed NFLX to impressive heights. Netflix had one 2-for-1 split back in 2004. But the dramatic fall of the stock back in 2011 – from just over $300 to $50 – no doubt has kept the company from pulling the trigger on a stock split. The price will have to go even higher to convince management it's safe to split.
Intuitive Surgical Inc. (Nasdaq: ISRG) – Share price: $373.90
Intuitive Surgical designs, manufactures, and markets its own da Vinci Surgical Systems and related instruments and accessories. As ISRG has pulled back from highs of about $575 a share over the past couple of years, a stock split for Intuitive would seem counterintuitive for now.
Amazon.com Inc. (Nasdaq: AMZN) – Share price: $326.33
The Internet retailing behemoth has enjoyed a long, steady rise in its share price, and might be open to a stock split. AMZN has had three in its history, two in 1998 and one in 1999. With the company on the verge of jumping into the smartphone market, a stock split might be in order within the next year or so.
Biogen Idec Inc. (Nasdaq: BIIB) – Share price: $317.06
Biogen Idec is a global biotech that discovers, develops, manufactures, and markets therapies for the treatment of neurodegenerative diseases, hemophilia, and autoimmune disorders. BIIB has split twice, in 1999 (2-for-1) and in 2001 (3-for-1). The stock has shot up more than 500% since 2010, so a stock split for BIIB is a strong possibility.
Written By David Zeiler From Money Morning
We're in the midst of the greatest investing boom in almost 60  years.  And rest assured – this boom is not about to end anytime soon.  You see, the flattening of the world continues to spawn new markets  worth trillions of dollars new customers that measure in the billions;  an insatiable global demand for basic resources that's growing   exponentially; and a technological revolution even in the most distant  markets on the planet.  And Money Morning is here to help investors profit handsomely on this seismic shift in the global economy. In fact,  we believe this is where the only real fortunes will be made in the  months and years to come.