Thomas Carreno: The SPDR S&P 500 ETF Trust (NYSEARCA:SPY), SPDR Dow Jones Industrial Average ETF (NYSEARCA:DIA) have bullish bat Fibonacci patterns that suggest any accelerated decline during the next 5 trading days (USA markets are closed on Friday April 18th) will likely be contained or stopped near the .886 Fib retracement level.  It is possible that the target levels could be reached this Tuesday April 15th, or on the following Monday April 21st 2014.
In the SPY chart below the .886 retrace equates to the 175.53. In the DIA chart below that we see the .886 equates to 154.60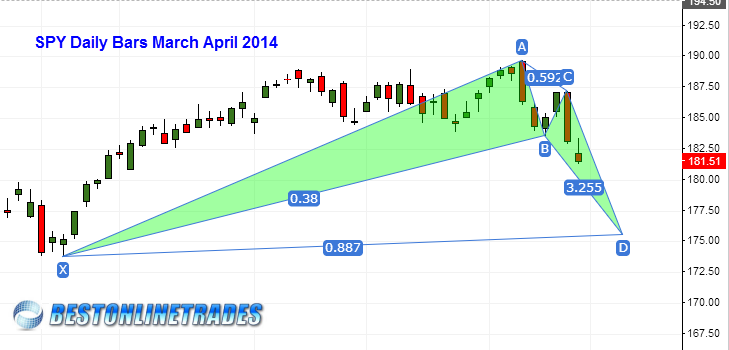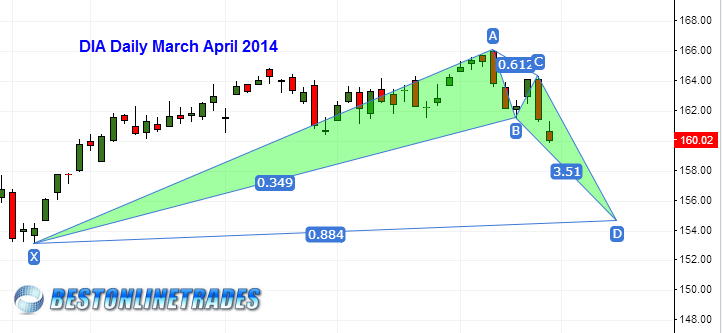 It is important to recognize that sometimes some of the Fibonacci reversal levels are never reached. It all depends on what the overall state of the market is and what kind of trend preceded the fib pattern. Using a combination of different time frames, additional indicators, and price tape action interpretation helps to provide clues on what any particular bullish or bearish Fibonacci pattern is telling us.
In the two price charts above there exists the potential C to D leg which is the last potential price leg of the pattern. It is not uncommon to see price gravitate very quickly towards the .886 Fibonacci level in this type of pattern. In fact I have seen many spike moves down in stocks occur on an intra day basis that tests the .886 but then closes the day at a much higher price.