Money Morning Chief Investment Strategist Keith Fitz-Gerald noted last week that only 41.5% of companies reporting earnings have beaten revenue estimates for Q3. That's down from more than 70% in late 2009.
But we're still betting CEO Mark Zuckerberg and his popular social media platform won't disappoint. The Facebook stock price just hit an all-time high of $104.88 on Oct. 29.
And that's just the latest sign of Facebook's social media dominance right now – these four charts tell more of the story…
FB Chart No. 1: Facebook Owns 43% of All Social Media Users
Facebook is the world's most popular social media platform by far.
FB had 1.49 billion active users in August 2015, according to the latest data from Statista. WhatsApp and Facebook Messenger – both of which are owned by FB – were the next highest, with 800 million and 700 million active users, respectively.
In fact, Facebook and its acquisitions (WhatsApp, Facebook Messenger, and Instagram) account for 43.76% of active users across all social media platforms in Statista's August data.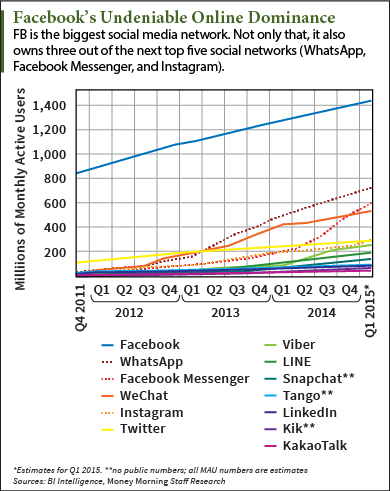 FB Chart No. 2: Facebook Stock Has Crushed the Nasdaq by 24% in 2015
Nasdaq stocks continue to outperform the other markets in 2015.
Year to date, the index has climbed 7.5%. That makes it the best major market in the United States this year. In 2015, the Dow Jones Industrial Average has dropped 1.4%, while the S&P 500 Index is up just 0.1%.
On April 23, the Nasdaq Composite actually topped its all-time closing peak of 5,058 hit 15 years ago.
But the broader Nasdaq's gains pale in comparison to what FB stock has done. Shares have returned 24% more than the Nasdaq this year, and nearly 85% more since the Facebook IPO on May 25, 2012: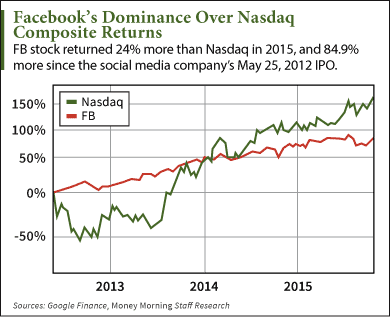 FB Chart No. 3: Facebook Owns 45% of All Social Logins
A social login allows users to gain access to a third party website without creating a new account. Instead, users access via their social account's login info. So for instance, if you are a Facebook user, you could use your Facebook login info to access Etsy, Pinterest, etc. without having to create a new account with those other websites. It typically looks something like this: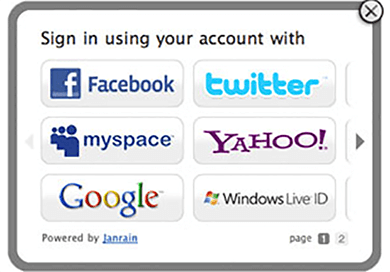 Social logins make it easier for users to remember their sign-in information – a recent study from data analytics firm Janrain shows 50% of people who use social login do so because of this issue.
This helps the third party websites that are piggybacking off of social media platforms. They gain logins – and therefore business.
Of course, it also helps the social media platforms themselves. The more people who use the platform to log into third party websites, the more people are relying on the platform.
And according to the most recent Janrain data from March 2015, Facebook owns social logins, with almost half the market share (45%):
FB Chart No. 4: Facebook's Revenue Is 7 Times More Than Twitter's
In the last Facebook earnings reported on July 29, the company revealed $4.04 billion in revenue and $0.50 earnings per share (EPS). That's 39% revenue growth year over year in Q2.
By comparison, the latest Twitter Inc. earnings (NYSE: TWTR), reported on Oct. 27, revealed revenue of $569 million. And LinkedIn Corp. (NYSE: LNKD) logged $780 million in its Q3 2015, reported on Oct. 29.
Mobile's contribution to Facebook revenue is huge. It accounted for 76% of total revenue in Q2, up from 73% in Q1.
Written By Tara Clarke From Money Morning
We're in the midst of the greatest investing boom in almost 60 years. And rest assured – this boom is not about to end anytime soon. You see, the flattening of the world continues to spawn new markets worth trillions of dollars; new customers that measure in the billions; an insatiable global demand for basic resources that's growing exponentially; and a technological revolution even in the most distant markets on the planet. And MoneyMorning is here to help investors profit handsomely on this seismic shift in the global economy. In fact, we believe this is where the only real fortunes will be made in the months and years to come.