Steve Mauzy: Gold (NYSE:GLD) has been one of the hottest investments over the past three years, more than doubling in price to $1,700/ounce from $800/ounce.  To many investors, gold remains something of a mystery.  Gold (NYSE:IAU) has value, but many investors are unsure exactly why that value is.  Gold doesn't produce cash flow, so it doesn't lend itself to traditional investment analysis.
Gold also isn't easily categorized. Though slotted in the commodity section of most financial publications, gold isn't a commodity.  A commodity, properly defined, is a tangible good that is consumed and removed from market: Agriculture products are obviously commodities; once consumed, they're not coming back.  Hard commodities – aluminum, copper, iron – are transformed and difficult to reclaim without destroying the final good they compose.
Another key characteristic is commodities aren't stockpiled, so changes in quantities produced or consumed immediately influence price.
Gold is different.  Very little of gold is actually consumed.  According to the World Gold Council, 2,500 metric tons of gold were produced from mining in 2010.  Of that, only 419 metric tons were consumed in industrial production (mostly dentistry and electronics).  The rest was simply added to the world's existing supply of gold of around 165,000 metric tons.  In other words, mining only adds 1 to 2 percent to world supply.
This is an important distinction from silver (NYSE:SLV), which is often viewed as a gold surrogate.  It isn't.  Silver is a commodity; much of what is mined each year is consumed each year by industry.
Economically, gold is really more like an asset than a commodity. Trading gold is like trading stocks or bonds.  Buying and selling volume does nothing to call in additional supply.  Price changes are dependent on the reservation price of the marginal owner, just like a stock.
This invites an obvious question: how do you forecast future reservation prices?  I'm sympathetic to methodologies that focus on gold's "moneyness." I view gold as liquidity or the cash component of an investment portfolio. Cash is a wealth-preserving asset, as compared to a stock or bond, which is a wealth-creating asset. I find it useful to focus on gold's relationship to money supply inflation and purchasing power to gauge where the price is going.
For this reason, I find research by Paul Van Eeden of Cranberry Capital especially useful.  Van Eeden developed a model for the theoretical value gold based on historical U.S. dollar money supply (currency, demand deposits, and small and large time deposits) and gold supply dating back to 1971, when the United States officially abandoned the gold standard.  Gold is the constant value, and it is the dollar that changes (losses) value.
Theoretical Gold Value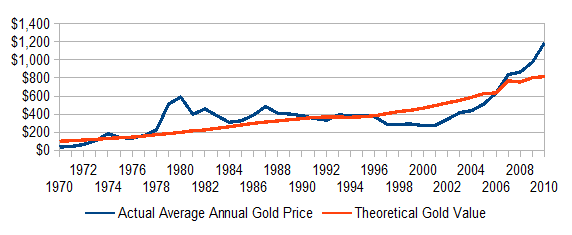 Source: Cranberry Capital
M2 money supply provided by the Federal Reserve is a good proxy for van Eeden's money supply measure.  The year-over-year growth rate peaked in November of 2009, but the rate has recently accelerated to the 2009 high. In fact, M2 money supply has moved up 33 percent in the past four months.  This recent spike has more gold bulls believing gold is back on its upward trajectory.
Does that mean gold prices are set to challenge the August high of $1,920/ounce in the near future?  Of course, it's possible. But actual price and theoretical gold price frequently diverge on risk perception. When risk perception is high, the actual price of gold exceeds the theoretical value. When risk perception is low, the actual gold price trails the theoretical price.
Risk perception has waned, but the actual price of gold remains well above the long-term theoretical value of gold. Gold investors – those measuring there holding periods in years -should expect gold's price growth to slow or even reverse, particularly when the economy regains its bearings and cash is drained from less risky wealth-preserving assets (like gold) and funneled into more risky wealth-generating assets (like stocks).
Written By Steve Mauzy For Wyatt Investment Research
Wyatt Investment Research is led by founder Ian Wyatt, who serves as Publisher and Chief Investment Strategist. Our team also includes a group of talented research analysts and editors who aim to uncover great investments and present those investment ideas to our growing group of loyal subscribers.Ian Wyatt is an active investor, a well-regarded investment expert and an Internet entrepreneur. He is the Chief Investment Strategist at Wyatt Investment Research, and plays a leading role in each of the company's investment newsletters and trading services. As a well-regarded market expert, Ian has written for Marketwatch, Zacks Investment Research, Seeking Alpha, Yahoo! Finance and The Burlington Free Press. He has been interviewed or quoted in articles in well-known publications including AOL Finance Blogging Stocks, Kiplinger's Personal Finance Magazine, Barron Magazine, Barrons.com, Forbes.com, The Dick Davis Digest, The Dick Davis Income Digest, The Wall Street Transcript, TheStockAdvisors.com, Money Show Digest, The New Jersey Star Ledger, The Wisconsin State Journal and The Seattle Times.