Przemyslaw Radomski, CFA: According to Reuters, gold is often seen as an inflation hedge (while it is really a system hedge in our opinion) and this safe-haven investment, has fallen nearly 20% this year on fears of an end to easy central bank money, which had propelled it to record highs in 2011.
On Wednesday, after the Fed said it would stick to its stimulus plan for now, the yellow metal gained more than 4%, leading the rally in commodities. Yesterday, gold rose to a new one-week high and extended the previous session's rally, lifted by technical buying and short-covering.
What happened with the US dollar?
The USD Index lost over 1% and declined slightly above the 80 level on Wednesday. It's worth noting that this is its biggest one-day slide in more than 2 months. Additionally, we saw such low values in February, well before Fed Chief Ben Bernanke first floated the idea of tapering the stimulus back in May.
Today, gold slipped a bit, but is still trading around $1,360 an ounce. Can the yellow metal climb higher in the near term? Will the dollar recover quickly? Can we find any guidance in the charts?
In today's essay we'll examine the US Dollar Index (from many perspectives and the long-term gold chart to see if there's anything on the horizon that could drive gold prices higher or lower in the near future. We'll start with the USD Index very long-term chart to put the following gold chart into perspective (charts courtesy by http://stockcharts.com.)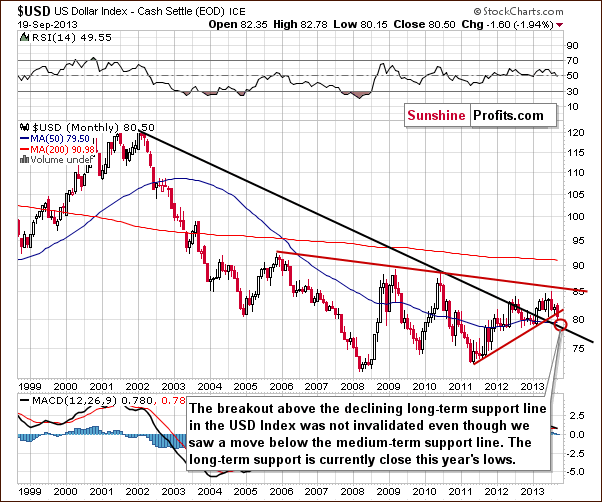 The situation in the long-term chart has changed (for the first time in several months), but the most important thing didn't change. The long-term breakout above the declining long-term support line was not invalidated, even though the USD dropped heavily on Wednesday.
However, since the medium-term breakdown (below the support line marked with red) is visible from this perspective, we could see some short-term weakness anyway. Still, it seems that the long-term support line will stop the decline, so from the long-term perspective, it seems that the downside is quite limited.
Now, let's examine the weekly chart.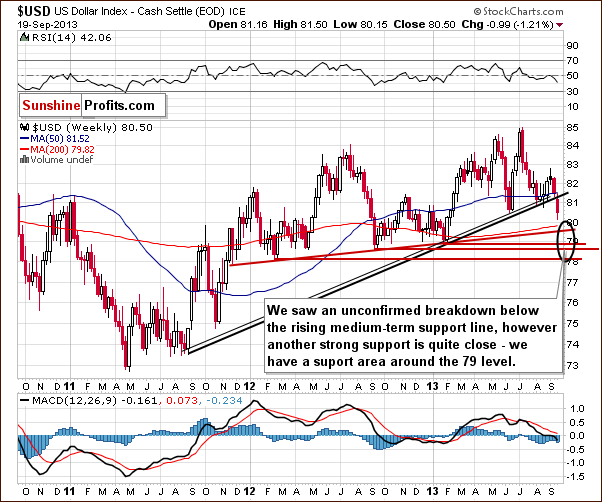 On the above chart, we see the breakdown more clearly. The breakdown is unconfirmed at this point, and we could still see a reversal back above the previously-broken support/resistance line. It would be a powerful bullish signal, but it seems more likely that we will see another move lower first. This is due to the size of Wednesday's move without a visible intra-day pullback.
Want More Great Investing Ideas?