Yesterday I was accused of being cynical by one of my co-workers. I explained to her that cynicism is one of the most useful tools in any investor's arsenal. Every investment opportunity must be diligently and yes, cynically examined.
Why I'm a Cynical Investor
Natural gas is truly inexpensive
But it's not enough to be right on the trend
And while my cynicism might not always be fun to have around the office, I can tell you that you're probably not going to hear too many success stories about the happy-go-lucky Pollyanna investor.
With the holiday season upon us, I should say that I'm generally a fun-loving person, and I certainly am no stranger to mirth. I just have to keep my emotions in check when it comes to investing.
And right now, though I'm feeling jolly about visiting my parents, sisters and other family members, I have to recognize that from a pragmatic, realistic and cynical viewpoint, it's really, really hard to find nearly any asset class that's a strong buy right now.
Forget for a second, my ongoing thesis which posits that easy money policy from world governments will continue to find itself headed increasingly towards commodities, especially money-commodities such as gold and silver.
I still believe it to be true, but I also want to buy things that are still relatively cheap. It's tough to make the case that gold and silver are still "cheap" – at least from a cynical point of view.
That's why I've been telling you to keep your eyes open for compelling natural gas investments.
Natural gas is still cheaper than it was a year ago. In fact, it's generally cheaper on average than it has been over the past decade.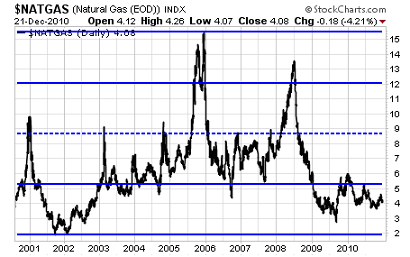 The chart above plots the average price going back ten years as the dotted line. The next closest lines underneath and overtop of the average price represent one standard deviation, which in simplest terms refers to the normal price channel over this period. Right now, the price of natural gas is BELOW the normal range.
In even simpler terms, buying an asset when it's more than one standard deviation below its normal price is a great way to make sure you're buying when it's cheap on a historically relative basis.
It's not fool proof, of course, because prices could always go lower. But they're not likely to go much lower.
On Monday I talked about looking for compelling natural gas investments.
And just this morning I stumbled onto a chart that really focused my search for the right natural gas investment. You see, it's not enough to be right on the trend. Anyone can look at a chart of natural gas prices and come to the conclusion that prices will go up.
The question really is, how to play it?
Should we look for domestic producers? Pipeline companies? Liquid-natural-gas terminal companies? LNG re-gasification companies? Explorers, drillers, or shippers?
The choices go on and on.
But then I found the chart below, which helped me narrow my search.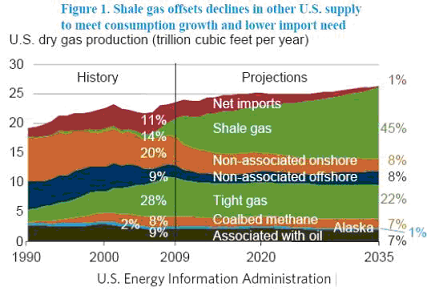 This chart shows that the greatest growth will be in shale gas production. According to the Energy Information Administration, the next ten years will just about triple American shale gas usage – so obviously that's where the growth is going to be.
You can see the EIA projects that onshore and offshore natural gas production will fall by about half over the next 10-20 years – so even if we were right to buy natural gas companies, we could still lose money if we invested in companies specific to those sectors.
So, now that we know to look for shale gas companies, tomorrow I'll reveal my single favorite way to profit over the next 10 years from shale gas production.
ETF Daily News Notes Some Related Natural Gas ETFs:  United States Natural Gas Fund (NYSE:UNG), United States 12 Month Natural Gas (NYSE:UNL), iPath DJ-UBS Natural Gas TR Sub-Idx ETN (NYSE:GAZ), First Trust ISE-Revere Natural Gas Idx (NYSE:FCG), iShares Dow Jones US Oil Equipment Index (NYSE:IEZ), Jefferies | TR/J CRB Wildcatters Exploration & Production Equity ETF (NYSE:WCAT).
Look for my full write up in tomorrow's issue of the Resource Prospector.
Written By Kevin McElroy From Wyatt Research  
Kevin McElroy is a top rated commodity researcher and analyst specialist at Wyatt Investment Research, with a targeted focus on short and long term investment opportunities.  He has worked in the investment publishing field for over three years alongside some of the world's leading commodity traders and analysts.  He takes the complex futures and options trading strategies from the floors of the Nymex and the CBOT, uniquely combines them with economic trends and positions his recommendations in a way that any investor, from a straight long-term buy and hold investor to a sophisticated day trader can easily understand, implement, and profit.   
Kevin constantly finds unique ways to profit from the "real stuff" like oil, gold, iron, corn – the energy, money, goods and food that the world constantly needs more of.  Kevin is the daily editor to Resource Prospector and a contributor to Energy World Profits and Global Commodity Investing.
Want More Great Investing Ideas?