But that's no dent in Ma's overstuffed wallet.
His company Alibaba Group Holding Ltd. (NYSE: BABA) drew worldwide attention last September when its initial public offering (IPO) of $25 billion shattered the world record for the largest IPO in history. Now Jack Ma's net worth is around $29.7 billion, according to the latest numbers from the Bloomberg Billionaires Index. The co-founder and acting chairman of Alibaba is both the richest man in China and the 18th richest man in the world.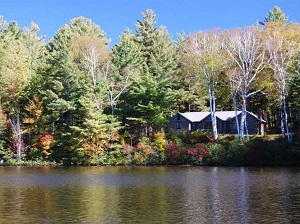 Here's a look at Ma's latest expansion into the United States — beyond the New York Stock Exchange…
Jack Ma's New Stake in an American Nature Wonderland
Ma's spokesman Jim Wilkinson confirmed the upstate New York purchase, which was first reported by The Wall Street Journal on June 24.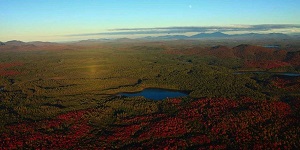 A shot of Brandon Park from LandVest, the real-estate firm that listed the property.
The 28,100-acre estate, called Brandon Park, is roughly 30 miles northwest of Lake Placid. It includes more than nine miles of the St. Regis River. It comes with vast woodlands, a white-tailed deer preserve, a maple-syrup operation, and "perhaps the finest brook trout fishery in the eastern United States."
"The land was originally part of neighboring Bay Pond, a private nature preserve created around the turn of the last century by William A. Rockefeller, Jr., a co-founder of Standard Oil," according to WSJ's Sarah Tilton.
In 1939, the family of Wilhelmina du Pont Ross (an heiress of the Du Pont Co. fortunes) bought Brandon Park. The Rosses transferred the property into Brandon LLC in 1999. Then in 2012, it was listed for sale with an asking price of $28 million. Two years passed, and the asking price was lowered to $22.5 million.
In May 2015, Jack Ma swooped in. He purchased Brandon Park through an entity called New Brandon LLC.
According to Wilkinson, Ma will primarily use the beautiful sprawling acres for conservation.
"Mr. Ma plans to form a nonprofit entity to manage Brandon Park," Wilkinson told WSJ. "The land is Ma's first investment in conservation land outside of China, where he is a prominent supporter of conservation efforts."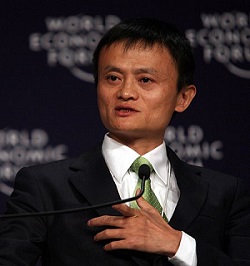 Jack Ma speaking at the World Economic Forum in China on Sept. 28
Ma's track record shows he does indeed value the environment. He chairs the China board of the Nature Conservancy and sits on its global board. He co-founded the Sichuan Nature Conservation Foundation and the Laohegou Nature Reserve in Sichuan. In 2014, he created a charitable trust that now has an endowment of $3 billion. Alibaba itself has directed 0.3% of its annual operating revenue to a foundation for environmental protection since 2010.
"Protecting the environment in China will always be Jack's first and foremost priority, and he will continue his strong efforts here," Wilkinson said to WSJ. "This international land purchase reflects Jack's belief that we all inhabit the same planet and we all breathe the same air, so we are dependent on each other for our collective future."
Wilkinson added, "Mr. Ma was drawn to the Adirondacks partly because of the area's history of overcoming environmental threats."
You see, New York State created the 6 million-acre Adirondack Park in 1892 — of which Brandon Park is a component — to combat natural resource depletion. Logging, mining, and other activities in the area had begun negatively affecting wildlife, caused erosion, and more.
Jack Ma will continue to protect the land.
However, he does appear to have at least a few selfish reasons for his purchase. One might posit the nonprofit will provide some tax relief. And Wilkinson said Ma will occasionally use Brandon Park as a personal retreat.
Who can blame him?
Written By Tara Clarke From Money Morning
We're in the midst of the greatest investing boom in almost 60 years. And rest assured – this boom is not about to end anytime soon. You see, the flattening of the world continues to spawn new markets worth trillions of dollars; new customers that measure in the billions; an insatiable global demand for basic resources that's growing exponentially; and a technological revolution even in the most distant markets on the planet. And MoneyMorning is here to help investors profit handsomely on this seismic shift in the global economy. In fact, we believe this is where the only real fortunes will be made in the months and years to come.