Jim Bach: Yahoo! Inc. (NASDAQ:YHOO) is often mentioned in the same breath as Alibaba Group Holding Ltd. (NYSE:BABA).That's because of Yahoo's stake in Alibaba – it owns about 24% – initiated in 2005.
And this means a lot for YHOO as Chinese e-commerce giant Alibaba launches the largest IPO in history.
Here's how the Yahoo-Alibaba partnership began, and what it could mean for both Yahoo and Alibaba stock going forward…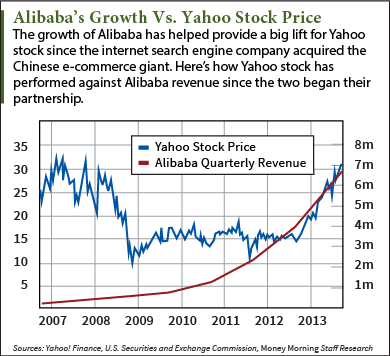 Yahoo's Stake in Alibaba: Bitter Rivals Turn into Business Partners
In 2004, Alibaba and Yahoo were rivals.
That April, Alibaba accused Yahoo! China of violating Chinese law on unfair trade practices by extracting personal data from 50,000 of its clients on its online auction platform, Taobao.com.
That proved to be a brief setback, however, as the two companies shared an interest in knocking eBay Inc. (Nasdaq: EBAY) off its pedestal. Through its takeover of EachNet.com, EBAY controlled 90% of the online auction marketplace in China.
So in August 2005, YHOO announced that it would buy a 40% stake in Alibaba for $1 billion in an attempt to eat away at EBAY's dominance, a deal which closed in October.
YHOO handed over the once-in-question Yahoo! China to Alibaba, allowing it to exit the regulatory minefield that was the Chinese Internet industry, while also providing it with exposure to rapid e-commerce growth in China.
Alibaba, on the other hand, was able to fold its search engine entities, 3721.com and yisou.com, together under the Yahoo! China banner, and more effectively challenge search engine rival Baidu.com in its quest for online dominance.
But in only a few years after this partnership began, the troubles started…