Peter Krauth: As widely expected, the Fed finally ended its massive bond-purchasing program.
Now the market will turn its focus to interest rates.
Will the Fed raise rates next year? If so, what effects will that have?
The Fed is ultimately reactive, exerting little, if any, control in the long run. Low rates are here only as long as the Fed can manage them.
At that point, it is time to look out.
Here's what will cause us nightmares, and what we can do to avert a crisis in our investments…
Americans Tighten Their Belts… While Their Government Races Toward Disaster
The International Center for Monetary and Banking Studies recently published its 16th annual Geneva Report. It's authored by a group of senior economists and former senior central bankers.
The report highlights a sustained increase in (especially) government debt in the developed world, as well as in China. Any deleveraging in the last few years has been minor, mostly limited to the private sector.
It goes on to caution the importance of low rates to stave off another crisis, while pointing out that, as the graph below shows, world debt has mushroomed from 160% of national income in 2001, to 200% in 2009, only to climb further to 215% last year.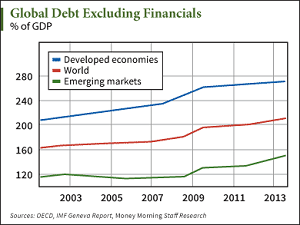 As a group, the report's authors expect interest rates worldwide to remain low for a "very, very long time," so that all borrowers (governments, companies, and individuals) will remain solvent and keep paying the interest on their debts.
So too does Ben Broadbent, deputy governor of the Bank of England, saying interest rates could remain "permanently" low.
All of this echoes what the Fed's been saying for years in order to reassure and stimulate the markets: there is no rush to raise rates.
None of this is really any surprise to us. But it's not quite that simple….