That's kind of ironic.
When I appeared on the popular financial channel in early June, I was peppered with tough questions about why tech stocks were lagging the market.
I told the interviewers not to worry and predicted that tech shares would rebound into a major rally that would power the overall stock market to new highs.
And I was right.
I'm telling you that story to underscore the risks of giving up on technology.
That's why I'm going to spend today sharing the one technology investment you should invest in regularly.
In fact, it should form the foundation of every investor's portfolio. And it's the one tech investment to buy now and never sell.
If you follow my advice on this, I can make you two promises. Decades from now, you'll recall this move as a difference-maker in your life.
And you'll be well down the road to meaningful wealth…
A World Built by Tech
Let's start today's discussion by taking a look at some critical data. The Dow Jones Industrial Average again closed above 17,000 last week. But this blue-chip index is lagging tech shares.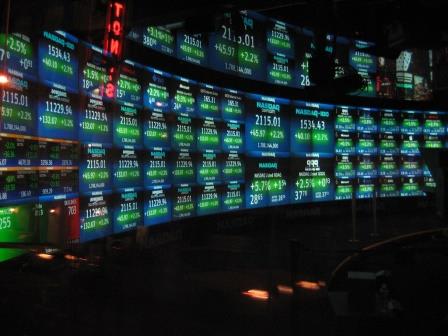 So far this year, the tech-centric Nasdaq Composite Index is up 9.5%, beating the Dow by nearly 180% over the period.
That sort of divergence is why I like to remind investors that the road to wealth is paved by tech.
Just look at the world around you. From lightbulbs and jetliners to semiconductors and smartphones, tech continues to produce profitable breakthrough after profitable breakthrough.
These advances can make savvy investors like you wealthy.
By always having a significant chunk of your portfolio invested in the tech sector, you can ride the big trends that produce hefty corporate profits – and big shareholder returns.
I'm talking about things like the Mobile Revolution.
I'm taking a look at a new report by the online trade publication Internet Retailer. According to this report, sales by the world's 500 leading mobile commerce retailers will reach $84 billion in 2014.
That represents a stunning 80% increase from last year.
And that's just one aspect of the mobile sector. Semiconductors, a very closely related segment, are also doing extremely well.
Remember, semiconductors are a big part of why mobile devices have become so sophisticated. The synergy between the two helps explain why the chip sector is such a fertile place to invest today.
But it's not the only reason.
See, just about all of our electronics need advanced semiconductors. Besides mobile devices, microchips are a critical element of PCs, video cameras, web routers, game consoles, autos, and passenger planes.
No wonder forecasters at the World Semiconductor Trade Statistics service organization estimate that the worldwide chip market will have sales of $325 billion in 2014. That's up 6.5% from last year.
Not only that, but Thomson Reuters estimates that, among the 15 tech sectors it tracks, chip and chip equipment companies will show the best earnings growth in the second quarter.
And semiconductors and mobile are just two of the major trends I follow. When you consider the daily advances we see in cloud computing, biotech, miracle materials, and Big Data, tech is definitely a "target-rich environment."
And that's where my "one tech investment to buy now and never sell" comes in.
This Tech Investment Is a Market Mirror
Many investors can find themselves overwhelmed by the dizzying array of tech stock choices.
In fact, many of the newer investors among you folks often ask me how to get started in high tech.
I also get many questions about which tech investments you should have in your retirement portfolio, or what is a "safe" play you can make for your kid's college education fund.
If you're asking yourself that sort of question, let me introduce you to the Fidelity Nasdaq Composite Index Tracking Stock (Nasdaq: ONEQ).
This exchange-traded fund (ETF), as the name says, perfectly mirrors the tech-focused Nasdaq.
It's a fund that you should own for many years. It should be the recipient of consistent, scheduled investments.
And I believe it's an investment you should look to keep forever.
The best way to capitalize on an investment vehicle like this is by using the well-known strategy known as "dollar-cost averaging." You devote a small portion of your portfolio to it and continue to buy more at regular intervals over the long haul.
The beauty of this approach is that, by making regular, consistent contributions, you'll automatically buy more shares when tech stocks are down and fewer when they're expensive. And it puts a very powerful force on your side.
I'm talking about the power of "compounding."
How to Put ONEQ to Work for You Today
With investments such as ONEQ, you set the retirement/college fund portion of your tech portfolio on autopilot.
Let's assume a 12% return over 10 years, an initial $100 investment and a $30 monthly contribution. In 10 years, you'd find yourself with $7,387 – and $3,690 of it would be pure profit.
In 20 years, that same strategy would turn into $30,000 (a $22,717 profit). And in 30 it would turn into $100,000 (an $89,400 profit).
By adopting this approach, you'll have the time and emotional energy to navigate disruptions in the market and still remain invested to capitalize in a big way on all the hot new innovations Silicon Valley will continue to bring our way.
ONEQ is dominated by big-cap tech, of course. Its Top 10 holdings are a "Who's Who" of tech leaders in mobile, the web, cloud computing, biotech, and e-commerce.
Indeed, we're talking about Apple Inc. (Nasdaq: AAPL), Microsoft Corp. (Nasdaq: MSFT), and chip giant Intel Corp. (Nasdaq: INTC). It also includes biotech leader Gilead Sciences Inc.(Nasdaq: GILD), e-commerce king Amazon.com Inc (Nasdaq: AMZN), and social networking giant Facebook Inc. (Nasdaq: FB).
Though ONEQ is focused on technology, by definition, it also provides some nice diversification. Of the roughly 1,940 stocks this ETF holds, high tech accounts for 46% of the fund. Consumer cyclicals, financial services, and industrials make up another 25% of ONEQ's holdings.
Here, we're talking about companies like coffee giant Starbucks Corp. (Nasdaq: SBUX), mutual fund player T. Rowe Price Group Inc. (Nasdaq: TROW), and Peterbilt truck makerPACCAR Inc. (Nasdaq: PCAR).
You'll also cash in on some exciting (and profitable) mid- and small-cap stocks without all the volatility that you'd have to deal with were you holding them as individual stocks. Those categories compose more than 17% of ONEQ.
And here you'll find Strategic Tech Investor favorites like fabless chip firm NXP Semiconductors NV (Nasdaq: NXPI) and Russian Internet giant Yandex NV (Nasdaq: YNDX).
And I find it's a good place to redeploy some of the gains you've reaped from your other investing windfalls.
The bottom line: An ETF like this can serve many purposes beyond the autopilot portion of your tech portfolio.
Whenever I discuss this type of tracking stock, I invariably get asked what proportion of a portfolio is the "right amount" to invest.
I used the $30/month example above, but it really depends on your time horizon, investment objectives, and risk profile. Aggressive investors and traders might put as little as 2% into something like ONEQ, while more conservative investors might devote as much as 15% to 20%.
I wouldn't go much higher than that upper end unless you're parking cash between investments and want to keep the money working for you. It's a great investment for such long-term needs as retirement, saving for college for your kids, or saving for a house or retirement "cottage" a decade or more down the road.
Add it all up, and a tech investment that you buy now and never sell – like ONEQ – will establish a solid foundation for your portfolio.
Our mantra at STI is that "the road to wealth is paved by tech." And with ONEQ, you can drive that road – on autopilot.
Written By Michael Robinson From Money Morning
We're in the midst of the greatest investing boom in almost 60 years. And rest assured – this boom is not about to end anytime soon. You see, the flattening of the world continues to spawn new markets worth trillions of dollars; new customers that measure in the billions; an insatiable global demand for basic resources that's growing exponentially ; and a technological revolution even in the most distant markets on the planet. And Money Morning is here to help investors profit handsomely on this seismic shift in the global economy. In fact, we believe this is where the only real fortunes will be made in the months and years to come.