David Zeiler: A crazy week for Apple Inc. (NASDAQ:AAPL) ahead of its much-anticipated iPhone 6 announcement next Tuesday took a 4.22% bite out of the Apple stock price yesterday (Wednesday).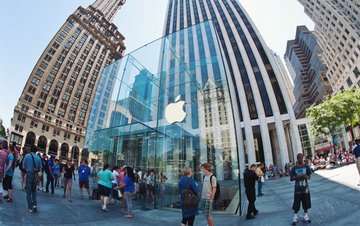 But long-term AAPL investors need not worry, and not just because Apple stockwas relatively flat in Thursday trading.
For all the commotion this week about hacked iCloud accounts, new products from rival Samsung, and negative comments from several Wall Street analysts, the fundamental reasons that the Apple stock price will continue to rise have not changed.
When you take a closer look at the Apple news that everyone has been obsessing over this week, it quickly becomes obvious that these events are not that big of a deal and their impact on the AAPL stock price will be short-lived.
Three Overhyped Apple Stock "Threats" to Ignore
The Samsung Threat: In an attempt to steal Apple's thunder, Samsung had its own product unveiling event yesterday. But the South Korean electronics giant did not particularly wow anyone; most of the new products are nice upgrades, but not much more. That means nothing Samsung introduced yesterday is likely to change the Apple-Samsung dynamic, which of late has started to swing in Apple's favor. The company also declined to announce prices, or even when most of these new products will be available – meaning Samsung likely just wanted to grab some media attention but poses no real threat to Apple.