I just pulled up two weekly charts one on top of the other.  Apple Inc. (NASDAQ:AAPL) and the Powershares QQQ Trust ETF (NASDAQ:QQQQ).  If I look at these two weekly charts with a simple up trend line without looking at any indicators at all it appears to me that both of them look toppy.
It looks like Apple Inc. (NASDAQ:AAPL) has made long distribution top and the Powershares QQQ ETF (NASDAQ:QQQQ) looks like a head and shoulders topping pattern.  Both of them are near their long term weekly up trend lines.  But these long term weekly up trend lines have not been broken yet.
It seems unlikely that the up trend lines will be broken before the end of August.  September however should reveal the 'final answer' in my opinion.
As much as I remain open minded about bullish possibilities or bearish ones, just looking at these two long term weekly charts makes me think a bearish resolution is the most likely outcome.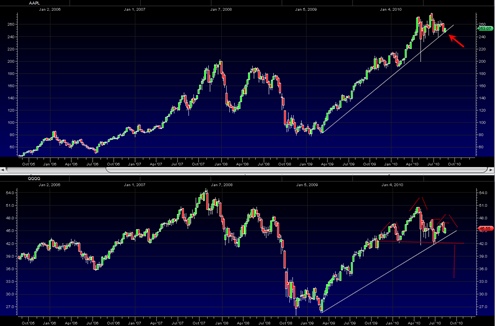 The answer lies in whether or not the sideways trading in (NASDAQ:AAPL) is distribution or accumulation.  I think there is more evidence that it is distribution.  The May 6 and May 7, 2010 super high volume sell off was an enormous sign of weakness and could be interpreted as being preliminary supply.  It changed the trading dynamics of the chart in terms of volume.
The May 7, 2010 spike low of 225.21 on Apple Inc. (NASDAQ:AAPL) was on 60 million shares.  Experience tells me that usually wide open high volume swing lows like that are eventually retested.  So even though Apple Inc. has been trading sideways in this long trading range for a while, I have to presume we will see weakness again and a downward test of the May 7, 2010  225.21 swing low.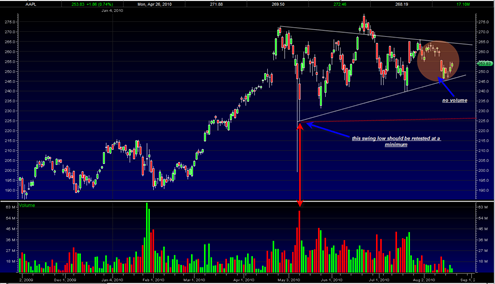 If we trade down again into the rest of this week on Apple Inc. (NASDAQ:AAPL) then it may put the stock near recent support.  A break under there could set a real decline in motion.
The weekly MACD is still on a sell signal despite the fact that we have been trading sideways.  There is no weekly MACD histogram buy signal and more downward momentum (although maybe still slow for now) is to be presumed.  Since that is the case it does appear we will eventually get a break of support likely in September.
High volume swing points like the one that occurred on May 7, 2010 are like magnets and I think price gets pulled down into that range eventually.
If that is the case then the Powershares QQQ ETF (NASDAQ:QQQQ) do not stand much of a chance of holding support either since (NASDAQ:AAPL) is such a large percentage of the QQQ index.
Seasonally we are also right now at the word possible time frame for paper equities.  So the seasonal weakness plus the current weekly bearish trend also seems to support a break down in AAPL soon. . .
Written By Tom From Best Online Trades
BestOnlineTrades covers many different aspects of trading, from commodities to stocks, from indices to ETF's.