Kyle Anderson: Apple Inc. (NASDAQ:AAPL) stock has fallen 11.2% since July 20, and many investors are wondering if now is the time to give up on Apple stock.
According to our Apple stock price predictions, that would be a major mistake. In fact, with AAPL shares now trading near $115, this is an excellent opportunity to add to your position.
But first, here's why the Apple stock price has been slammed in the last few weeks, and why the panic is totally unfounded…
Don't Panic About the Apple Stock Price Now
One of the biggest reasons for Apple stock's pullback was its Q3 earnings report.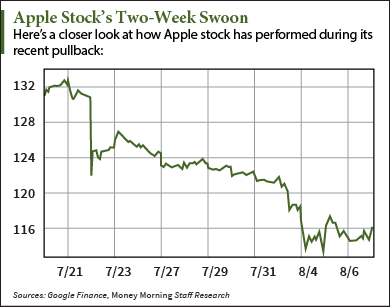 During the report on July 22, company officials announced that Apple sold 47.5 million iPhones in the quarter. That fell below the consensus estimate of 48.8 million. Some even more bullish estimates put sales in the 52 million to 53 million range.
While iPhone sales slipped, both EPS and revenue beat estimates. EPS came in at $1.85, which topped a projection of $1.81. Revenue of $49.6 billion beat the $49.4 billion estimate.
The company grew profit by 38% year over year, even taking into account share buybacks.
Even with all of those bullish figures, investors were still disappointed by a slight miss in iPhone sales.
Incredibly, the 11% dip has shaved more than $90 billion off of Apple's market cap. That's roughly the size of the entire McDonald's Corp. (NYSE: MCD), which has a market cap of $92 billion.
And once the Apple critics smelled blood in the water, they came out in full force again claiming the company is overhyped and has run out of "innovative" ideas.
To get to the bottom of the story, I spoke with Money Morning Defense & Tech Specialist Michael A. Robinson. As a 30-year veteran of Silicon Valley, he's been covering Apple stock for decades. And this is not the first time he's seen an attack on AAPL.
"I feel like there are a lot of misinformed investors out there," Robinson told me yesterday. "People keep saying they can't innovate like they used to, but frankly, a lot of people don't know what 'innovation' really means. Historically, Apple hasn't been the first to market with products. But they've created the products with best user experience. They didn't have the first PC, but they had the best one. They didn't have the first smartphone, but they have the most popular one. They've repeatedly created the best user experience."
And as Money Morning Chief Investing Strategist Keith Fitz-Gerald pointed out to readers Wednesday, this is very similar to another recent pullback we saw from AAPL.
A Familiar Story from the Apple Stock Price
"We've seen this playbook before," Fitz-Gerald said. "The stock's current slump is nowhere near as bad as the one three years ago, when Apple stock fell nearly 50% on concerns that the company had run out of clever ideas and was being eaten alive by the competition in both the smartphone and tablet markets that it created. If you do the math, that works out to a split-adjusted fall from grace at $100.72 in September 2012 to $55.01 by April 2013. Yet Apple was on track and climbing steadily again by June."
If you gave up on Apple stock in April 2013, you'd have missed out on a gain of more than 106% through today.
That's not to trivialize the recent drop in Apple's stock price, which no doubt stings. But if you look at the charts, Apple stock is still up 4.3% in 2015. By comparison, the Dow Jones Industrial Average is down 2.7% this year. The broader S&P 500 is up just 0.8%. So Apple is still outperforming the market.
While many investors are taking their money out of Apple stock, Money Morning experts agree that this is actually the best buying opportunity we've seen for AAPL in years.
"Stocks like Apple rarely, if ever, take a break like this," Fitz-Gerald said. "That means you've got one whale of an opportunity on your hands, and a unique chance to buy in when everybody is running the other way."
Here's how high our Apple stock price predictions show AAPL climbing from here…
Our Apple Stock Price Predictions Show Gains Over 74%
When it comes to Apple stock price predictions, Robinson remains firm on his original assessment that AAPL will hit $200 per share by Labor Day 2016. That would be a gain of 74.5% from today's opening price of $114.58.
During my conversation with Robinson, he was quick to point out just how undervalued Apple stock is compared to the rest of the tech market.