Keith Fitz-Gerald:  Apple Inc.'s (NASDAQ:AAPL) stock price lost another 3.2% on Tuesday, Aug. 4 on more than double the usual volume, making many investors wonder if it's time to throw in the proverbial towel.
It finished the day down 14% from the $133 a share high it set in February, and paper losses now tally $133.4 billion.
To put that in perspective, Apple's just lost more than McDonald's, which carries a $95 billion market cap, is worth.
I can't help but think this is great.
Stocks like Apple rarely, if ever, take a break like this. That means you've got one whale of an opportunity on your hands, and a unique chance to buy in when everybody is running the other way.
Today we're going to talk about why…
The secret is capitulation – and it could mean a double-digit discount for you in one of the most promising sectors in the world.
There's no question that Apple has taken a beating in recent trading. The stock dropped another 3.2% and closed Tuesday at only $114.64 a share after five consecutive days of selling. Yesterday, in particular, was a blood bath on roughly double the average daily volume.
Ostensibly, the story is about weakening demand in China, which is one of Apple's biggest markets, and the burden of higher expectations associated with iPhone and smartwatch sales that have fallen short of analyst projections.
We've talked about both of these things before. China is no more going to disappear than America is, and Wall Street analysts rarely get it "right."
So you owe it to yourself to keep things in perspective.
Besides, we've seen this playbook before. The stock's current slump is nowhere near as bad as the one three years ago, when Apple stock fell nearly 50% on concerns that the company had run out of clever ideas and was being eaten alive by the competition in both the smartphone and tablet markets that it created. If you do the math, that works out to a split-adjusted fall from grace at $100.72 in September 2012 to $55.01 by April 2013. Yet Apple was on track and climbing steadily again by June.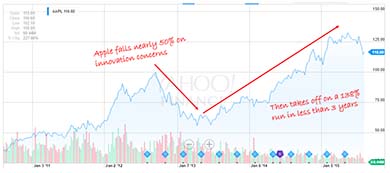 My point is that healthy companies have give and take. Apple has, in fact, fallen below its 200-day moving average 17 times and, in each case, it's taken about 30 days to get back on its feet.
The way I see it, the current pull-back isn't unexpected right now, for three reasons I laid out to FOX Business anchor Deirdre Bolton last night on "Risk & Reward:"
Apple makes up roughly 4% of the Dow, 12% of the Nasdaq, and 3.6% of the S&P 500. So it tracks the indices pretty closely, perhaps even drives them. There's probably some institutional profit-taking, rebalancing, and indexing going on, too.
Apple is one of the most widely held stocks in the world and, chances are, if you've got any sort of retirement plan whatsoever, you own it. That means it's going to move on individual whim.
Yesterday's rout on roughly double the normal average daily volume smells like capitulation, something we haven't seen in a while.
Ergo, Apple may be a great "Buy" at these levels. No, scratch that. Apple is a great buy at these levels.