After reporting positive results from a mid-stage test for its bladder pain syndrome/interstitial cystitis drug AQX-1125 on Aug. 7, Aquanox stock took off like a rocket.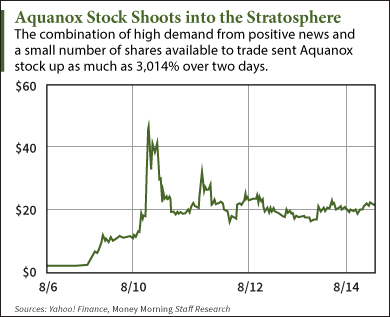 The previously sleepy biotech stock had been trading around $2 and closed at $1.79 on Aug. 6. The next day it shot up 482%.
An intervening weekend did little to settle things down. On the following Monday, AQXP stock briefly touched $55.75, adding another 435%. At that moment, the frothy biotech stock was up an incredible 3,014% from its Aug. 6 close. Yowza.
After hitting that peak, Aquanox just as suddenly fell. By the end of Monday's session, AQXP was at $18.88 – still an impressive 81.2% gain on the day and 955% higher than the Aug. 6 close.
Since then, Aquanox has resumed its climb. It closed at $22 today (Friday), giving the biotech stock a six-day gain of 1,129%.
For those who previously owned AQXP stock, it was like winning the lottery. But any investors who tried to jump into the fray after the price started soaring took a huge risk.
Why? The answer to that lies in how all this happened.
Biotech Stocks Are Naturally Volatile
"I think this was, in some ways, a 'perfect storm' for this stock – though the scope of the jump in price per share is pretty much unheard of," said Money Morning Biotech Investing Specialist Ernie Tremblay.
Let's look at the elements that came together to create this perfect storm.
First, Aquanox is a biotech stock researching new drugs. Biotech stocks have a lot of built-in volatility already, triggered by good or bad news about the drugs in their lab.
According to Tremblay, a typical biotech stock would have gotten a 20% to 100% pop from the kind of news Aquanox reported Aug. 7. But the company also happened to reportearnings that day – and beat Wall Street expectations.
Separately, that would have boosted AQXP as well. But the combination of positive news on the AQX-1125 drug and the strong earnings amplified the impact on the stock.
But even that doesn't explain a pop of more than 3,000%.
Here's the reason Aquanox stock behaved so crazily – and what made it ripe to become a trap for retail investors…
Why Aquanox Stock Jumped So High So Fast (AQXP)
Aquanox has a relatively small number of outstanding shares – just 10.73 million, according toYahoo! Finance. But the float, the number of shares not restricted or in the hands of insiders, is much smaller.
As of Aug. 10, Yahoo! Finance reported the float as just 4.5 million shares. Stocks with a low float tend to be volatile. That means there aren't enough shares available for would-be buyers when the price is on the way up – or enough for would-be sellers when the price on the way down.
But in the case of Aquanox, the action of a single institutional investor dramatically changed the equation just as the news about the AQX-1125 drug was breaking.
According to a 13D filing, Baker Brothers Life Sciences LP bought 2.5 million shares of AQXP on Aug. 7, more than doubling their stake to a total of 4.267 million shares.
"I'm not surprised to see the Bakers move a chunk of money around after they divested from XOMA Corp. (Nasdaq: XOMA) after its big debacle a couple of weeks ago," Tremblay said. "They had some cash to spend, so spend it they did, in a company similar in size and potential to XOMA…well, before it crashed."
The huge one-day buy sucked up a majority of the already-scarce shares available for trading just as demand spiked. The combination started to propel Aquanox stock into the stratosphere.
And once retail investors saw both the positive drug trial news and the strong interest of an institutional buyer, they were eager to join the party.
What Happens When a Super-Hot Stock Cools Off
"A big vote of confidence by an institutional investor creates a lot of momentum," Tremblay said. "Most of these folks really have no idea what they're investing in – they don't quite get the science, either of the diseases or the molecules created to cure/treat them. So they look to folks who seem to be more knowledgeable and follow their lead. Bees to honey – or flies to manure, depending on future trial data."
But how did AQXP stock become a trap for those jumping on the bandwagon? Well, anyone who bought at $25 and up, trying to catch the momentum on that manic Monday, had a major problem when the overheated biotech stock began to droop in the afternoon.
As a few lucky investors cashed out near the peak, the latecomers were left to eat big losses. With so few Aquanox shares trading, those trying to get out as the price fell had a tough time finding buyers.
Panic selling on Tuesday dropped the price to an intraday low of $15.51, nearly 50% lower than the morning high of over $30.
For retail investors, the AQXP episode held several lessons:
Don't get swept up in the excitement of stock shooting upwards, no matter how tempting.
Pay attention to the float. It can speed a stock's decline as much as its rise.
Don't invest in sectors you don't understand (like biotech stocks). Do your homework first.
The Bottom Line: The meteoric rise of Aquanox was extraordinary even for a biotech stock. But it goes to show how easily a "sure thing" can quickly turn into a money-losing trap.
Written By David Zeiler From Money Morning
We're in the midst of the greatest investing boom in almost 60  years.  And rest assured – this boom is not about to end anytime soon.  You see, the flattening of the world continues to spawn new markets  worth trillions of dollars new customers that measure in the billions;  an insatiable global demand for basic resources that's growing   exponentially; and a technological revolution even in the most distant  markets on the planet.  And Money Morning is here to help investors profit handsomely on this seismic shift in the global economy. In fact,  we believe this is where the only real fortunes will be made in the  months and years to come.