Tyler Laundon: As the U.S. speeds toward the fiscal cliff, many investors are looking to decrease risk in their portfolios.
Research from U.S. Global Investors shows that owning commodity equities can reduce volatility and increase returns in a portfolio: "In a portfolio of 25% commodity equities and 75% U.S. stocks, an investor reduces their risk by almost 1% while increasing their returns by nearly 1.5%".
It therefore makes sense that a very simple way to reduce risk while staying invested is with commodity ETFs.
But be forewarned. While the right commodity ETF can help you reduce volatility and boost returns, not all ETFs are created equal. Many are junk, in my opinion.
You won't find the term "Exchange Traded Junk" on Investopedia. But that doesn't mean these types of securities don't exist. They do.
The best way to show the hidden pitfalls of Exchange Trade Junk is by example. And none provides a better example than a certain ETF targeting natural gas – a red-hot commodity that has risen 27% over the last six weeks.
At first glance, the United States Natural Gas ETF (NYSEARCA:UNG) appears to be an easy way for "regular" investors to profit from rising natural gas prices.
But if you look at this chart you'll see that UNG has underperformed natural gas by 30% since the beginning of 2012.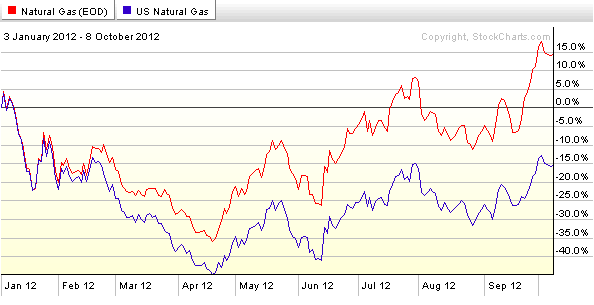 Oddly enough, it appears that this ETF was actually designed to lose money. Other commodity ETFs function the same way.
Without getting into too many boring details, the core problem with UNG is that it invests in futures. But natural gas is one of the most expensive commodities to store. This storage cost is reflected in forward month contracts, which are often more expensive than the current month's contract.
So what happens is this: UNG sells its holdings for less than the cost to replace them, effectively losing money and purchasing power with each rollover of its assets.
The relative performance of UNG to natural gas makes the UNG ETF "Exchange Traded Junk" as far as I'm concerned. I'd be okay losing money on natural gas if that was the actual investment I made and it didn't work out.
But I'm not okay with burning cash in transaction-related costs every month. That's how you destroy wealth, not create it.
So what should investors do if they're looking to boost returns and reduce volatility with commodity ETFs?
My advice is to keep it simple. Don't get involved with exotic ETFs, and don't buy any that invest in futures. There are other options out there that are cheap (some are even free to trade) and liquid, and have straightforward investment goals.
In particular, for those looking for energy exposure I like the Vanguard Energy Index ETF (NYSEARCA:VDE),which has an expense fee of just 0.19%, a yield of 1.5%, and includes Exxon (NYSE:XOM), Chevron (NYSE:CVX) and Schlumberger (NYSE:SLB) as its three biggest holdings.
I've also recently recommended gold, silver and agriculture ETFs to Pay Dirt subscribers. You can get my full ETF report with a trial subscription here. After what has happened with UNG and a whole string of other commodity ETFs launched over the past few years, I wanted to clearly show which commodity and natural resource ETFs are actually attractive investments.
The ETFs I review aren't all buys right now. But they are the best option for the intended exposure. And that means that when it's time to buy, it's a simple matter of placing an order for the ETF. The analysis and work to avoid the "Exchange Traded Junk" has already been done.
They're not levered or inverse funds, meaning they won't move twice (or three times) as much as the underlying investments, or go up when the underlying assets fall. They're designed to do just what you'd expect – rise when the price of the fund's holdings go up.
That's exactly the type of commodity ETF you should be looking for.
Good Investing,
Written By Tyler Laundon For Wyatt Investment Research
Wyatt Investment Research is led by founder Ian Wyatt, who serves as  Publisher and Chief Investment Strategist. Our team also includes a  group of talented research analysts and editors who aim to uncover great  investments and present those investment ideas to our growing group of  loyal subscribers.
Ian Wyatt is an active investor,  a well-regarded investment expert and an Internet entrepreneur. He is  the Chief Investment Strategist at Wyatt Investment Research, and plays a  leading role in each of the company's investment newsletters and  trading services. As a well-regarded market expert, Ian has written for Marketwatch, Zacks Investment Research, Seeking Alpha, Yahoo! Finance and The Burlington Free Press. He has been interviewed or quoted in articles in well-known publications including AOL  Finance Blogging Stocks, Kiplinger's Personal Finance Magazine, Barron  Magazine, Barrons.com, Forbes.com, The Dick Davis Digest, The Dick Davis  Income Digest, The Wall Street Transcript, TheStockAdvisors.com, Money  Show Digest, The New Jersey Star Ledger, The Wisconsin State Journal and The Seattle Times.