Chris Ciovacco:  2011 – Déjà vu All Over Again?  In 2011, stocks moved sideways for several months as questions about the sustainability of the eurozone dominated the news. The front page of the financial section in 2011 was also littered with stories about unsustainable debt in Greece. It all sounds familiar in 2015. Stocks eventually plunged in late July/early August 2011 and did not find a bottom until early October.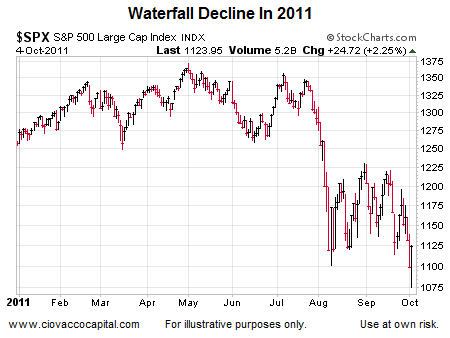 Below is a list of some of the noteworthy events in 2011. From BBC News:
April 2011: Portugal admits it cannot deal with its finances itself and asks the EU for help.

May 2011: The eurozone and the IMF approve a 78bn-euro bailout for Portugal.

June 2011: Eurozone ministers say Greece must impose new austerity measures before it gets the next tranche of its loan, without which the country will probably default on its enormous debts. Talk abounds that Greece will be forced to become the first country to leave the eurozone.

July 2011: A second bailout for Greece is agreed.

August 2011: European Commission President Jose Manuel Barroso warns that the sovereign debt crisis is spreading beyond the periphery of the eurozone.
2011: Defensive Assets Are In Demand
The chart below shows the performance of defensive-oriented Treasuries (TLT) relative to growth-oriented stocks (SPY) in 2011. Bonds started saying "be careful with stocks" in February 2011 or five months before the July/August waterfall decline in stock prices (see point A below).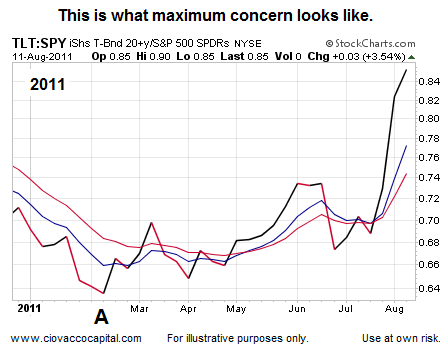 How Does The Same Chart Look Today?
Rather than making bearish new highs, the TLT vs. SPY ratio recently made a lower low (see point B in chart below).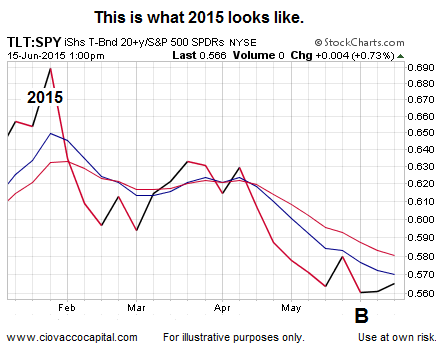 How About The Long-Term Outlook?
Investors are human, and thus, we all have to fight the negative influence of recency bias. For example, many believe the next fifteen years in stocks will be marked by the same "bull market followed by a crash" pattern that we have seen over the last fifteen years. Another common set of beliefs: "bonds have done well over the past thirty years, bonds will continue to do well, and everyone should own them". What do the last 100 years of market history tell us about stocks, bonds, and recency bias? The answers, which may surprise you, are in this week's stock market video.
After you click play, use the button in the lower-right corner of the video player to view in full-screen mode. Hit Esc to exit full-screen mode.


Small Caps vs. Bonds
In 2011 as fear about bad things happening increased, the demand for growth-oriented small cap stocks (IWM) began to wane significantly relative to defensive-oriented Treasuries (TLT).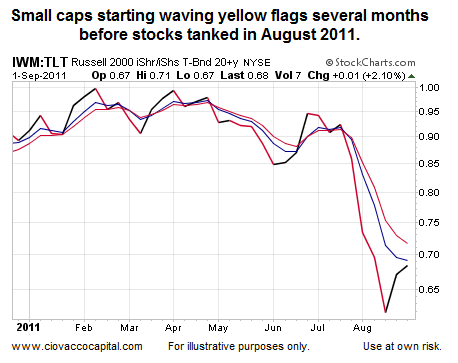 How Does The Same Chart Look Today?
Instead of making a bearish series of lower highs and lower lows as it did beginning in February 2011,