Oh, there it is. It's the air of confidence wafting over me knowing everything's as it should be with our too-big-to-fail banks, and that they're not going anywhere.
That the big banks are safe, that they have a handle on their assets and liabilities, and that the U.S. Federal Reserve's stress tests are a warm blanket that lets us all sleep well at night.
No, it doesn't bother me at all…
In fact, I'm going to sleep like a baby tonight… How about you?
No, it doesn't bother me like a cold sideways rain that there are mistakes here and there.
That small banks like Bank of America (NYSE:BAC), only the nation's largest retail bank, might not see, for something like six years, a minor miscalculation in some valuation book that tallies the pluses and minuses of holding plain-vanilla structured bond thingies.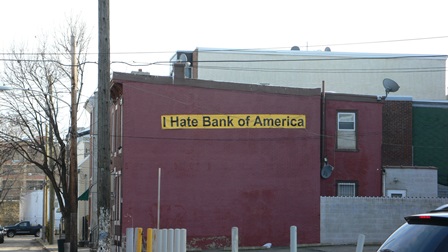 No, it doesn't bother me that a non-executive, non-senior regular old employee caught the $4 billion mistake – I mean miscalculation – in April as the bank was preparing yet another routine quarterly financial report.
It should bother all of us that these poor banks have to file all these nuisance quarterly reports when one annual report would save them from so many superfluous prying eyes, save so much wasted time and money.
No, it doesn't bother me that the head of Bank of America's board of director's five-member audit committee is Sharon L. Allen, the former chairwoman of a little accounting firm called Deloitte.
For goodness sake, how in this GAAPing world of accounting prestidigitation is she supposed to figure this accounting stuff out?
She's a board member, not an employee, for heaven's sake.
No, it doesn't bother me either that Ms. Allen and the entire audit committee and BofA's weak-ass auditors PricewaterhouseCoopers were just reelected the other day by shareholder lemmings, and that silly little pay packages of top executives were also approved.
Come on, these perps (sorry, I mean peeps) work hard for their money. Do you know how hard it is to be a member of five golf clubs?
But here – this here's what bothers me the LEAST.
NO, it doesn't bother me that Federal Reserve cronies who analyze the reams of toilet paper banks send them to see how stressed they could get if the Fed itself wasn't there to prop them up may have missed the same little miscalculation.
So what if the mistake thingy hid the fact that BofA had $4 billion less in capital that the Fed uses to call it home free? No one's perfect, least of all our Federal Reserve oligarchy.
Seriously. There's no stress ever, on account of the fact that the Fed is, always has been, and always will be there for the TBTF big banks that essentially own Uncle Ollie, and Uncle Sam for that matter.
Me?
I'm feeling the warm west wind, otherwise known as that constant flow of blathering Bullshirt from the Fed and bank CEOs that everything is irie, mon, and I'm lovin' it.
Like I said, I'm going to sleep well again tonight. Not because I'm short and shorting more bubblicious stuff every day, but because there ain't no reason to stress a few missed billions in losses or botched stress tests.
Sweet dreams.
Written By Shah Gilani From Money Morning
We're in the midst of the greatest investing boom in almost 60 years. And rest assured – this boom is not about to end anytime soon. You see, the flattening of the world continues to spawn new markets worth trillions of dollars; new customers that measure in the billions; an insatiable global demand for basic resources that's growing exponentially; and a technological revolution even in the most distant markets on the planet.And MoneyMorning is here to help investors profit handsomely on this seismic shift in theglobal economy. In fact, we believe this is where the only real fortunes will be made in the months and years to come.