These "capital surcharges" are in addition to the 7% capital requirements set forth in the Basel Accords in 2010.
The Federal Reserve System has identified eight banking institutions as "global systemically important bank holding companies" – GSIBs – that will be subject to the capital surcharge ruling.
They include Bank of America Corp. (NYSE:BAC); Bank of New York Mellon Corp. (NYSE:BK); Citigroup Inc. (NYSE: C); Goldman Sachs Group Inc. (NYSE:GS); JPMorgan Chase & Co. (NYSE:JPM); Morgan Stanley (NYSE:MS); State Street Corp. (NYSE: STT); and Wells Fargo & Co. (NYSE:WFC).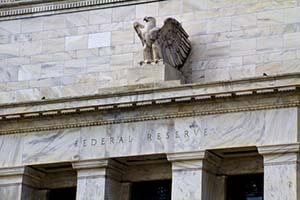 The Federal Reserve System capital surcharges will be phased in beginning on Jan. 1, 2016, and will end on Jan. 1, 2019.
They range from 1% to 4.5%, based on each firm's risk-weighted assets.
The impact of building up a capital buffer is still very much unknown.
At this point, almost every financial institution on the Federal Reserve System list of GSIBs adheres to these new capital surcharge rules.
The only exception is JPMorgan. Several reports indicate that JPMorgan is $12.5 billion short of the $200 billion requirement.
This may be a result of JPMorgan's success weathering the global financial crisis.
You see, JPMorgan was the firm that bought Bear Stearns in 2008 with the help of a $29 billion Fed loan.
Former U.S. Treasury Secretary Hank Paulson even offered to hand Morgan Stanley over to JPMorgan as the global financial crisis roiled on.
So for all intents and purposes, JPMorgan faces the largest capital surcharge because it weathered the global financial crisis better than most firms and emerged an even bigger consolidated banking giant.
The ruling stems from a Dodd-Frank provision that mandates the Federal Reserve System adopt enhanced capital standards should there be a bank run that threatens the global financial system.
This is a positive development for a Federal Reserve System that has been asleep at the regulatory wheel.
"So far, the Fed's 'appropriate compliance regimes' let big banks get away with manipulating Libor, foreign exchange markets, metals markets, and energy prices," Money MorningCapital Wave Strategist Shah Gilani said. "And that's just a few of the big cheating regimes banks have lorded over."
But it reveals something more telling about the big banks.
This development highlights the dangers of investing in big bank stocks.
They are always going to be at the whims of regulators.
It only takes one mistake for Congress or the Fed to strengthen its calls for costly regulatory measures.
And in the post-global financial crisis and post-Dodd-Frank world, big banks will continue to be in the crosshairs of regulation as more instances of systemic risk factors become apparent.
The Bottom Line: There are obvious problems with the financial system.
It's highly concentrated and sitting on a lot of risk.
The Federal Reserve is finally stepping up to the plate in a big way by announcing these new capital surcharges.
But at the same time, it reveals that even years after the Dodd-Frank bill was passed, big banks and big bank stocks are always going to feel the headwinds of costly regulation.
Written By Jim Bach From Money Morning
We're in the midst of the greatest investing boom in almost 60 years. And rest assured – this boom is not about to end anytime soon. You see, the flattening of the world continues to spawn new markets worth trillions of dollars; new customers that measure in the billions; an insatiable global demand for basic resources that's growing exponentially; and a technological revolution even in the most distant markets on the planet.And Money Morning is here to help investors profit handsomely on this seismic shift in the global economy. In fact, we believe this is where the only real fortunes will be made in the months and years to come.