It's not just politics…
Brazil's a major agri-producer and exporter… big in coffee, sugar, oranges, cocoa, cotton, and soybeans. But unusual droughts in (normally rainy) January and February have been an important catalyst for higher agricultural commodity prices.
Since the Fed began quantitative easing late in 2008, the impact on various asset classes has been dramatic. Stocks as measured by the S&P 500 are up 100%. The yield on 10-Year Treasuries fell from 3.7% to 1.5% by April 2013 (which meant significant bond-buying).
Healthcare, biotech, banking, consumer staples, consumer discretionary, and even housing… virtually all these sectors have benefited from easy-money policies.
But for a few exceptions, commodities have been left out of this rising tide… until now.
The cyclical bull in general stocks that started back in 2009 is already 5 years old. And yet the Fed is likely to maintain sustained low interest rates for another year and a half to two years. So the bull may be getting long in the tooth, but it's premature to call its end.
One thing we do know is that commodities tend to perform best in the latter part of a cyclical bull market. And that's where I think we are right now. It's certainly what the indicators appear to be saying.
Make Money as Food Prices Spike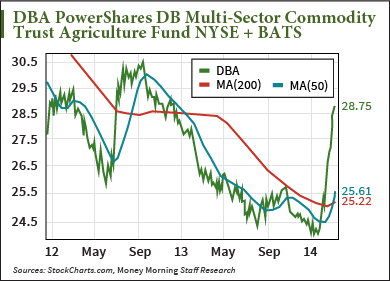 One way to participate in rising food prices is through the PowerShares DB Agriculture ETF (NYSE Arca: DBA). Essentially, this ETF is a basket of 17 agricultural commodities futures contracts, which gives investors exposure to sugar, live cattle, corn, soybeans, cocoa, coffee, lean hogs, and wheat, among others.
So far this year, DBA has gained nearly 19%. On a technical basis, the chart looks way overextended and ripe for a pullback. Look for a drop perhaps down to the $26 level, which is close to the 50-day moving average and could act as new support.
Our Readers have been participating in the rising agricultural sector since July. Our leading South American farmland play, whose shares are already ahead by 20%, still looks primed for more gains ahead.
Remember, this cyclical bull market is maturing but still has legs left. And China, despite some recent weak economic news, is a major consumer of raw materials whose appetite seems boundless.
Commodities typically participate late in such cycles and have started acting like they are joining this party. With the picks above, you'll arrive just in time to profit…
Written By Peter Krauth From Money Morning
We're in the midst of the greatest investing boom in almost 60 years. And rest assured – this boom is not about to end anytime soon. You see, the flattening of the world continues to spawn new markets worth trillions of dollars; new customers that measure in the billions; an insatiable global demand for basic resources that's growing exponentially; and a technological revolution even in the most distant markets on the planet.And Money Morning is here to help investors profit handsomely on this seismic shift in the global economy. In fact, we believe this is where the only real fortunes will be made in the months and years to come.