But there's no need to panic and sell…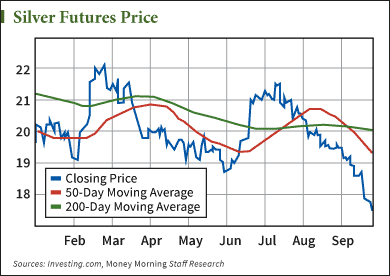 On the week, spot silver prices per ounce fell to $17.50 for a 1.6% drop at yesterday's close (Thursday). On the month, prices are down 10.1%, and 10.6% on the year.
Silver futures contracts – which promise the delivery of silver at a future date – closed yesterday at $17.44 an ounce, down 2.2% on the week, and 10.5% on the month.
Other silver investments slumped as well. Exchange-traded funds backed by physical silver bullion, such as the iShares Silver Trust (NYSE Arca: SLV) closed at $16.83 a share yesterday, its lowest level since March 2010. It has fallen 10% on the year.
The ETFS Physical Silver Shares (NYSE Arca: SIVR) suffered a similar fate. It closed yesterday at $17.27, good for a 10% drop on the year as well, and nearing a level not seen since early 2010.
These troubles in the silver market have been brewing since July, when after hitting a three-month peak of $21.445 an ounce, the bears began to pile on short positions and put downward pressure on the white metal. Since hitting that peak in July, prices have fallen 18.4%.
The recent silver price slump even pushed the 50-day moving average below the 200-day moving average on Sept. 5. This so-called "death cross" signifies a more entrenched bear session.
The last time silver hit the death cross was back on Feb. 10, 2013, when silver closed at $31.435. The 50-day moving average stayed below the 200-day moving average for 443 trading days and silver lost 35.3%.
But, things in the silver market are different this time from the last time prices saw a death cross. The two big headwinds that are preventing silver's turnaround won't be here much longer…
Two Big Factors Holding Back Silver Prices – But Not For Long
The first and most obvious recent drag on silver is the strength of the dollar.
As with all precious metal investments, silver is considered a good inflation hedge. As the value of the dollar is eroded, investors will look for alternative vehicles to park their wealth that are resistant to a weakening currency. Gold is the premier investment for this, but silver will often get similar attention, albeit, in lower volumes.
As of yesterday's close, the U.S. Dollar Index was trading at 85.3, its highest level since June 30, 2010.
But this doesn't signal inherent strength in the dollar. It is more a sign of weakness in the basket of falling currencies that comprise the index that is making the dollar look artificially strong by comparison.
Just this morning, the euro, which is responsible for 57.6% of the index, has been heading toward a more than two-year low. The euro fell as low as $1.2679 in morning trading, not far off from its Sept. 6, 2012 close of $1.2631.
The euro has declined as the European Central Bank (ECB) has both lowered rates and moved ever closer to announcing an inevitable policy of quantitative easing. While most of the Eurozone crisis has been about European policymakers trying to arrest the sovereign debt crisis with austerity, there has been a louder call for stimulus as many indicators for the region seem bleak, and deflation is not far on the horizon.
Draghi is very wary of deflation. With debt so heavily on the mind of Europe's periphery countries, the last thing he wants to do is stoke deflationary pressures, thus increasing the real value of debt and making it harder for the debt-laden countries like Greece and Portugal to make good on their obligations.
While the announcement of some kind of large-scale, ECB-led sovereign bond-buying spree is yet to come, the mere prospect of an inflation-driven devaluation of the currency has speculators shorting the euro in large numbers and trying to profit off the downdraft.
As of Sept. 16, the most recent reporting period by the U.S. Commodity Futures and Trade Commission, speculators are short 27.3 billion euros. However, since Sept. 2, when speculators were short 28 billion euros and marching ever closer to the June 5, 2012 record of 31.3 billion euros short, these bearish traders have backed off.
In fact, as they've shed 2.5% of their short position, they've built up their long position 31%. This could shift the advantage in the futures market toward the bulls, and put upward pressure on the euro value at least in the short-term, taking away from the dollar's relative strength.
The futures market also shows another indicator that silver is getting ready to reverse course.
As of the most recent reporting, speculators held 47,903 short contracts on silver, representing 235.5 million ounces of silver. This is just shy of the record 48,984 short positions, or 244.9 ounces of silver that speculators held in July.
With short positions building to a record high, and prices hitting four-and-a-half year lows, at some point traders are going to want to jump in on cheap silver prices. And when prices begin to move up as a result of this, it'll squeeze the high volume of short positions and force prices even higher. When short positions hit their record high in June, and silver was trading below $19, traders liquidated their shorts en masse, helping move the price up as much as 14.3%.
Written By Jim Bach From Money Morning
We're in the midst of the greatest investing boom in almost 60 years. And rest assured – this boom is not about to end anytime soon. You see, the flattening of the world continues to spawn new markets worth trillions of dollars; new customers that measure in the billions; an insatiable global demand for basic resources that's growing exponentially; and a technological revolution even in the most distant markets on the planet.And Money Morning is here to help investors profit handsomely on this seismic shift in the global economy. In fact, we believe this is where the only real fortunes will be made in the months and years to come.