Alex McGuire:  The BP Q2 earnings report will be released before markets open tomorrow (Tuesday) morning.  BP plc (ADR) (NYSE:BP) will be the first of the Big Oil companies to release second-quarter numbers.
The BP Q2 earnings report is expected to log another quarter of losses as low oil prices continue to eat into the company's upstream profits.
Upstream refers to a company's exploration and production of oil and gas. Downstream refers to the refining process of oil and natural gas.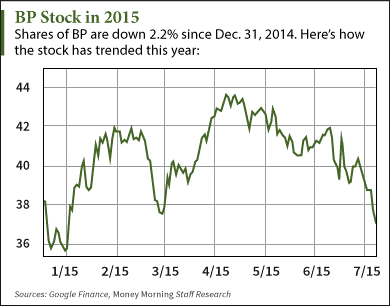 The oil titan posted $2.1 billion in profit during the first quarter, down 40% from Q1 2014. Revenue also fell 41% from $93 billion to $54.9 billion over the same period. WTI oil prices fell 8.4% in the first quarter and ranged from a low of $50.57 to a high of $59.83.
BP's Q2 earnings will certainly see a massive drop from the profitable year-ago period. In Q2 2014, the company reported $3.6 billion in profit, up 34% from the $2.7 billion reported in Q2 2013 and 13% higher than the $3.2 billion result for Q1 2014.
Those strong 2014 numbers came when WTI was trading in the $90 range. Today, WTI oil was trading below $48 per barrel.
But there will be one bright spot in the BP Q2 earnings report despite this year's oil price crash…
The One Profitable Area of the BP Q2 Earnings Report
Oil firms' downstream operations, including refining and chemical production, have improved due to low oil prices this year.
BP's downstream sector posted $2.1 billion in first-quarter profit. That's more than double the company's downstream profit from the first quarter of 2014.
The sector's numbers were huge across the board. Total SA's (NYSE ADR: TOT) overall profit fell 22% in Q1 2015 – but earnings from its downstream division increased by 12% from the year-ago quarter. Royal Dutch Shell Plc.'s (NYSE ADR: RDS.A) refining business soared 68% from $1.6 billion to $2.6 billion over the same period.