Przemyslaw Radomski, CFA: Recently, gold and silver's performance wasn't what precious metals investors had expected, even though it seems that this turbulence is just temporary – fundamentals are great with the Fed promising to print even more money and continuous reports on rising demand for gold and its shrinking supply. Moreover, the trend is still up from a technical point of view. Yet waiting for the precious metals rally to finally kick off can be frustrating.
But the fact that the big rally hasn't started yet is a great opportunity to take a look at the whole market from a distance and analyze it in search of some decent investments. Most investors focus solely on gold and silver, completely overlooking other profitable precious metals such as platinum and palladium and – what seems to be even more important –  precious metals stocks. The latter are excellent for diversification purposes and can outperform the underlying metals (this hasn't been the case in the past months, though). And this is why in today's technical part we focus on both gold and silver stocks. We'll start with the former (charts courtesy byhttp://stockcharts.com.)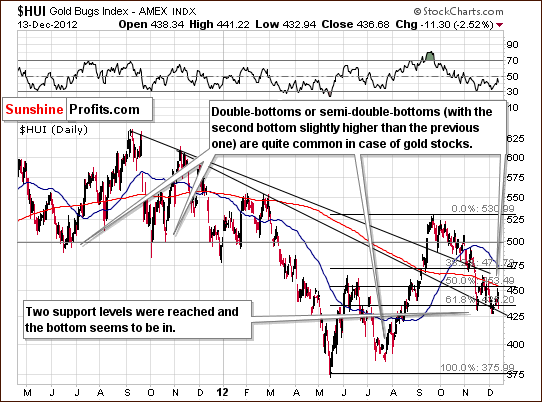 In the medium-term HUI Index chart, we see a decline but not below the level of the December lows. This seems to be a retest of the declining long-term support line and previous local lows. It could be the case that the miners will not move much lower even if gold declines.
However, if stock prices move lower, which could be the case based on thegravestone doji pattern discussed in our last essay, lower prices could be seen here, though this does not necessary have to happen. On a side note – the general stock market (as measured by the S&P500 Index) is rallying heavily today which further decreases the odds of a decline in gold stocks in the short term.
Let us move on to silver stocks now.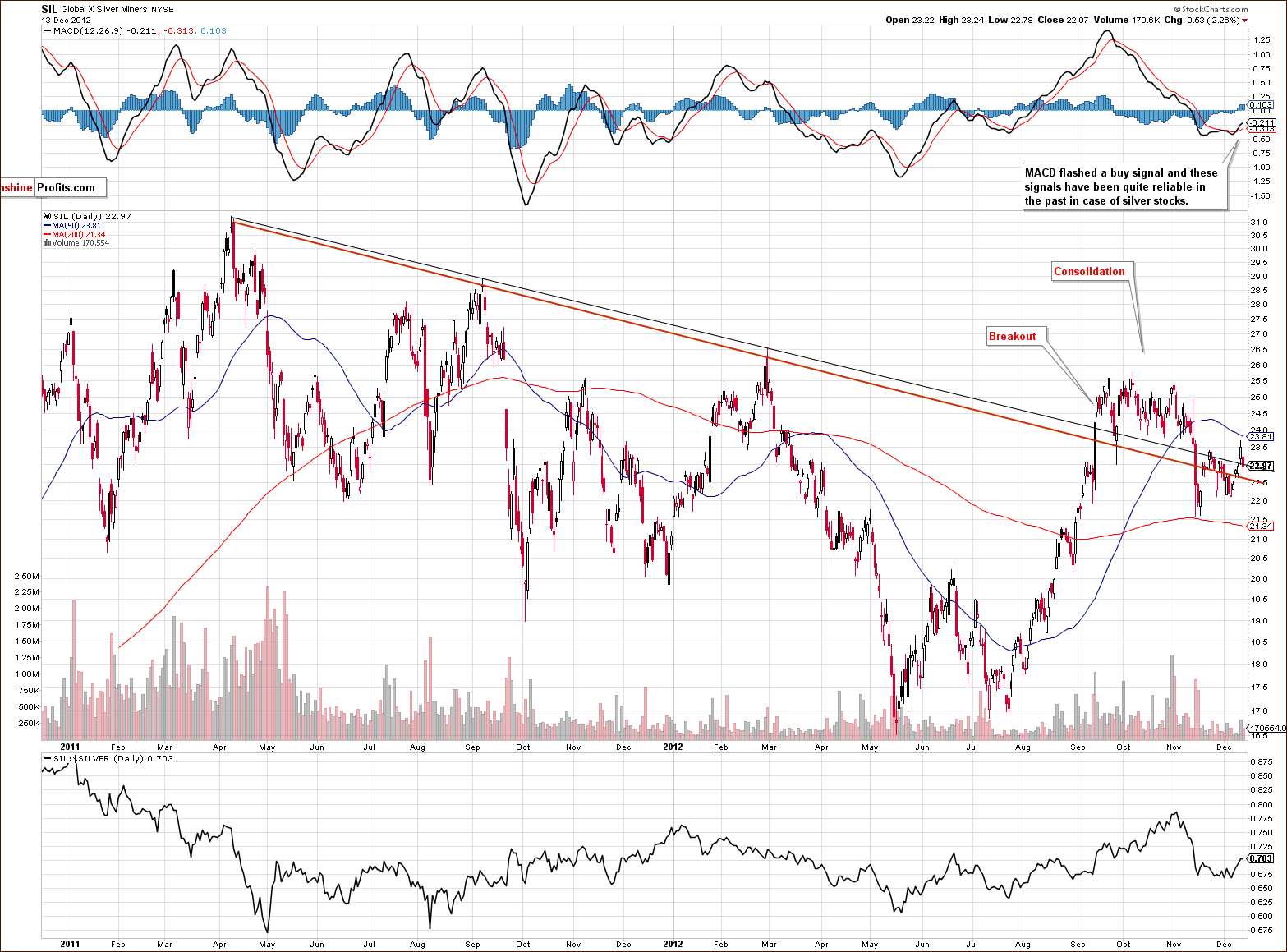 The outlook is bullish here as the breakdown below the declining resistance line has been invalidated. Silver stocks are once again above it. More importantly, we saw a buy signal from the MACD indicator, a tool which has been quite reliable for silver stocks in the past.
Based on this SIL ETF, we have bullish implications for silver and other parts of the precious metals sector as well. If you followed our suggestion to invest in silver stocks rather than gold stocks a few weeks ago, you are likely smiling today.
Finally, let us have a look at the precious metals mining stocks' performance relative to the general stock market.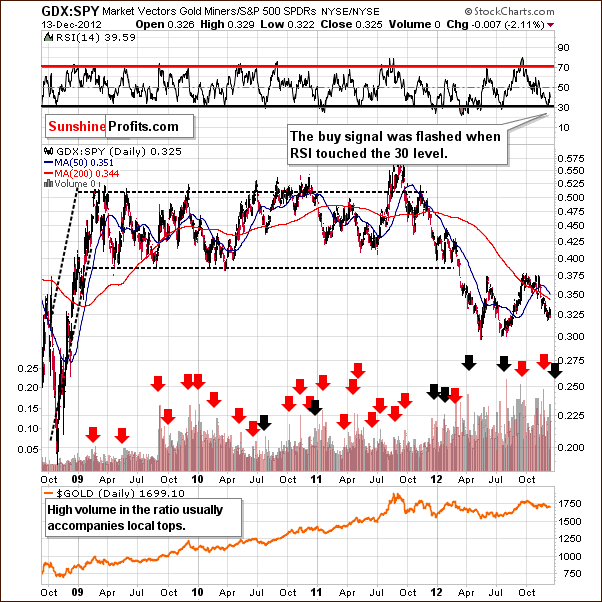 In the GDX:SPY ratio chart, we saw the RSI move to 30 (probably a local bottom) and volume levels significant. Since the RSI suggests a local bottom, the mining stocks are likely to outperform other stocks in the coming weeks. In short, the technical picture for mining stocks is favorable.
Summing up, the mining stocks outlook continues to be positive for the medium term. The short term appears somewhat unclear as the next rally will likely be significant but exact timing of when it is to begin is difficult to estimate. Replying to the question from the title of this essay – both, but with emphasis on silver stocks and medium term in mind, while being prepared for possible short-term volatility.
Related Tickers: iShares Gold Trust (NYSEARCA:GLD), iShares Silver Trust (NYSEARCA:SLV), Market Vectors Gold Miners ETF (NYSEARCA:GDX), ProShares Ultra Gold ETF (NYSEARCA:UGL), Silver Miners ETF (NYSEARCA:SIL),
Thank you for reading. Have a great weekend and profitable week!
Written By Przemyslaw Radomski, CFA (PR) From Sunshine Profits
Przemyslaw Radomski, CFA (PR) is a precious metals investor and analyst who takes advantage of the emotionality on the markets, and invites you to do the same. His company, Sunshine Profits, publishes analytical software that anyone can use in order to get an accurate and unbiased view on the current situation. Recognizing that predicting market behavior with 100% accuracy is a problem that may never be solved, PR has changed the world of trading and investing by enabling individuals to get easy access to the level of analysis that was once available only to institutions.
High quality and profitability of analytical tools available at www.SunshineProfits.com are results of time, thorough research and testing on PR's own capital. PR believes that the greatest potential is currently in the precious metals sector. For that reason it is his main point of interest to help you make the most of that potential. As a CFA charterholder, Przemyslaw Radomski shares the highest standards for professional excellence and ethics for the ultimate benefit of society.