Not necessarily because silver's due for a huge spike – although that case was made in our 2015 silver price forecast – but because if you buy silver in small allocations, it can act as insurance for your broader portfolio in case markets go south.
What may be hard for some investors to stomach, however, is that silver prices are highly volatile. In 2014, the spot price of silver swung between a closing high of $21.965 in February and a closing low of $15.315 in November – a 28.6% drop.
And even in 2015, the same volatility persists. Silver prices this year have been up as much 16.7% and down as much as 1.4%. They're currently up 6.5% on the year, closing yesterday (Monday) at $16.705 an ounce.
When looking at this silver price volatility, it's important to remember that you're not going to buy silver for the home run.
"I have physical silver," Money Morning Defense & Tech Specialist Michael A. Robinson said earlier this year. "I might have bought some at the top, but I don't care what the price goes to; I will not sell that physical silver. It's there for a reason – just like I have insurance on my car, I have insurance in case of a disaster."
But even if that's not enough to help you cope with the violent swings in silver prices this year, technical indicators are slowly aligning to make a compelling case for investors to buy silver.
Here's why…
Buy Silver Ahead of Favorable Technical Indicators
Silver is a much more thinly traded market than its sister metal, gold. There is also a lot of overlap in the profiles of traders who buy silver and gold.
Both metals serve as safe-haven assets. Say there's some geopolitical tensions abroad, or the markets panic – you are likely to see a lot of money pour into the gold markets. And residual precious metal interest will then find its way into silver as well.
Since trading volume for silver is much smaller, it tends to get a bigger boost than gold priceswhen these market events happen. But, similarly, when investors flee gold, silver will crash in a much more dramatic fashion.
Just look at the chart below…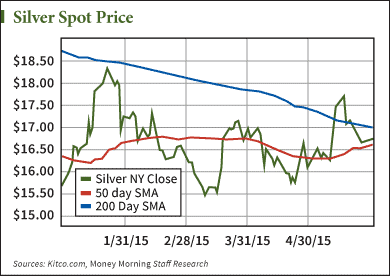 This relatively low trading volume explains the volatility. But what the charts also show is that two key moving averages are closing in on each other.
For the better part of two years now, silver's simple 50-day moving average has traded below its 200-day. Both these indicators are widely observed by technical traders.
When the 50-day falls below the 200-day, it's typically a signal that an entrenched downtrend is beginning to form.
It's also usually a sign that prices will continue to fall for a protracted period.
The point at which these two lines intersect, as the 50-day begins to fall below the 200-day, is commonly referred to as the "Death Cross."
However, when the 50-day begins to break above the 200-day, this is referred to as the "Golden Cross."
The accompanying chart shows that these two averages are closing in on this "Golden Cross."
We would caution investors from putting too much into this indicator; the golden cross doesn't always translate to a price pop.
Between early August 2014 and mid-September 2014, this golden cross was breached, but silver prices still managed to fall 16.5% to where they are today.
But silver's ready for a reversal. Silver prices have been trading low for two years.
And since silver is a solid portfolio hedge, you'll want to buy silver now before a rebound happens.
Bottom Line: Silver is good investment insurance. It's volatile, but it's also good protection.
Right now, as the technical indicators align, you could buy silver at a time when it's poised to see more long-term upside with the day-to-day volatility, as opposed to this two-year downtrend it has experienced.
Written By Jim Bach From Money Morning
We're in the midst of the greatest investing boom in almost 60 years. And rest assured – this boom is not about to end anytime soon. You see, the flattening of the world continues to spawn new markets worth trillions of dollars; new customers that measure in the billions; an insatiable global demand for basic resources that's growing exponentially; and a technological revolution even in the most distant markets on the planet.And Money Morning is here to help investors profit handsomely on this seismic shift in the global economy. In fact, we believe this is where the only real fortunes will be made in the months and years to come.