Tesla Motors Inc. (NASDAQ:TSLA), long known for its ability to keep its buzz machine churning, gave lithium investors something to get excited about this weekend.
On Friday, Bacanora Minerals Ltd. (BCN:TSX.V) and Rare Earth Minerals Plc (REM:LSE), owners of the Sonora Lithium Project, announced that they had finalized a conditional, long-term lithium hydroxide supply agreement with the car and battery giant.
The Energy Report reviewed the commentary of leading lithium experts Simon Moores and Chris Berry to anticipate what the new agreement may mean for the sector.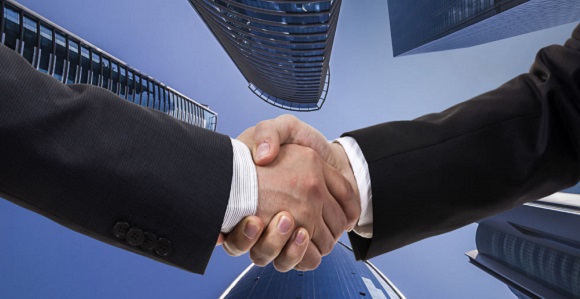 Bacanora and Rare Earth Minerals saw their stock take a nice bump upward as the news was announced on Friday. According to the news release, Tesla will buy lithium hydroxide to feed the manufacturing of batteries at its Nevada Gigafactory on the condition that the Sonora project reaches certain milestones and passes product specification qualifications. Though the press release did not specify how much material will go to Tesla, Bacanora estimates the Sonora project will have an initial production capacity of 35,000 tonnes per annum (35 Ktpa) lithium compounds with the potential to scale up to 50 Ktpa.
Simon Moores, managing director of London-based Benchmark Mineral Intelligence, estimates Tesla could consume as much as 80% of total output. In a recent interviewwith The Gold Report, Simon Moores correctly predicted that Tesla would be focused on supply security in H2/15. "If Tesla wants to drive down the price of batteries by 30% or more," he said, "it is going to have to go all the way to the raw materials to cut costs. . .this is where the company must start."
Chris Berry, co-author of The Disruptive Discoveries Journal, had this to say about the deal: "The agreement between the companies offers an interesting window into Tesla's supply chain strategy. What the company has done here has purchased an out-of-the-money call option on future lithium supply."
An Increasingly Lithium-Hungry World
For his part, Colin Orr-Ewing, chairman of Bacanora, is enthusiastic about what the deal means for his company and its partner: "This supply agreement with Tesla represents a vital and monumental step forwards in the commercialization of the large lithium resources that the company holds, together with its partner Rare Earth Minerals, in northern Mexico. We anticipate this contract to rapidly accelerate the development of the Sonora Lithium Project, which we expect will prove to be invaluable in an increasingly lithium-hungry world."
Leading battery manufacturer Panasonic Corp. is predicting powerful growth in emerging markets for lithium-ion batteries. The chart below shows Panasonic's expectations between 2014 and 2025.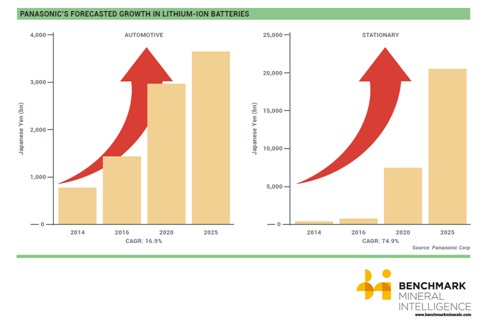 Source: Benchmark Mineral Intelligence
Welcome Relief for Lithium Companies?
Tesla's supply chain strategy could have a positive effect on a lithium industry that badly needs new investment. The deal has piqued investors' sometime-waning interest in the lithium sphere. But Simon Moores warns there are challenges: "The biggest hurdle to the agreement is Bacanora's need to secure significant financing through debt and/or equity, which Tesla may itself be involved in."