Chris Ciovacco:  Markets Know Rate Deferrals Cannot Last Forever.
As noted on April 20, under the "economy continues to grow" scenario, the Fed cannot indefinitely postpone the next rate hike.

From Bloomberg:
When does treading carefully lead to falling behind? Federal Reserve officials signaled last week that they expect to raise interest rates twice this year, while investors see only one move. If economic theory is any guide, even the central bank's more hawkish outlook would still leave the target for the benchmark policy rate way too low.
Conditions Will Never Be Perfect
At last week's meeting the markets were not expecting the Fed to raise rates. However, markets were expecting the Fed to send some signals regarding the distinct possibility of a rate hike in June. Instead, the Fed delivered another vague statement regarding the timing of any future interest rate hikes. From CNBC:
Lindsey Group chief market analyst Peter Boockvar made the case that the Fed will never get the "perfect" conditions they seek before increasing short-term rates once again. The Fed's mandate "isn't to have a perfect world. That only exists in fairy tales, dreams and in your econometric models," Boockvar said in a recent note to clients. Boockvar argued that the Fed has been taking cues from shaky international banks, and that doing so will always offer a reason to keep interest rates low.

"It's been excuse, after excuse, after excuse," Boockvar said. "This is why, eight years into an expansion, they've only raised interest rates once. They're afraid of their own shadow. They're in a terrible hole that they're not going to be able to get out of."

"They all believe that, by making money cheaper, you can somehow generate faster growth," Boockvar said. Based on this, Boockvar said that central bankers are losing their credibility and their ability to generate higher asset prices, putting the stock market in a precarious position. "In a world that's already choking on too much debt, the cost of money really isn't an important variable and it is not a binding constraint on anybody's decision making."
Bullish and Bearish Clues
This week's stock market video covers numerous bull/bear charts that may be helpful in the coming days and weeks as the markets weigh economic pros and cons in the context of Fed policy.
After you click play, use the button in the lower-right corner of the video player to view in full-screen mode. Hit Esc to exit full-screen mode.

Rates Have Boosted Asset Prices
Low interest rates have been helping boost asset prices in numerous asset classes, including stocks and bonds.
Relative to historical norms, interest rates remain at extremely low levels.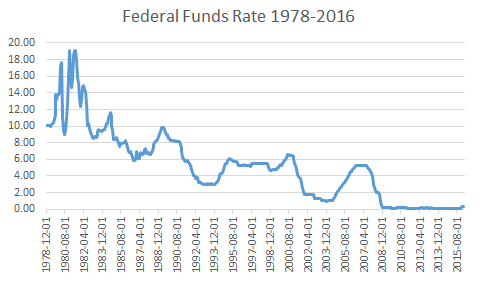 The chart of interest rates above seems to align perfectly with the expression "pushing on a string".