Nadia Simmons: In our essay on oil stocks from Nov. 14, we focused on the connection between the XOI and the general stock market to find out what impact the S&P500 index could have on the oil stock index's future moves. Back then, we also wrote about the relationship between the oil stocks and crude oil:
(…) crude oil has remained in the narrow range, but yesterday it climbed above $95. What's interesting, at the same time the XOI increased slightly above an important resistance. Although they moved in the same direction after weeks of negative correlation, this positive correlation might be just another temporary phenomenon – especially when we factor in the weekly outlook.
Taking the above into account, we've decided to comment on the relationship between them. Let's take a look at the chart below (charts courtesy by http://stockcharts.com).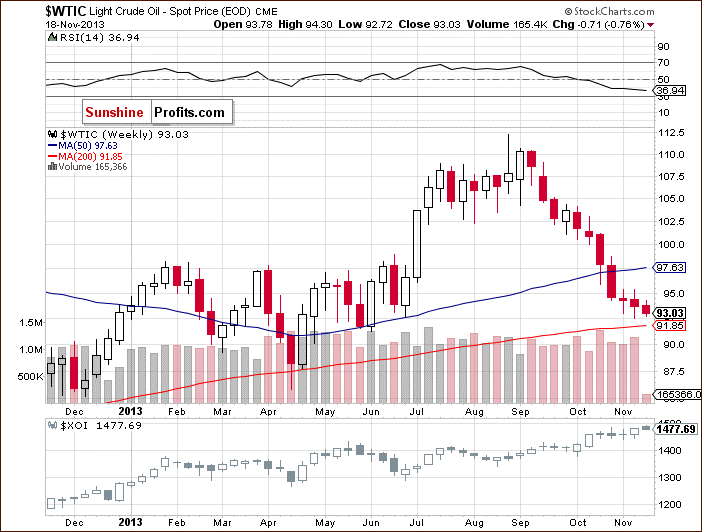 When we take a look at the above chart and compare the price action in both cases, we clearly see that oil stocks were stronger in the previous week. They bounced off the bottom of the recent corrective move, pulled back and approached the 2013 high on Friday. What happened with the price of crude oil at the same time? Light crude declined once again and reached a new monthly low of $92.51. On top of that, on Monday the oil stock index climbed up once again and hit a fresh annual high. Meanwhile, crude oil lost almost 1% and declined to slightly above the November low. This price action clearly showed its weakness in relation to oil stocks.
Once we know the current relationship between crude oil and oil stocks, let's take a closer look at the oil-stocks-to-oil ratio. Today, we begin with the long-term chart.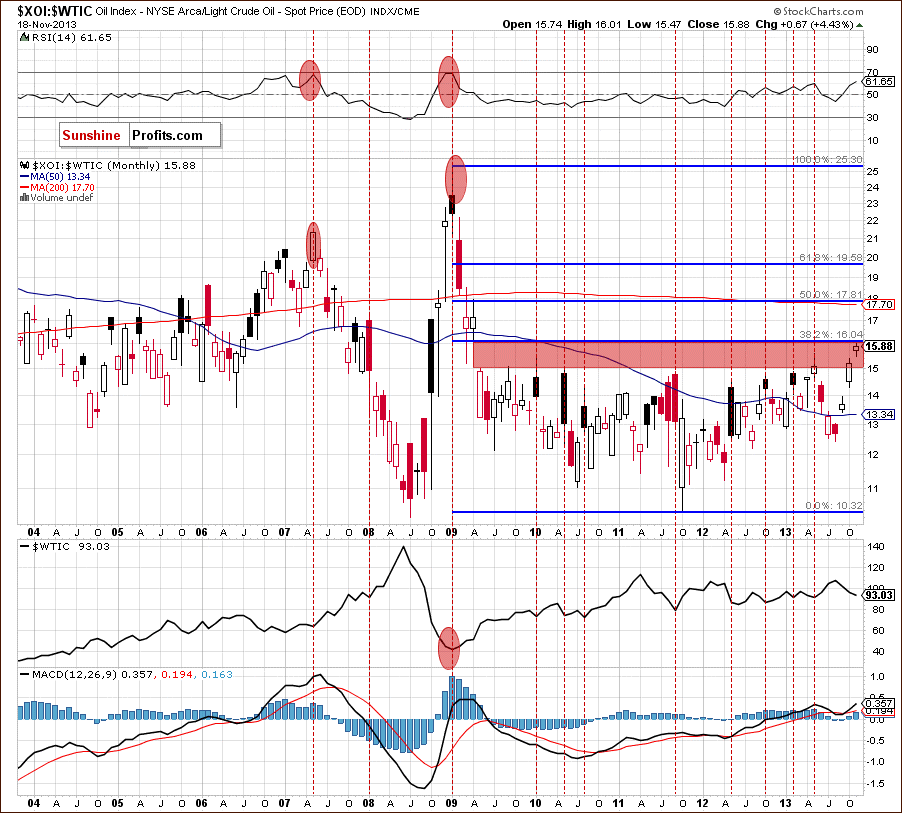 The first thing that catches the eye on the above chart is a strong negative correlation between the ratio and the price of light crude. When we go back to 2008, we clearly see that the annual high in crude oil was in perfect tune with the ratio's 2008 low. We could see this strong reltionship also in 2009, when the annual low in crude oil corresponded to the ratio's 2009 high (marked with a red ellipse). In the following months, the ratio declined heavily, which led to higher oil prices.
What's interesting, the ratio's 2010 high was in tune with the bottom of the corrective move that we saw in crude oil. We noticed similar price action in September 2011, May, August and October 2012, and February and May 2013.
Want More Great Investing Ideas?