Rick Pendergraft: With U.S. stocks struggling over the last few weeks, I have been looking for opportunities in the foreign markets. With so many ETFs representing foreign indices, taking advantage of global opportunities has become much easier for individual investors.
Over the course of the last few days, a number of ETFs that are barometers for foreign indices have popped up on my bullish scans. One in particular that stood out was the iShares FTSE China 25 Index Fund (NYSEARCA:FXI).
Looking at the daily chart, we see that the China ETF has been in an upwardly sloped trend over the last five months and each of the lows connect very nicely to the trendline. The FXI hit the trendline for the fourth time earlier this week and then higher this morning.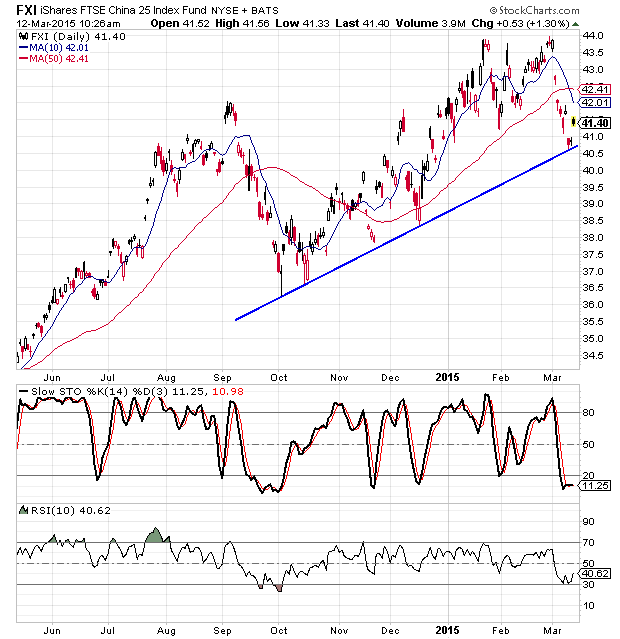 We also see on the chart that the FXI was oversold based on the slow stochastic readings, and the 10-day RSI was close to oversold earlier in the week.
Looking at the weekly chart, we see that the trendline actually extends back to last March. It isn't quite as neat and tidy as the trendline on the daily chart, but it reinforces the trend and makes a secondary driver for a bullish outlook.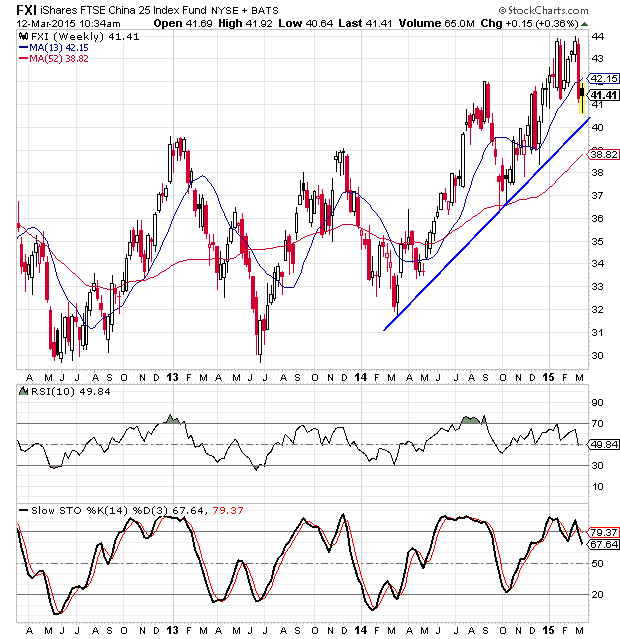 The sentiment toward the FXI is somewhat mixed, with a short interest ratio of 2.4 at this point and the number of shares sold short on the decline in recent months.
The put/call ratio shows quite the opposite, with the current ratio sitting at 1.64. That is higher than 98% of the readings over the past year.