much easier for individual investors.
Over the course of the last few days, a number of ETFs that are barometers for foreign indices have popped up on my bullish scans. One in particular that stood out was the iShares FTSE China 25 Index Fund (NYSEARCA:FXI).
Looking at the daily chart, we see that the China ETF has been in an upwardly sloped trend over the last five months and each of the lows connect very nicely to the trendline. The FXI hit the trendline for the fourth time earlier this week and then higher this morning.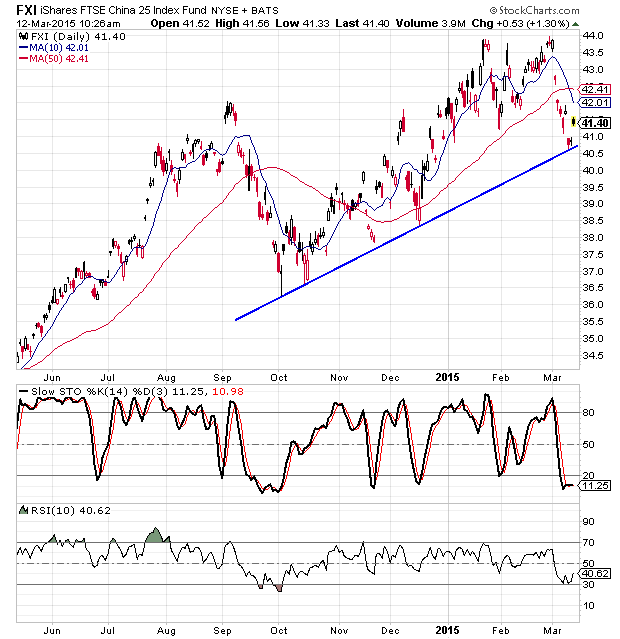 We also see on the chart that the FXI was oversold based on the slow stochastic readings, and the 10-day RSI was close to oversold earlier in the week.
Looking at the weekly chart, we see that the trendline actually extends back to last March. It isn't quite as neat and tidy as the trendline on the daily chart, but it reinforces the trend and makes a secondary driver for a bullish outlook.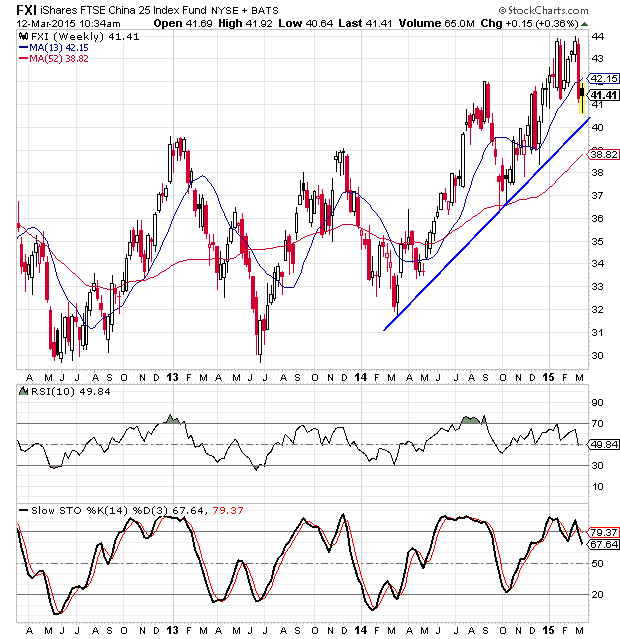 The sentiment toward the FXI is somewhat mixed, with a short interest ratio of 2.4 at this point and the number of shares sold short on the decline in recent months.
The put/call ratio shows quite the opposite, with the current ratio sitting at 1.64. That is higher than 98% of the readings over the past year.
It is also interesting to see that the put/call ratio has been on the rise since the day options expired in January. In late January, the ratio was right at 1.0, and it has increased sharply in the last two months.
While I normally focus on technical analysis and sentiment analysis, you can't ignore the fundamentals, especially when you are talking about a foreign market.
Over the course of the last six months or so, the Chinese central reserve bank has announced a launch of its version of quantitative easing. The government is concerned that the growth is slowing too much and it's taking action to try to stimulate the economic growth.
A number of countries and economic regions have announced stimulus packages in the past six months, including the eurozone, China and Japan. If the stimulus packages generate the same results as the various stimulus packages the United States has used over the last six or seven years, I would say there are greater opportunities in Asia and Europe than there are in the domestic market right now.
While the FXI came to my attention as a short-term bullish trade idea, I actually think it could be a great long-term opportunity.
If you are a short-term trader, look to buy below $42 and shoot for at least a 10% gain. If you are a long-term investor, I would look to buy the FXI in the current range and hold it for at least a few years.
This article is brought to you courtesy of Rick Pendergraft from Wyatt Research.