Przemyslaw Radomski: Investors sentiment for precious metals and gold and silver mining stocks has deteriorated quite substantially recently. And silver is no exception here, which can be seen on the white metal charts. However, the situation in the whole sector is extreme – the oversold readings on many technical indicators and the fact that very important support lines are currently in play in virtually any asset in the sector form a setup as (or even more) encouraging for potential buyers as what we saw in 2008. To see what we can expect on the silver market, let us move into today's technical part – we will start with the white metal's very long-term chart (charts courtesy by http://stockcharts.com.)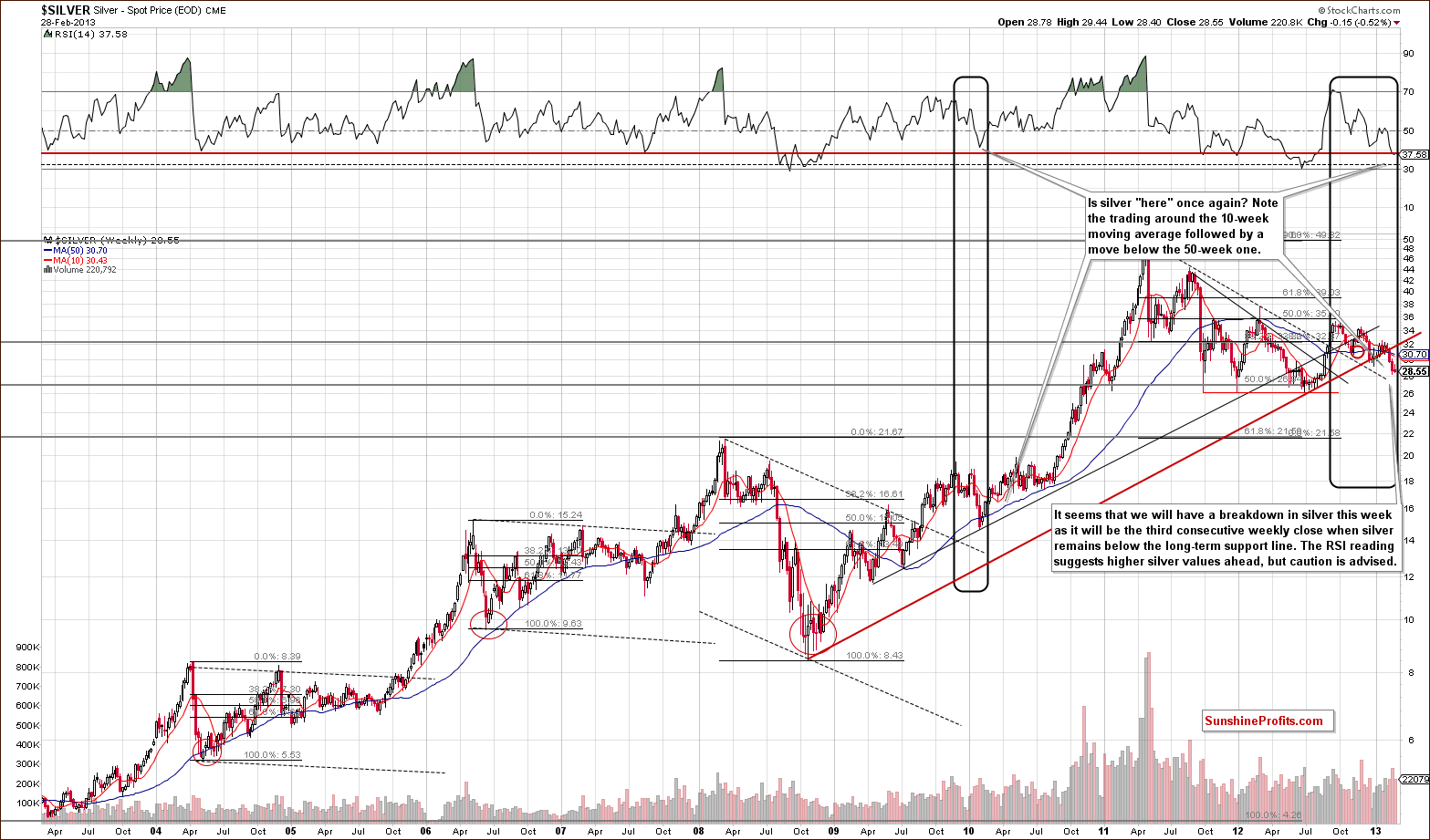 In this chart, we see that RSI levels are now at the horizontal red line which has coincided with major bottoms many times in the past ten years. We have seen two weekly closes below the rising long-term support line (now resistance) and this week will likely be the third. This will confirm the breakdown below this line, and it causes concern for the short term. Based on that, we could see a move lower to the declining dotted line.
However, before and when taking action, we must keep in mind that silver is a tricky metal because it is a relatively small market, and it could be very well the case that it is somewhat manipulated as well. The short-term technical signals are much less important for these reasons if they are not confirmed by what we see in the in the gold market. As indicated in one of our previous essays, the analysis of gold doesn't point to lower prices so the situation on the above chart is "concerning" but not yet clearly bearish at this time.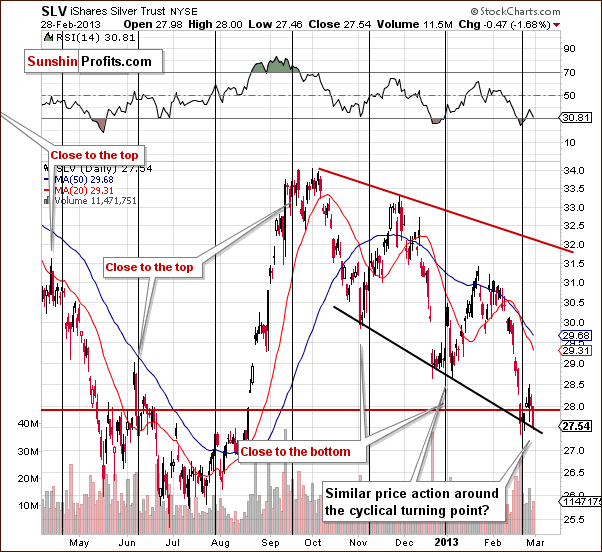 In the medium-term iShares Silver ETF (NYSEARCA:SLV) chart, we saw a rally this week after the cyclical turning point was reached. It seems that this move to the upside has not yet ended. Earlier this year, silver traded back and forth for a bit and then rallied strongly. It was actually the case also in early November, 2012. This seems to be what lies ahead once again for the white metal, and the RSI levels are also close to being oversold here.
Let us have a look at the white metal from the non-USD perspective now.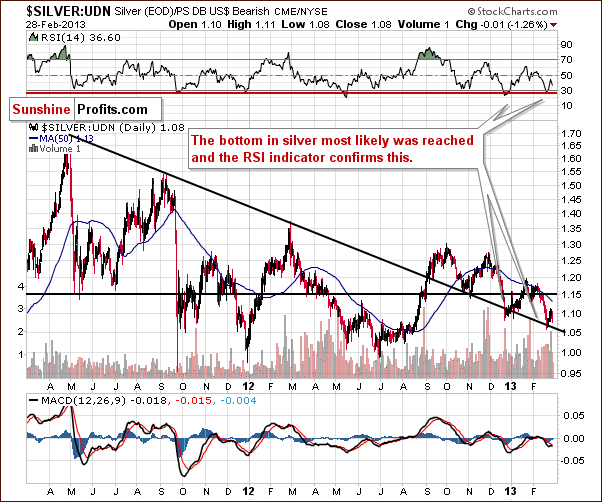 In this chart we see that the bottom is in and silver's price is now at the declining long-term support line. When this was last seen, late in 2012 (RSI levels were oversold then as well), prices soon rallied sharply and rose 10% in just a few weeks. With similar trading patterns and RSI levels seen in recent days, there appears to be a good possibility that a sharp move to the upside may be just around the corner here.
Since the correlation between gold and silver and the U.S. dollar start slowly returning to normality (i.e. it is becoming strong and negative), the fact that the dollar is – in our opinion – likely to decline, could translate into higher prices of these two precious metals (and in fact in the whole sector). We would like to address one of our subscriber's questions here, however, to clarify that it is not the only thing that is behind the white and yellow metals' prices:
Before summarizing, we would like to comment on one more issue – the recent strength in the USD Index, as we received quite a few questions about it this week.
The dollar is higher than it close last week and gold is more or less flat – so while gold moved in the opposite direction to the USD Index on a day-to-day basis, it overall responded positively. Gold (and silver as you can see on the above silver:UDN chart) is oversold not only from the USD perspective but also when we consider its price in other currencies. That (plus several other reasons) is why gold is likely to move higher even if the USD doesn't decline and gold is likely to accelerate if the USD does indeed decline.
Summing up, the signals are somewhat mixed for the white metal this week. The breakdown below the rising long-term support line will likely be confirmed with a third weekly close below this level, but prices may still reverse soon because the situation in gold remains positive. The short-term picture is a bit more bullish with an oversold situation and trading patterns similar to those which preceded a rally very early this year.
Please keep in mind that the situation on the precious metals market may change quickly and what you read above may become outdated before you read our next free essay. That's why our premium subscribers receive Market Alerts on a daily basis and as soon as anything important takes place – they remain covered at all times. Moreover, our subscribers read full versions of our articles that we call Premium Updates – they are much more in-depth and thorough than free commentaries posted in this section, so by reading them you are better and earlier prepared when major changes regarding gold and silver occur. Premium Updates include price targets and trading suggestions as well. Our subscribers also enjoy up-to-date and tailor-made (!) gold stocks ranking, silver stock ranking and more. Traders particularly value the ability to track the accurate SP Indicators dedicated to the precious metals market without the weekly lag. We encourage you to join our subscribers and also enjoy all of the above-mentioned benefits.
Thank you for reading. Have a great weekend and profitable week!
Sincerely,
Written By Przemyslaw Radomski, CFA (PR) From Sunshine Profits
Przemyslaw Radomski, CFA (PR) is a precious metals investor and analyst who takes advantage of the emotionality on the markets, and invites you to do the same. His company, Sunshine Profits, publishes analytical software that anyone can use in order to get an accurate and unbiased view on the current situation. Recognizing that predicting market behavior with 100% accuracy is a problem that may never be solved, PR has changed the world of trading and investing by enabling individuals to get easy access to the level of analysis that was once available only to institutions.
High quality and profitability of analytical tools available at www.SunshineProfits.com are results of time, thorough research and testing on PR's own capital. PR believes that the greatest potential is currently in the precious metals sector. For that reason it is his main point of interest to help you make the most of that potential. As a CFA charterholder, Przemyslaw Radomski shares the highest standards for professional excellence and ethics for the ultimate benefit of society.