Chris Ciovacco:  The rally off the lows of last week has some work to do before it becomes convincing.  While the longer-term outlook remains favorable from a technical perspective, the conviction from buyers needs to pick up in the short-term.
When Williams %R, which measures momentum, fails to clear -20 during a rally, the odds of a retest of the recent lows increase.  As the orange boxes show below, numerous markets have not yet seen Wm %R clear -20.  This is not a big deal, but we would like to see it cleared up before investing additional cash.  Gains lasting one or two days could easily clear these conditions.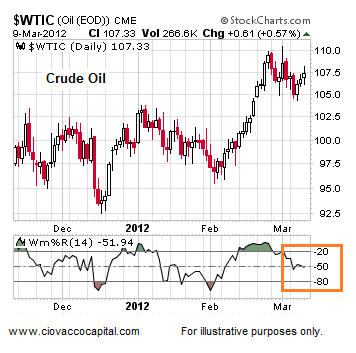 The candlesticks from last Friday in the charts above and below also show some indecision.  Again, not a big deal, but it is just good to be aware of as we kick off a new week.
SPDR S&P Oil & Gas Explore & Production ETF (NYSEArca:XOP)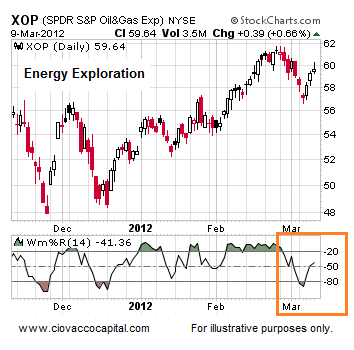 iShares MSCI Emerging Markets Index (NYSEArca:EEM)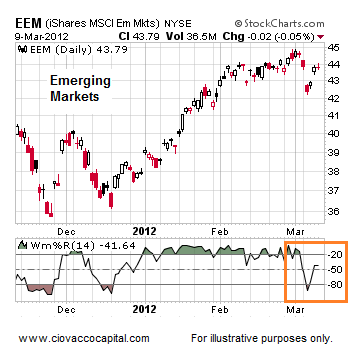 iShares MSCI Germany Index Fund (NYSEArca:EWG)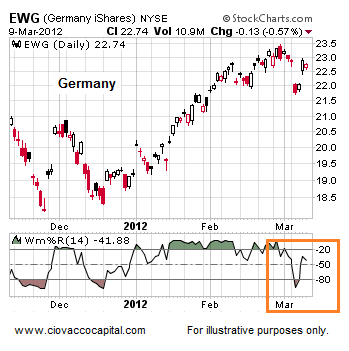 iShares MSCI Japan Index (NYSEArca:EWJ)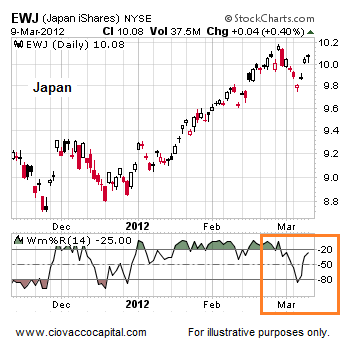 iShares MSCI EAFE Small Cap Index Fund (NYSEArca:SCZ)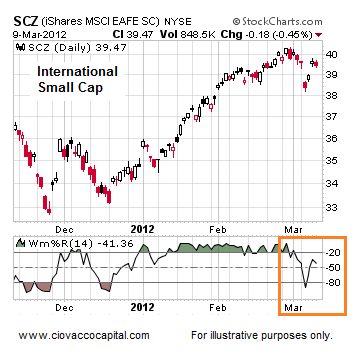 The equity markets, especially in the U.S., appear to have more upside looking out longer-term.  The vast majority of longer-term charts have moved into bullish territory. 
Commodities have a much more muted outlook for now, but that could improve in the coming weeks.  The U.S. dollar is also holding up relatively well, which typically does not mesh with a "risk on" environment.  Therefore, we have a mixed picture of sorts; stocks strong, commodities relatively weak, and a stable U.S. dollar.
The charts of small caps look a little better than those shown above. There was not as much hesitation in their candlesticks late last week (see below).
iShares Russell 2000 Index (NYSEArca:IWM)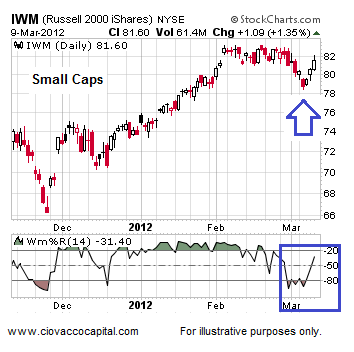 iShares Russell 2000 Growth Index (NYSEArca:IWO)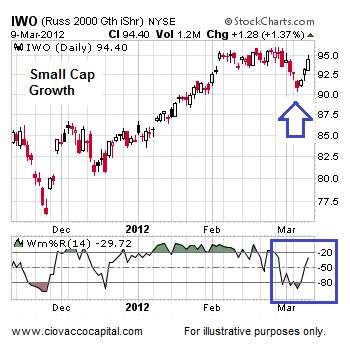 Written By Chris Ciovacco From Ciovacco Capital Management, LLC
Chris Ciovacco began his investment career with Morgan Stanley in Atlanta in 1994. With a focus on global macro investing, Chris uses both fundamental and technical analysis to assist in managing risk while looking for growth opportunities around the globe in all asset classes. If you are looking for an independent money manager or financial advisor, Ciovacco Capital is worth a look. Chris graduated from Georgia Tech with Highest Honors earning a degree in Industrial and Systems Engineering in 1990. His experience in the professional ranks began in 1985 as he began working as a co-op for IBM in Atlanta.
Ciovacco Capital Management, LLC (CCM) is an independent money management firm serving clients nationwide. By utilizing extensive research, disciplined risk management techniques, and a globally diversified approach, CCM prudently manages investments for individuals and business owners. Our focus is on principal protection and purchasing  power preservation in an ever-changing global investment climate.