Chris Ciovacco: Investors have been worried about slowing economic growth coupled with tapering from the Fed. While one report does not make a trend, Wednesday's data on housing gave the stock market bulls a reason to remain optimistic. From The Wall Street Journal:
Sales of new homes surged unexpectedly in January, easing concerns about a deeper housing-sector slowdown. New single-family home sales rose 9.6% to a seasonally adjusted annual rate of 468,000 from a month earlier, reaching their highest level since July 2008, the Commerce Department said Wednesday. From a year ago, new-home sales were up 2.2%. Last month's increase was boosted by sales in the Northeast, where activity expanded by 73.7% and reversed the prior month's declines. The South and West also saw gains, but new home sales in the Midwest fell.
Cyclicals Trying To Make A Turn
Cyclical stocks Consumer Discretionary SPDR (ETF)(NYSEARCA:XLY) speak to more economically-sensitive businesses, such as The Home Depot, Inc.(NYSE:HD), Ford Motor Company(NYSE:F), Nike Inc(NYSE:NKE), and Priceline.com Inc(NASDAQ:PCLN). Investors tend to favor cyclical stocks when they are confident about positive economic outcomes. As shown in the chart below, XLY has lagged the S&P 500 for most of 2014, but that trend is trying to turn back in the economic bulls' favor. With reports on durable goods and GDP to be released before week's end, the chart below needs a "subject to change" label. For now, the look is encouraging for the economy.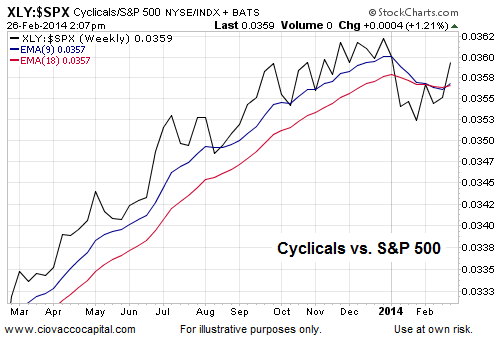 Glass Half Empty
One concerning trend in the housing market is the rate of foreclosures in densely populated New York and