Chris Ciovacco:  The chart below shows the performance of consumer discretionary stocks relative to consumer staples. For most of 2013, discretionary sectors were leading defensive sectors (ratio was rising in 2013). 2014 has been a different story with more conservative stocks, such as Proctor and Gamble (PG), taking on a leadership role.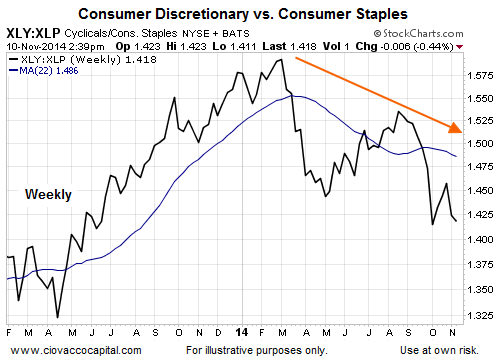 Is This A Major Red Flag For The Bull Market?
While there is no question defensive leadership speaks to a more tentative market, have the bulls ever remained in control under similar circumstances? This week's video provides some historical insight, along with how the Fed may be impacting the XLY vs. XLP ratio.
After you click play, use the button in the lower-right corner of the video player to view in full-screen mode. Hit Esc to exit full-screen mode.

 


Earnings Provide Some Insight
Dean Foods and Toll Brothers both provided some backing for the bullish case Monday by reporting better than expected profits and sales projections.