Diane Alter: Anyone investing in top dividend stocks has been rewarded in 2014…
Companies increased dividend payouts by a robust $17.8 billion in Q1 2014, compared to a $14.5 billion increase in Q1 of 2013, a 14.2% year-over-year increase, according to S&P Indices.
Some 1,078 dividend hikes were reported in 2014's first quarter, dethroning the prior Q1 record of 1,069 set in 1979.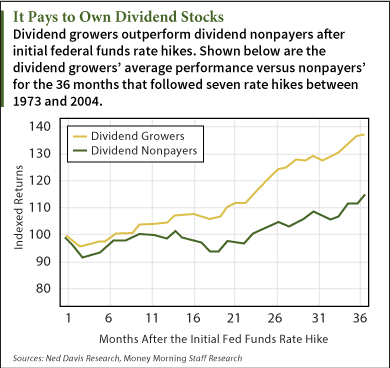 Within the broad-based S&P 500 Index, 84.2% of the index's companies currently pay a dividend – the most since September 1998. And all 30 Dow Jones Industrial Average members pay a dividend.
Payout ratios (dividends as a percentage of payout ratios), however, which historically average 52%, remain near their lows.
Yet at the current declared dividend rate, companies could handily set a record payment for 2014, according to Howard Silverblattt, S&P Dow Jones Indices' senior analyst.
With so many dividend payers to choose from, investors should remember that not all dividends are created equal. And, that it's never prudent to simply chase yield.
The top dividend stocks have a long history of paying dividends, a solid global presence, a stable business line – and plenty of cash.
With that in mind, following are five of the top dividend stocks to buy now…
Five Top Dividend Stocks for 2014
Top Dividend Stock No. 1: Duke Energy Corp. (NYSE: DUK) is an energy conglomerate operating in the United States and Latin America. Its three operational segments include regulated utilities, international energy, and commercial power. DUK is among top dividend stocks in the energy sector, with a quarterly dividend of $0.78 per share for a 4.27% yield. For all of 2013, the Charlotte, N.C.-headquartered company produced strong revenue and earnings per share (EPS) growth of 25% and 50% respectively. Recent analyst actions include a "Buy" initiation from CRT Capital and an upgrade to "Buy" from "Hold" at Deutsche Bank. The company has been paying uninterrupted dividends for 88 years. According to Thomson Reuters, six analysts rate shares a "Buy," one has an "Overweight" on the stock," one has an "Outperform," and one maintains a "Neutral."
Top Dividend Stock No. 2: McDonald's Corp. (NYSE: MCD) operates the world's largest chain of fast food restaurants. The Oak Brook, Ill.-based company serves some 68 million customers every day in its 34,000 eateries peppered across 120 countries. Still, there is plenty of room for more growth. The worldwide fast food industry is a $1.2 trillion market, and MCD's owns just 10% of the space. MCD's current quarterly dividend payout is $0.81 a share for a tasty 3.22% yield. The company is a reliable dividend stock in that it has been fattening dividends every year since its first distribution in 1976. Of 10 analysts who cover the stock, two rate shares a "Buy," two have an "Outperform" on the stock, one has a "Sector Perform," two have a "Hold," and one maintains a "Neutral" on the stock, according to Thomson Reuters.
Want More Great Investing Ideas?