Przemyslaw Radomski: We at Sunshine Profits suggest holding three precious metals (in a  physical form ) as long-term investments in a "€œdefault"€  precious metals portfolio  €- gold, silver and platinum. There are, of course, other viable options, such as palladium, depending on one'€™s preferences and needs, but these three mentioned above will suit virtually any precious metals investor.
Gold is and has always been the most popular and usually attracts the most attention both from investors and the general public and could be viewed as the safest bet. What is more,  recent bottoms visible in the long-term charts suggest that a huge rally in the gold market is likely  some time this year. However, the other two are tempting as well, as many factors suggest that they may outperform the yellow metal in the coming months and years.
As far as silver is concerned, we would like to mention two important arguments. Firstly, when silver reached its all-time high in April, 2011, it merely reached the level of 1980 high (only in nominal terms, as in real terms this high was much, much lower) whereas gold's all-time high from 2011 was more than double the one form 1980 (again, in nominal terms) – this itself shows a great potential relative to gold. The second argument is more technical in nature, but very much in tune with the above one and consists of various  price projections for the white metal  that we featured two weeks ago.
A detailed explanation why  platinum is likely to outperform gold  can be found in one of our recent essays, but the most important factors here seem to be the fact that platinum has historically been the more expensive metal, with last year being an exception and that just recently platinum's price has exceeded gold'€™s. And when we add to that the supply problems which are the result of strikes in South Africa (which produces 75% of world platinum supply) the outlook for platinum does indeed seem encouraging.
To see how the above arguments fit into technical picture, let us jump straight into the world of charts. We will begin with silver'€™s long-term one (charts courtesy by  http://stockcharts.com .)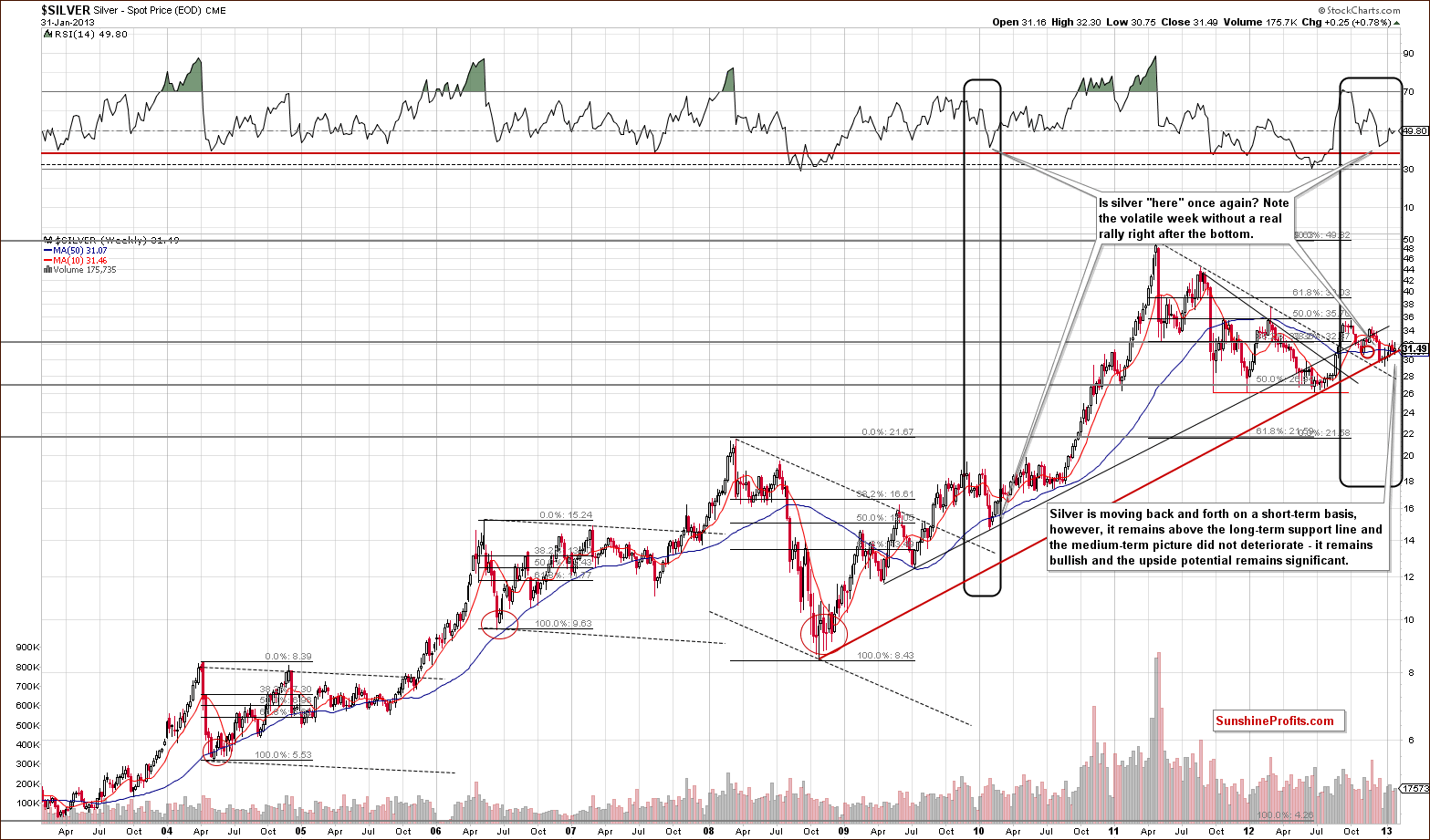 Today we begin with the long-term chart in order to emphasize the importance of looking at the big picture which should always take precedence over short-term charts. In silver's long-term chart, we see that prices tried to break down below the long-term support line but failed. They are now back above this line, and, after rallying, touched the resistance-support line once again. We clearly have a bullish situation with bullish implications for the long term.
Now, let us move on to the platinum market. Here, we will use platinum to gold ratio, as this chart seems to exert the most influence on the price of platinum currently.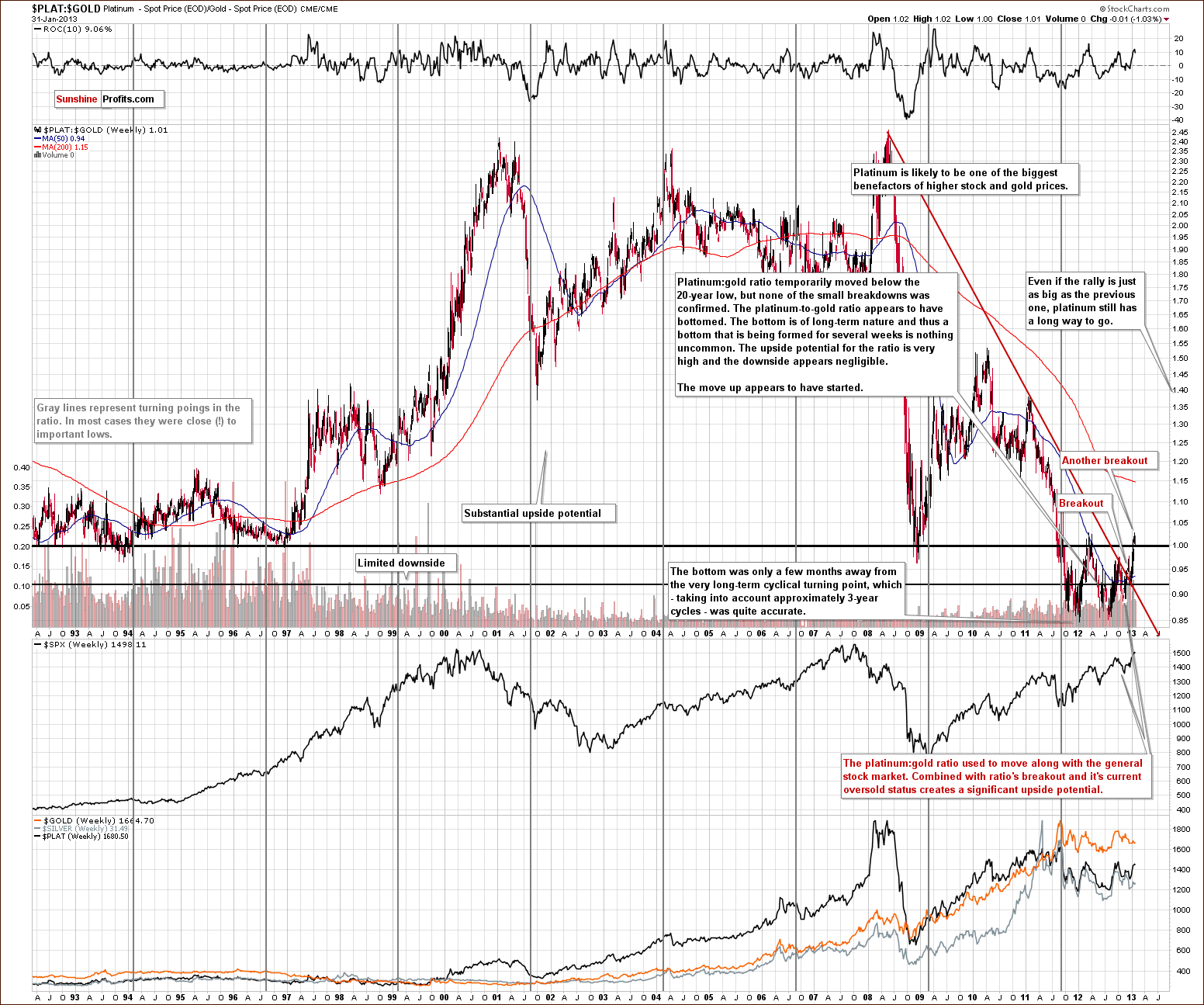 In this chart, we see the ratio is now above 1.0, and the breakout is being verified (successfully so far). Platinum is now more expensive than gold. The ratio broke above 1.0, moved back to it and has moved slightly higher again. We could see more consolidation here, but the long-term implications remain unchanged. Platinum is expected to outperform gold in the months ahead, and the ratio is therefore expected to move higher as well.
A major bottom was seen at the end of 2011 (close to the powerful long-term  turning point ) and in early 2012. A breakout has now been seen above the long-term declining resistance line in this ratio, and it seems that a big comeback for platinum to much higher prices is likely. This will pay off big time for those invested in platinum for the long run.
Summing up, the technical implications are bullish for both white metals and so do the fundamental ones. Both of them are positively correlated with the general stock market in the long run because of their industrial uses and with stocks moving higher, it is this part of the precious metals sector that may move the most in the coming months. While we continue to believe that diversification is the way to go, it seems that platinum and silver will outperform gold in the medium term.
We have just sent out a Market Alert to our subscribers in which we cover the latest events in silver and USD Index that have impact on the whole precious metals sector and we also discuss the very important link between gold and long-term bond yields. We encourage you to  join our subscribers and read today's Market Alert  right away.
Thank you for reading. Have a great weekend and profitable week!
Sincerely,
Related Tickers: SPDR Gold Trust (NYSEARCA:GLD), iShares Silver Trust (NYSEARCA:SLV), ProShares Ultra Silver (NYSEARCA:AGQ), Platinum ETF (NYSEARCA:PPLT), iShares Gold Trust (NYSEARCA:IAU).
Written By Przemyslaw Radomski, CFA (PR) From Sunshine Profits
Przemyslaw Radomski, CFA (PR) is a precious metals investor and analyst who takes advantage of the emotionality on the markets, and invites you to do the same. His company, Sunshine Profits, publishes analytical software that anyone can use in order to get an accurate and unbiased view on the current situation. Recognizing that predicting market behavior with 100% accuracy is a problem that may never be solved, PR has changed the world of trading and investing by enabling individuals to get easy access to the level of analysis that was once available only to institutions.
High quality and profitability of analytical tools available at www.SunshineProfits.com are results of time, thorough research and testing on PR's own capital. PR believes that the greatest potential is currently in the precious metals sector. For that reason it is his main point of interest to help you make the most of that potential. As a CFA charterholder, Przemyslaw Radomski shares the highest standards for professional excellence and ethics for the ultimate benefit of society.