Tyler Laundon: I'm going to level with you right off the bat:  I don't have a perfectly clear answer on today's question.
That is, I wish I could say conclusively that stocks are either overvalued or not . . . and that as a result they will either go up or down from here. But the available data doesn't answer this question completely. So let's just take a look at what the data says and see what reasonable conclusions we can come to.
What we know right now is that stocks are posting a banner year. With just four weeks left in 2013, the major indexes have posted 20% plus gains and are at or near record levels.
The benchmark S&P 500 (INDEXSP:.INX) is up 26% year-to-date to 1,800, posting its best year since 2003. The tech-heavy NASDAQ (NASDAQ:QQQ) is up a whopping 34% to 4,048, and even the plodding Dow Jones Industrial Average (INDEXDJX:.DJI) is up 22% to 15,955.
Small caps have soared, with the S&P Small Cap 600 rallying 36% since the beginning of the year to close yesterday at 646.
These widespread gains have prompted "stock bubble" talk, reminiscent of the stock bubbles of 2000 and 2007. There is little doubt that some areas of the market look particularly frothy. Many tech stocks, small-cap stocks and even dividend stocks are trading at valuations that will require years of rampant growth to justify.
But as a whole, the market isn't yet into nosebleed territory, at least not based on index P/E ratios. Yes, it's getting up there. And yes, deep values are extremely hard to come by. But I'd say it's more accurate to characterize the market as "expensive" than "bubbly."
The forward 12-month PE ratio for the S&P 500 (NYSEARCA:SPY) now sits at 15.0, based on the consensus forward 12-month EPS estimate of $120.00. How does this compare to the S&P 500's historical averages? Data from FactSet shows it depends on the time period in question (see chart below).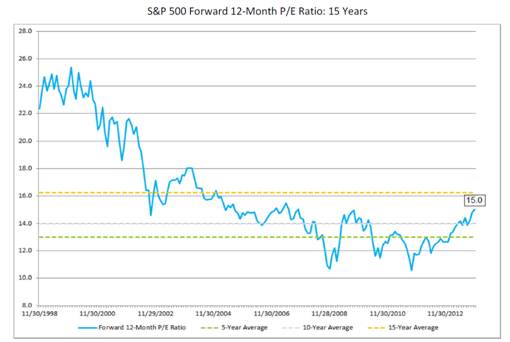 Source: FactSet
The index currently trades above both the 5-year (13.0) and 10-year (14.0) average P/E ratios, but it still  trades below the 15-year average P/E ratio of 16.2, and it is not yet close to the bubblicious P/E ratio of 25 reached in the late 1990s and early 2000s.
One of the key differences in this market rally is that, in sharp contrast to the late 1990s and early 2000s, almost every sector of this market has rallied. Mining may be one exception, but nearly everything else, from technology to utilities, has been going up.