Chris Ciovacco: Markets tend to be a bit obsessive. In recent months, traders shifted from taper-gate to familiar political posturing in Washington, D.C. The next obsession may be earnings. From Yahoo Finance:
By some measures, third quarter earnings season could reflect an unprecedented level of pessimism. According to John Butters, senior earnings analyst at FactSet, nearly one-fifth of companies in the S&P 500 have pre-warned Wall Street that they won't meet expectations. As a result, the profit growth forecast for the benchmark index has undergone a serious beat down since the start of the quarter, having been cut from 6.5% on July 1st to just 3.0% today.
The Worst Earnings Season Since 2009
If earnings eventually take down the bull, there will be observable shifts in investor behavior as economic concerns increase. Many pension funds must remain fully invested. When they are concerned about the stock market, they cannot convert to cash, but they can move to defensive consumer staples stocks. Conversely, when pension managers are more confident about the economy and earnings, they tend to favor higher-margin consumer discretionary stocks (NYSEARCA:XLY) over the conservative consumer staples (NYSEARCA:XLP) sector. The same concepts trickle down to the individual investor and consumer demand levels in the economy. Below, we examine XLY vs. XLP during a period of poor earnings relative to the present day.
Tommy Hilfiger vs. Toothpaste
We like to refer the XLY/XLP ratio as Tommy Hilfiger vs. Toothpaste. When consumers feel secure about their economic stake in life, they are more open to buying designer clothes or taking a cruise. On the other end of the spectrum, consumers who are worried about losing their job will still demand basic necessities, such as toothpaste. Earnings were not good in early 2009. First quarter (Q1) 2009 earnings were announced in early Q2. Money managers and investors started to see the writing on the wall and they began to favor toothpaste stocks over Tommy Hilfiger stocks (see red arrow in chart below). The bottom of the chart shows a period of consolidation in the S&P 500 (orange arrow).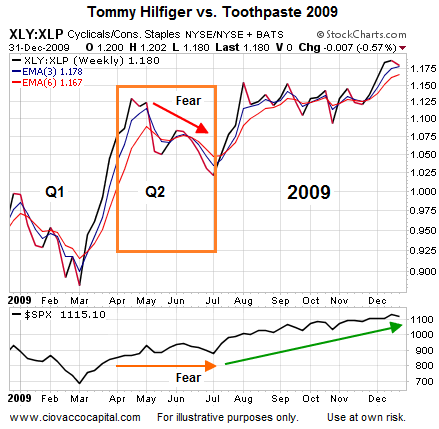 Some Fear Surfaced This Week
If we examine the same ratio as of October 11, 2013, we see a relatively healthy trend in favor of investors demanding consumer discretionary stocks over consumer staples.