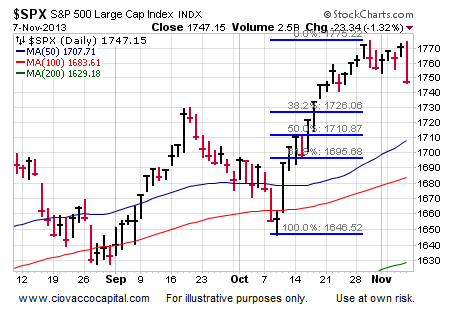 Weekly Trends
The S&P 500's weekly chart below, as of Thursday's close, remains within a "volatility to ignore" range. The trendlines still have positive slopes and we have not seen a bearish moving average crossover yet. In fundamental terms, the chart aligns with positive economic conviction that exceeds negative economic conviction; something that needs to change before a longer-term bearish shift takes place in the financial markets.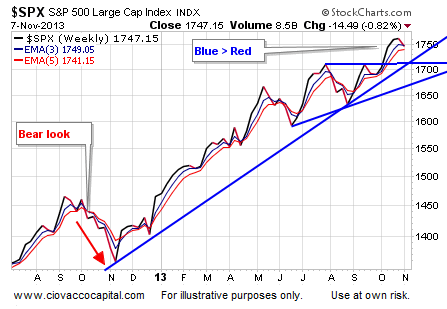 The same comments apply to the risk-on vs. risk-off chart below (stocks relative to bonds). The blue lines may act as support.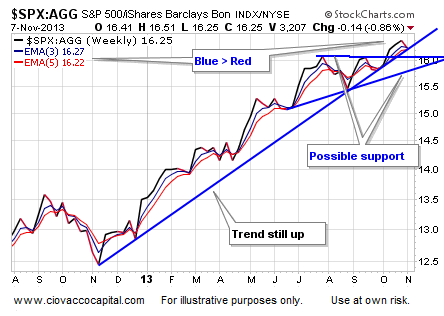 Investment Implications – Incremental Risk Reduction
The ETF opportunity cost portion of our market model called for an incremental risk-reducing chess move Thursday. Our model is based on observable evidence returned by the market's pricing mechanism, which includes the economic impact of relative currency valuations. Why do emerging markets favor a weak U.S. dollar? From a 2008 Wall Street Journal article:
The dollar's turn lower has brought a modicum of relief in emerging markets, where currencies have been battered in recent months. That is easing the burden on companies with debts to pay in foreign currencies.
Shifting back to 2013, the U.S. dollar turned sharply higher Thursday after the ECB's unexpected rate cut, which investors interpreted as a negative for companies stationed in emerging markets. Based on our intraweek allocation rules, we sold a portion of our stake in emerging market stocks (EEM).
Why Incremental Chess Moves?
The rationale behind incremental allocation changes is based on the difficulty of discerning between a market peak that is followed by a three-week correction and a market peak that is followed by a gut-wrenching 50% bear market plunge. As shown in the chart below, incremental reductions in stock exposure made in mid-2008, based on observable deterioration in the market's risk-reward profile, helped reduce portfolio risk. When using the incremental approach, if markets recover after the first move, there is no need to make the second move.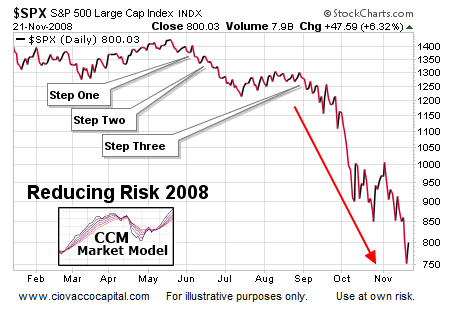 Could the market's pricing mechanism morph into a risk-off or "volatility that requires more action" look in the coming days and weeks? Sure it could, but as you can see in the charts above, weekly declines are not uncommon within the context of a rising trend. Our current equity allocation, including broad U.S. (VTI), technology (QQQ), global (VT), foreign (VEU), and emerging markets (EEM), remains in line with the state of the economic and technical evidence. Since flexibility is a key to investment success, we will make additional adjustments as/if needed.
This article is brought to you courtesy of Chris Ciovacco from Ciovacco Capital.