Chris Ciovacco: Since Ben Bernanke uttered the word "taper" before the summer kicked-off, the tone in the financial markets has been markedly different. Even though taper has been the hot term on Wall Street for three months, the market's focus remains squarely on the Fed. From Bloomberg:
"They want to get back to a neutral balance-sheet policy but that doesn't mean they want rates to skyrocket here," said McCarthy, a former Richmond Fed economist. "The market is hypersensitive," and the taper represents "the beginning of the end" of unprecedented monetary stimulus.
Heading into Friday's trading session the S&P 500 was up one point this week. With a basically flat market, the technical picture has not changed much. The S&P 500 has possible overhead resistance between 1680 and 1685 (see point A below). Simple support and resistance is also highlighted via the pink triangle near point B. As long as the S&P 500 remains inside the pink triangle, some patience is in order relative to portfolio allocations.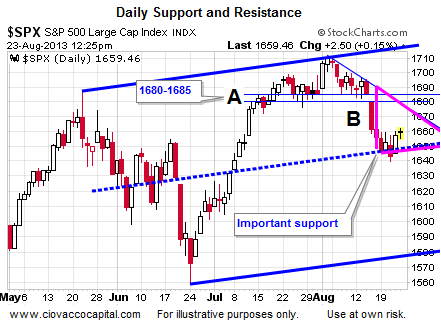 Our Survey Says…
Tapering of the Fed's bond buying campaign would be a good thing if the markets felt it was due to an improving economy and labor market. We believe tapering is about bubble management. Regardless of the reason, the market believes tapering is coming and it is coming soon. From Bloomberg:
The policy-setting FOMC probably will reduce the pace of its bond buying next month, according to 65 percent of economists surveyed Aug. 9-13 by Bloomberg. Its first step may be small, cutting monthly purchases by $10 billion to a $75 billion pace, according to the median estimate of 48 economists.
Broadly Comfortable
Chairman Bernanke laid out a possible tapering schedule three months ago, much to the market's chagrin. As noted Wednesday, the Fed minutes this week did little to calm the tapering waters. One passage we did not highlight Wednesday also aligned with the "we are on schedule" theory. From Bloomberg:
Want More Great Investing Ideas?