Chris Ciovacco: Just two short days ago the Fed told us the economic data did not justify tapering their monthly bond purchases. The stock market jumped higher. Less than 48 hours later, MarketWatch reported:
The Federal Reserve could begin to slow asset purchases at its October meeting depending on economic data, said St. Louis Fed President James Bullard Friday on Bloomberg Television. 

"October is a live meeting," he said. "This was a close decision here in September, so it's possible you get some data that change the complexion of outlook and make the committee be comfortable with a small taper in October."
No Taper Should Be Good For Treasuries
The nuts and bolts that make up a program of quantitative easing (QE) require the Fed to buy bonds, including U.S. Treasuries. The Fed has deep pockets and can create a good bit of demand for bonds. Therefore, the decision to hold off on tapering should be good for bond prices. The question now becomes are bonds (TLT) better than stocks? On a longer-term time horizon, the answer is not yet.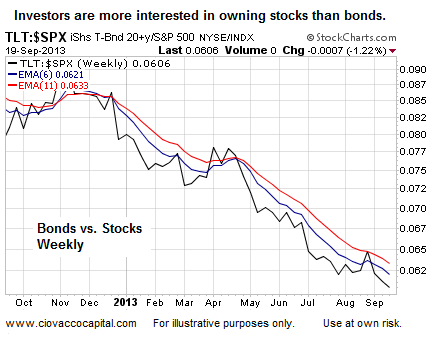 A Bet On Future Economic Outcomes

When investors buy an asset, they believe it will become more valuable over time. Relative demand allows us to better understand what sectors, asset classes, or areas of the globe are rising to the top of investors' "I am confident about this" list. If the demand for stocks is greater than the demand for bonds, it tells us something about the aggregate fundamental belief investors hold about the future.